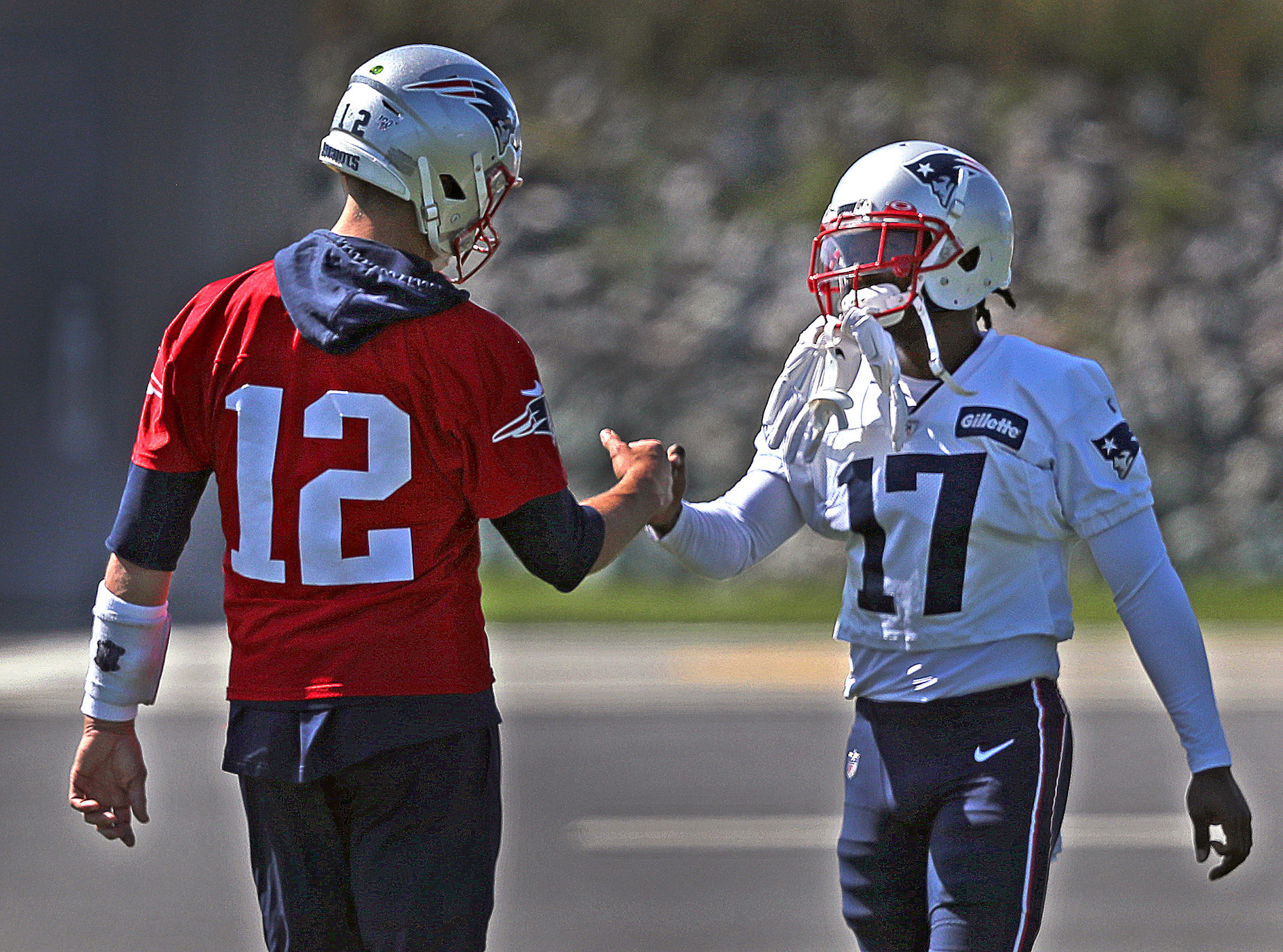 Tom Brady Reveals Why He's Letting His 'Good Friend' Antonio Brown Live With Him
Tom Brady won't just be Antonio Brown's teammate in Tampa Bay; the two Buccaneers players will also be living together this season.
After years of mediocrity, the Tampa Bay Buccaneers have assembled a pretty stacked offense. Everything starts with Tom Brady under center; there are also two capable running backs in Ronald Jones II and Leonard Fournette, a deadly receiving duo consisting of Chris Godwin and Mike Evans, and a resurgent Rob Gronkowski. On top of that talent, the Buccaneers recently added Antonio Brown to the mix.
Tom Brady and Antonio Brown will be doing more than just playing football together; the two men will also be sharing a home. While their arrangement has been perceived as a way to keep the receiver out of trouble, Brady recently clarified his motivations for bringing AB under his roof.
Tom Brady and Antonio Brown seem to have a pretty close bond
During their respective NFL careers, both Tom Brady and Antonio Brown have played with plenty of talented players. The two men, however, seem to have formed a special bond in their brief time together.
After leaving Oakland in 2019, Brown found his way to New England. While he only played one game with the Patriots—he caught four passes for 57 yards and a touchdown—that was enough to make an impact.
In October 2019, Brown took to Twitter to answer some questions from his followers; one, unsurprisingly, asked "Brady or Big Ben [Roethlisberger]?" The receiver picked former quarterback, explaining that "Brady another level truly rare individual."
While Brady is a bit more subtle than AB, it's safe to assume that he thinks highly of the receiver. According to Andy Slater of Fox Sports radio, the quarterback visited Brown during Super Bowl week and paired him up with a big-name motivational speaker.
Bringing Antonio Brown into his home
Shortly after Antonio Brown officially signed with the Tampa Buccaneers, news broke that he'd be living with Tom Brady for the rest of the season. While there wasn't any official confirmation at the time, the quarterback has since shared the logic behind his decision.
"Antonio is a good friend of mine and, again, we've gotten to know each other pretty well over the years," Brady told Jim Gray of Westwood One, according to ProFootballTalk. "So he's just getting settled and I know he's looking for places, but it's just nice to be able to have him around. And we're getting to work and he likes to be integrated into what we're doing, big transition for him moving across the state really not knowing anyone. So, you know, again, just trying to be a great teammate and help someone out who's a friend of mine."
While the quarterback didn't directly confirm the 'babysitting' storyline, his comments did seem to confirm that suspicion. It's good for everyone on a team to be well-integrated and supported in a new environment; it's especially important, however, for everyone to give Brown some positive peer pressure.
Tom Brady is uniquely positioned to keep the receiver on track, but it's still a risk
Whether you think Antonio Brown is worthy of currently playing in the NFL or not, the wide receiver is no longer suspended and has officially taken his place on the Tampa Bay Buccaneers' active roster. Now, the team will have to hold their breath and hope that he can make it through the rest of the season.
While there's a certain amount of cynicism involved—he obviously wants to win another Super Bowl, and Brown will help him get there—Brady may be the right man to keep the receiver in line. We know that the two men think highly of each other; if there's someone who can command respect and get someone to buy into a culture, it's a six-time Super Bowl champion.
To some extent, Brady has now hitched his wagon to Antonio Brown. Regardless of what the company line is, he had to have played a role in bringing the receiver to Tampa; Brady's now literally brought him into his home. If things go south in a matter of weeks, there'll be egg on his face.
By teaming up with Antonio Brown, Tom Brady and the Tampa Bay Buccaneers have gone all-in. At this point, we'll just have to wait and see if things end with a Super Bowl parade or a ball of flames.