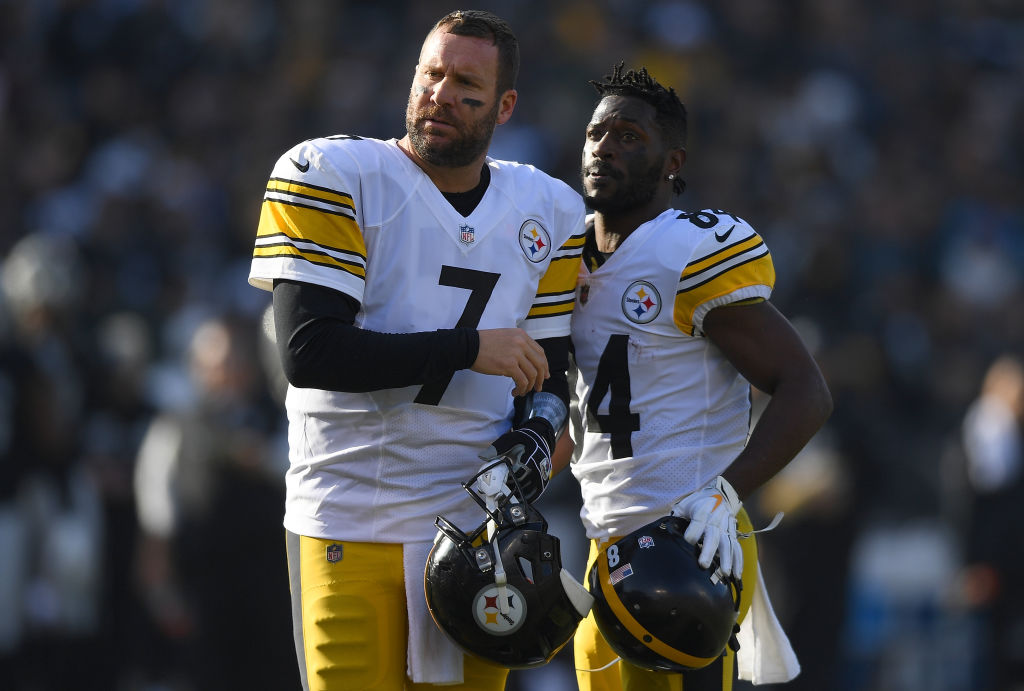 Antonio Brown's Surprising Pick For the Greatest Quarterback He's Ever Played With
Antonio Brown's found himself in the news again this weekend as he publically chose between Ben Roethlisberger and Tom Brady.
In sports, certain relationships are special. A pitcher and catcher need to trust each other's judgment; a coach needs his trusted captain to bridge the gap with the locker room. On the football field, though, the connection between quarterback and wide receiver is vital.
That special relationship is why it's so surprising that Antonio Brown publically chose between Ben Roethlisberger and Tom Brady.
Antonio Brown's football career
After three seasons of college football at Central Michigan, Antonio Brown entered the 2010 NFL draft. Scouts were impressed by his quickness and NCAA production but felt he could use another year of development. The Pittsburgh Steelers took a chance on the receiver, selecting him in the sixth round.
Brown started his NFL career as the fifth receiver on the Steelers depth chart, which limited his workload. He burst onto the scene during his second year pro season, however, pulling down 69 passes for 1108 yards and earning himself a new contract. Despite occasional conflicts with teammates and coaches and plenty of fines, Brown developed into one of the league's best receivers. All good things, however, must come to an end.
In March 2019, Brown was traded to the Oakland Raiders. A series of bizarre, off-field incidents then occurred, culminating in the receiver's release. He then signed with the New England Patriots, played one game, and was cut amid accusations of sexual assault and harassment.
Brown plays favorites
Since he's no longer on an NFL team, Antonio Brown has been using social media to keep in touch with his fans. During a recent question and answer session, though, he gave one unexpected answer.
Brown was asked to choose between his two former quarterbacks, Ben Roethlisberger and Tom Brady. Despite his nine seasons in Pittsburgh, the receiver sided with the latter. "Brady another level truly rare individual," he wrote.
Brown also retweeted a clip of himself hugging Brady during their one game as teammates. "Never forget moment for life," he commented. While he would answer several other questions—including a request to join the XFL, which he called "Bush league"—the Brady tweets stood out.
Tom Brady is better, right?
From a statistical perspective, Antonio Brown is clearly in the right on this one. Brady has Big Ben beat in just about every statistical category. While Roethlisberger has had quite the career, it's hard to compete with someone who has won six Super Bowls, four Super Bowl MVPs, and three regular season MVPs.
Despite the numbers, though, it's still surprising to see Antonio Brown publically choose Brady over Roethlisberger. Offensive players are usually fiercely protective of their quarterbacks—who could forget Terrell Owens' emotional defense of Tony Romo—and Brown came into his own with the Steelers.
This pick may be a belated continuation of Brown and Roethlisberger's reported feud, but there's probably a more straightforward explanation. The wide receiver probably saw the question and meant to express that Brady is the greatest quarterback of all-time; the receiver was clearly impressed in their brief time together. He probably didn't consider how the tweet would come across.
For all of his physical skills, decision making clearly doesn't seem to be one of Antonio Brown's strong suits.