What Classes is Antonio Brown Taking at Central Michigan?
At the start of the NFL season, no one was a bigger news story than Antonio Brown. From a bizarre case of frostbite to a series of helmet-related grievances, the wide receiver caused a spectacle before he even stepped on the field. He was then cut by the Oakland Raiders and signed by the New England Patriots, but things would only get worse; Brown was accused of sexual assault and, unsurprisingly, lost his job.
The receiver decided to make use of his free time by returning to his alma mater to finish his degree. Life as a college student, however, wasn't as easy as showing up and getting an A; Brown has actually already found himself in a bit of a sticky situation.
Antonio Brown's college career
As a high school quarterback, Brown applied to Florida State, only to be denied admission. After playing one final season at North Carolina Tech Prep without a college offer, he decided to enroll at Central Michigan University; Brown tried out as a walk-on wide receiver and was promptly offered a scholarship. While he adjusted to the new position without any issues, college life wasn't a walk in the park. For all of his athletic success, Brown often missed meetings and arrived late to practice.
After three seasons at Central Michigan, Brown entered the 2010 NFL draft. He was, of course, selected by the Pittsburgh Steelers, ending his time as a student. Earning a degree is less important when you're earning millions of dollars playing a game.
Heading back to school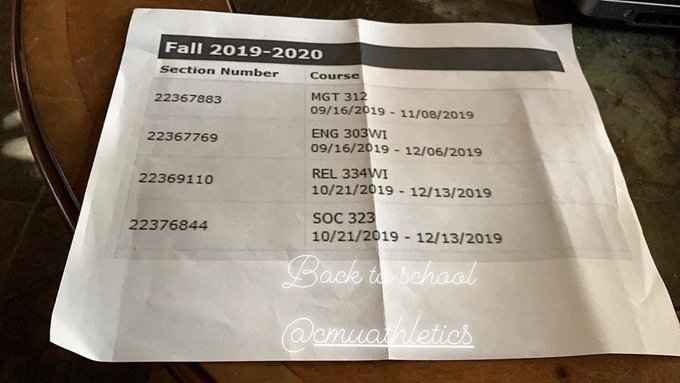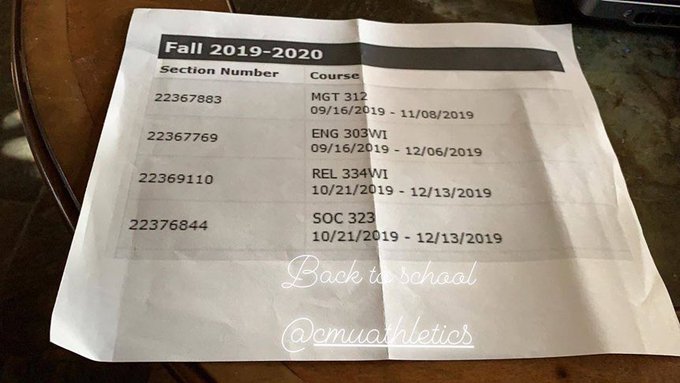 After being cut by the Patriots, Brown decided to head back to class. While he's taking online courses rather than physically going to campus, he still has a full course load for the fall semester. The receiver was never one for half measures and moderation, after all.
Brown shared his class schedule on Instagram and it includes four courses: a general management class, a technical writing course, a religion class called "Death and Dying," and one final course focusing on racism and social inequality. While that certainly sounds like an interesting mixture of topics, they're apparently still not ideal for Brown. Life as a student has already hit a snag.
Looking for a study buddy
Every college student, even one who has played in the NFL, has to do homework. That reality of life, however, seems to be causing Brown a bit of trouble.
On Sunday, September 29, Brown took to Twitter to ask for some extra help. He apparently had a paper due in just over 12 hours and needed an editor; the tweet itself, though, was full of errors.
Given the fact that Brown used the incorrect form of "due" and misspelled "proofreader," social media quickly started ribbing the wide receiver. There's nothing wrong with asking for help and trying to eliminate typos, but it might be in Brown's best interest to ask the CMU English department for help, rather than turning to Twitter; he's no stranger to working with intelligent people, after all.