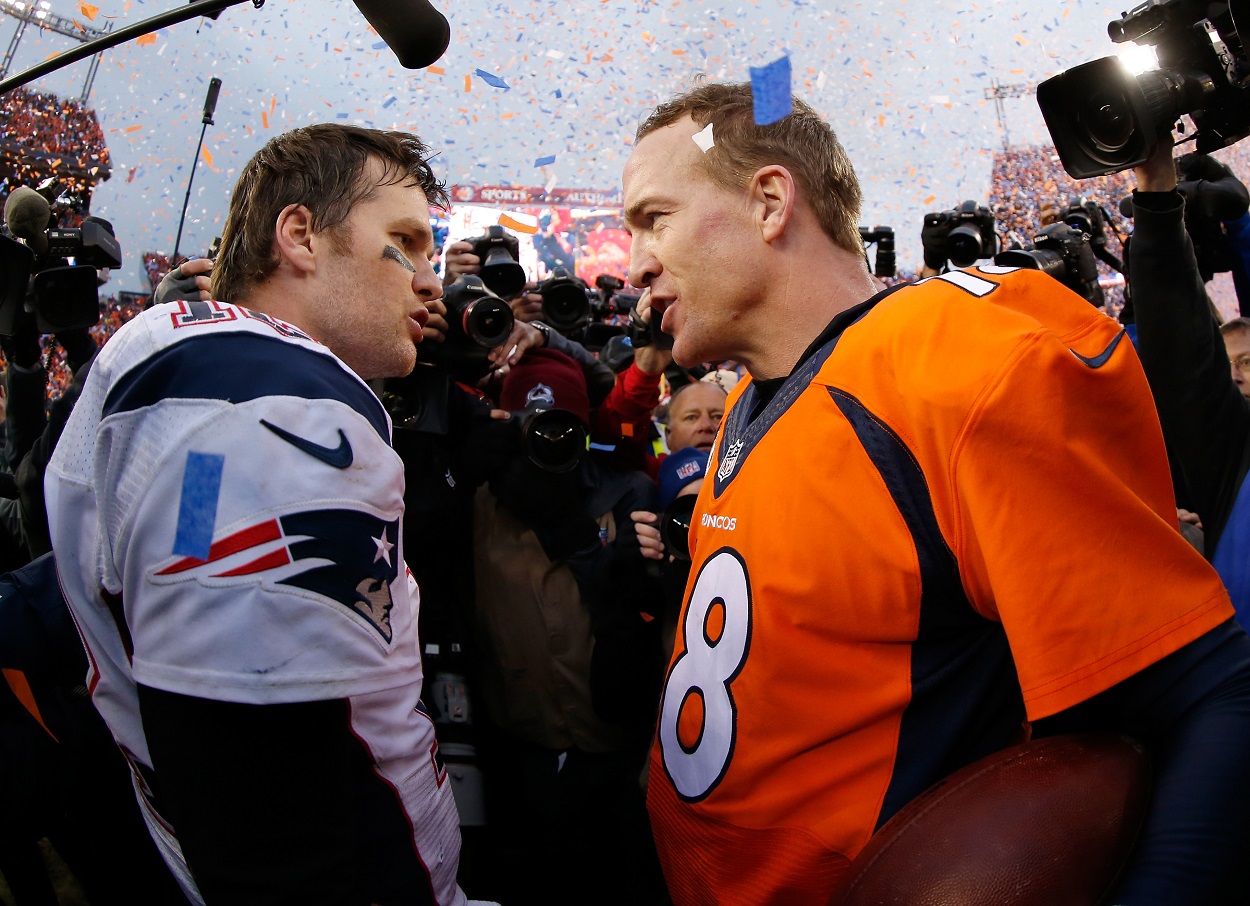 Peyton Manning Showers Tom Brady With Praise Ahead of Super Bowl 55, Reveals How Much Longer He Thinks TB12 Will Play
Peyton Manning has nothing but respect for Tom Brady and showered his good friend and longtime rival with praise ahead of Super Bowl 55.
Peyton Manning and Tom Brady are easily two of the greatest quarterbacks in the long and storied history of the NFL. The two engaged in a fierce rivalry for a decade and a half and played against one another at least once in every season from 2001 to 2015, minus the 2002, 2008, and 2011 campaigns. Their respective teams did play one another in '08 and '11 but Brady missed the 2008 season after tearing both his ACL and MCL in Week 1 and Manning missed the entire 2011 season with a neck injury.
In 2015, the Patriots and Broncos met in the regular season but Manning missed that game due to injury but was under center when the two teams met in the AFC title game.
In total, Brady and Manning squared off 17 times, a dozen times in the regular season and five times in the playoffs with four of those postseason matchups taking place in the AFC Championship Game.
While the two all-time greats obviously wanted to beat one another, there was always respect there and the two became good friends off the field and that friendship was on full display when they competed against one another alongside Tiger Woods and Phil Mickelson during "The Match" last year.
Now, ahead of Super Bowl 55, where Tom Brady will join his good friend as one of just four NFL quarterbacks to start a Super Bowl for two different teams, Peyton Manning is showering TB12 with praise as he prepares for a tough matchup with Patrick Mahomes and the Kansas City Chiefs.
Tom Brady and Peyton Manning have combined to throw for more than 170,000 yards and 1,200 TDs
Tom Brady and Peyton Manning have two of the most impressive resumes in NFL history. The two future Hall of Famers have combined to win eight Super Bowl titles, five Super Bowl MVP trophies, eight NFL MVP awards, and have been selected to 28 Pro Bowls and 15 All-Pro teams (kinda crazy how that total isn't higher).
In 38 combined NFL seasons, including both the regular season and postseason, Brady and Manning have an overall record of 463-172 (.729) and have thrown for 170,731 yards and 1,240 touchdowns. So it's clear to see why the two respect one another so much.
The two played one another 17 times
From the start of the 2001 season, the year Tom Brady became the starting quarterback for the New England Patriots, to the end of the 2015 season, which is when Peyton Manning retired, the two legendary quarterbacks faced one another 17 times. Brady won the all-time head-to-head series, 11-6.
In 12 regular-season matchups, Brady won eight of them while Manning won three of the five games they played in the postseason, all three of those victories coming in the AFC Championship Game, one with the Colts and two with the Broncos.
When Manning was with the Colts, Brady's Patriots went 8-4 against him and were 3-2 when he was taking the snaps for the Broncos.
Peyton Manning says Tom Brady deserves to be in the Super Bowl in his home stadium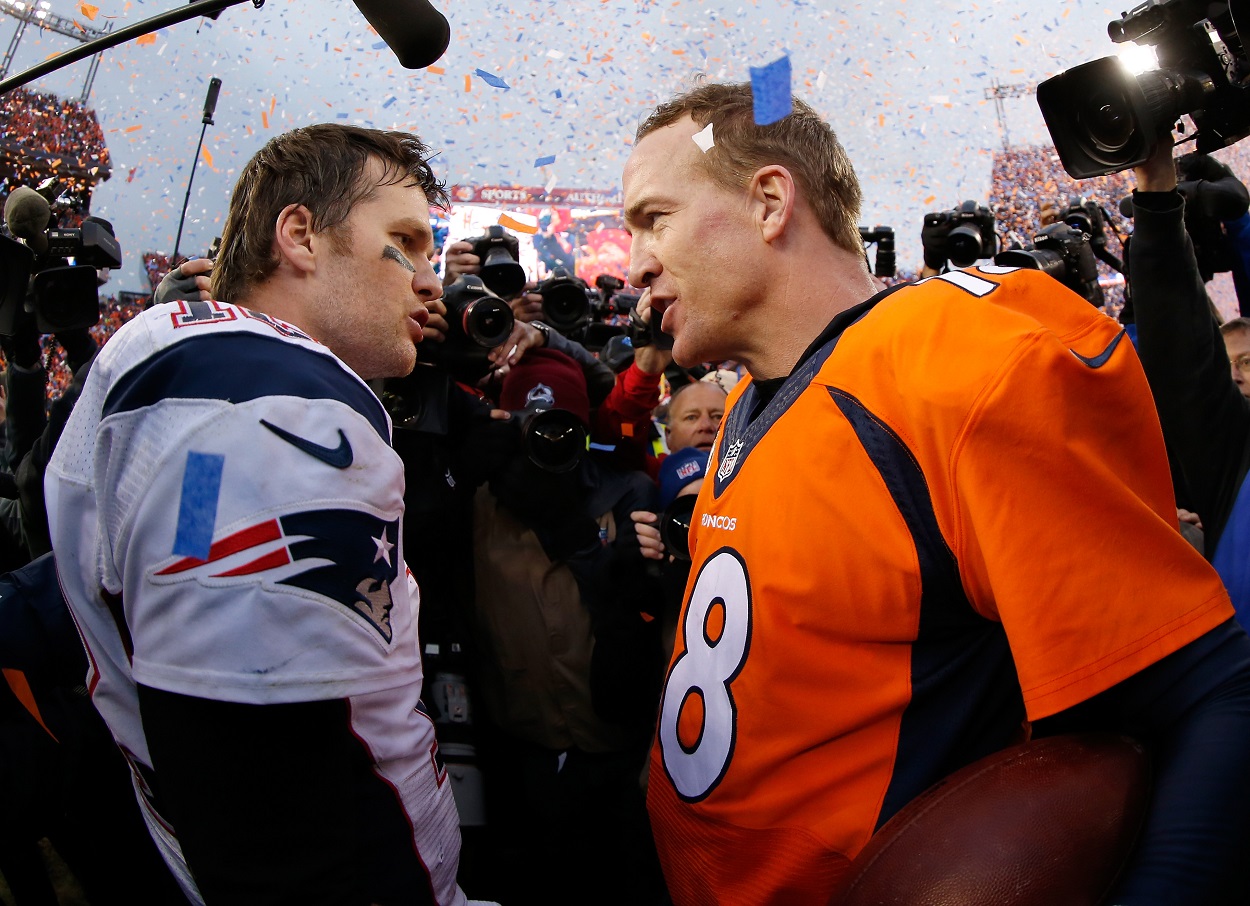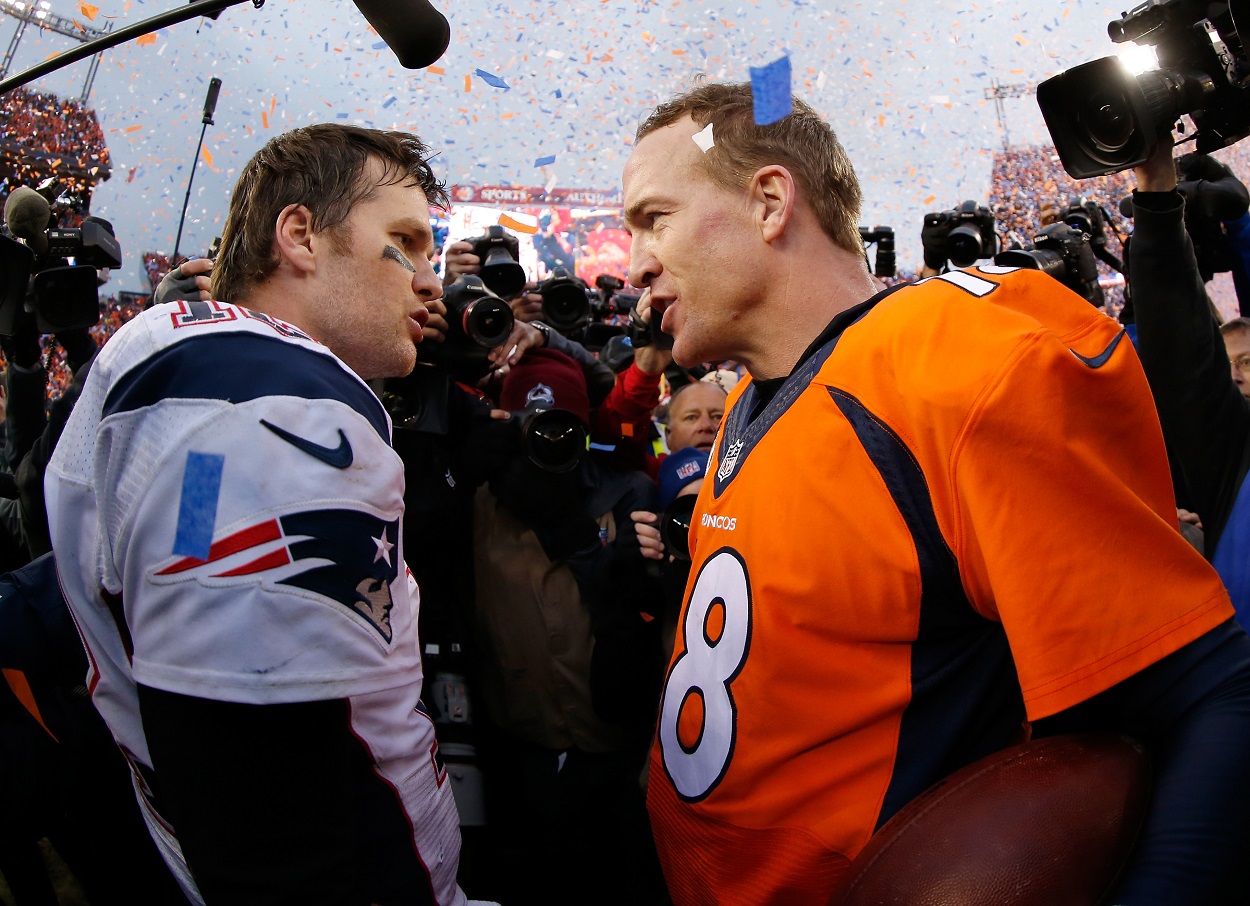 After so many battles against Tom Brady, Peyton Manning knows what he's capable of and certainly didn't have any problem showering his pal with a little praise ahead of Super Bowl 55, where Brady will make his record 10th title game appearance as the Tampa Bay Buccaneers will take on Patrick Mahomes and the defending champion Kansas City Chiefs.
The Buccaneers are the first team to play in a Super Bowl in their home stadium, which Manning says Brady certainly deserves given how he's connected to his new teammates in his first season in Tampa Bay. He also praised TB12 for his work ethic, which has allowed him to play at this elite level at the age of 43, and thinks he'll play for at least "a few more years", regardless of the outcome of Super Bowl 55.
"He's just been the ultimate professional, taking care of himself physically, mentally — he's extremely disciplined in his offseason training, his in-season sleeping habits, eating habits, it all has paid off for him. It's allowed him to have great success at this age but I give him all the credit.

"He's put in the time, he has sacrificed — he has formed a bond with his new teammates in a short period of time in a pandemic offseason so he has earned the right to have his team in the Super Bowl."

Peyton Manning on Tom Brady
For the full clip, head on over to the BeanymanNews YouTube channel.
All stats courtesy of Pro Football Reference