NFL
What Is Tom Brady's Record Against Every NFL Team?
For more than two decades now, Tom Brady has been piling up wins left and right and owns more victories than any player in NFL history. After 20 years with the New England Patriots, with whom he racked up 249 wins as a starter, including six Super Bowls, TB12 has continued to play at an elite level in his first season with the Tampa Bay Buccaneers.
He led the Bucs to an 11-5 record in the regular season, won his first two NFC playoff games over Washington and New Orleans, and has now added to one of his many NFL records as he'll be making a 10th Super Bowl appearance after Tampa Bay got by Aaron Rodgers and the Green Bay Packers in the NFC Championship Game.
The Packers are one of 28 NFL franchises against whom Brady owns a winning record as he's now gone 5-2 against Green Bay in his career. Three teams are lucky enough to have a .500 record against the three-time MVP and only one team hasn't yet played against him — that, of course, being the New England Patriots.
So that obviously means that there isn't one NFL team that has a winning record against Tom Brady and there are four teams that have never beaten him at all. But that's just what happens with a 263-80 career record. He's gone 230-69 in the regular season and 33-11 in the postseason.
Tom Brady is undefeated against four teams, including the Tampa Bay Buccaneers
RELATED: What is Tom Brady's Record Against Aaron Rodgers?
One of the four franchises that has never beaten Tom Brady is the Tampa Bay Buccaneers, who are obviously hoping that they'll never get the chance to again. Before signing with the Bucs ahead of the 2020 season, Brady went 4-0 against his current team while with the Patriots.
The team with the worst mark against Brady is the Atlanta Falcons, who are 0-9 against the four-time Super Bowl MVP. They certainly had their chance to beat him in Super Bowl 51 but we all know what happened there, don't we? The Minnesota Vikings (0-6) and the Dallas Cowboys are the other two teams that have never beaten him.
He owns a .500 record against the Cardinals, Broncos, and Seahawks
RELATED: Why Tom Brady Loves Using the 'F-Word'
The lucky three teams that own a .500 record against Tom Brady are the Arizona Cardinals, Denver Broncos, and Seattle Seahawks.
Brady has played just two games against the Cardinals in his career, obviously going 1-1. He missed out on a matchup against Arizona in 2008 after tearing his ACL in the season opener and missed them again in 2016 while serving his four-game suspension due to the Deflategate scandal.
Brady owns an 8-6 career record against the Broncos in the regular season but has gone 1-3 against them in the playoffs, including losses in the AFC title game following the 2013 and 2015 seasons. He was able to get to .500 against Denver overall when the Bucs beat Denver in Week 3 of the 2020 season.
As for the Seahawks, Tom Brady has gone 1-2 in the regular season against them but that Super Bowl 49 win evens things out at 2-2.
Tom Brady's win-loss record against every NFL team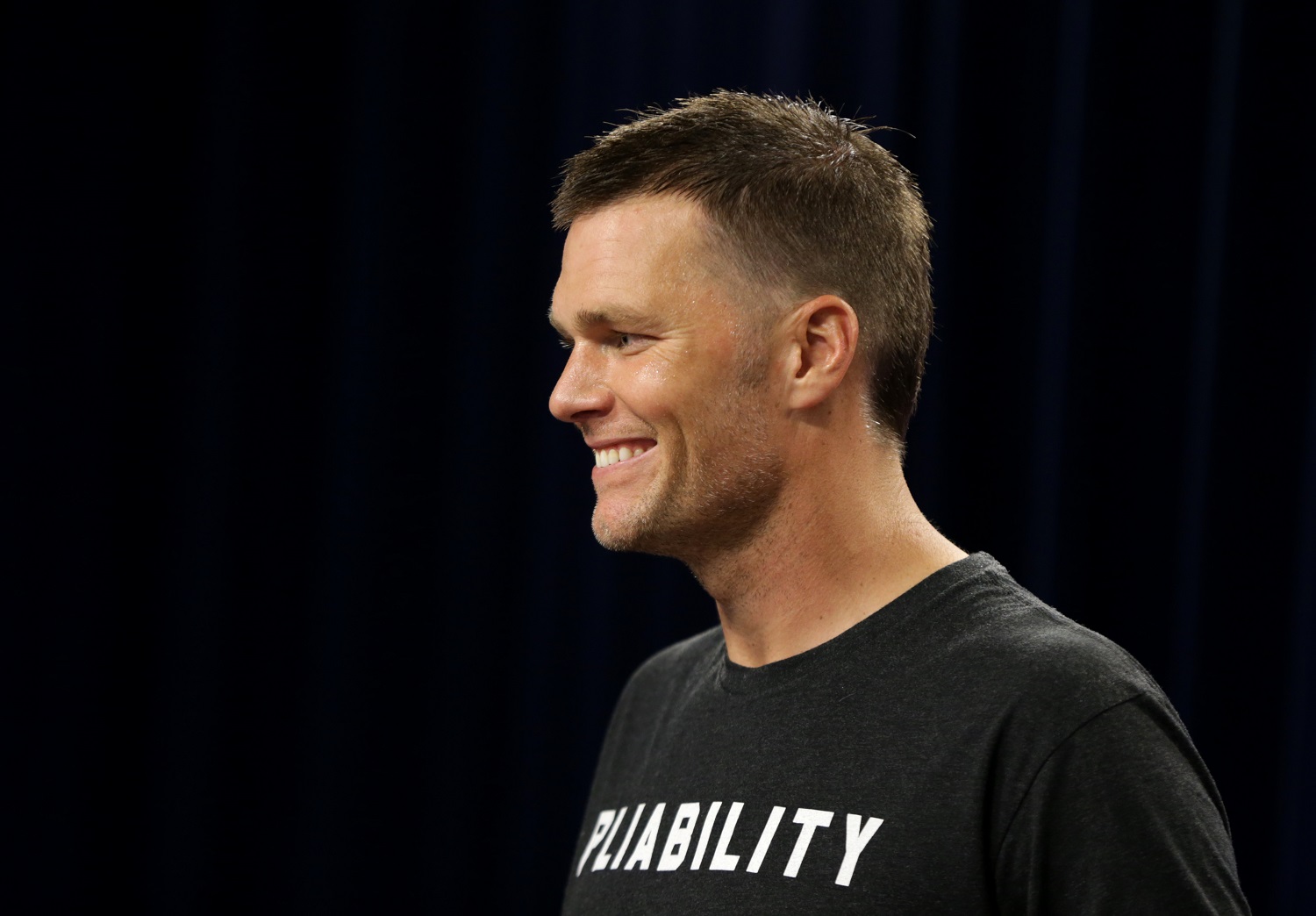 RELATED: Tom Brady Refuses to Sign a Certain Type of Autograph for the Most TB12 Reason Ever
Here's a breakdown of Tom Brady's win-loss record against every NFL team.
Arizona Cardinals: 1-1 (both regular season)
Atlanta Falcons: 9-0 (8-0 regular season, 1-0 postseason)
Baltimore Ravens: 8-4 (6-2 regular season, 2-2 postseason)
Buffalo Bills: 32-3 (all regular season)
Carolina Panthers: 5-3 (4-3 regular season, 1-0 postseason)
Chicago Bears: 5-1 (all regular season)
Cincinnati Bengals: 7-1 (all regular season)
Cleveland Browns: 7-1 (all regular season)
Dallas Cowboys: 5-0 (all regular season)
Denver Broncos: 9-9 (8-6 regular season, 1-3 postseason)
Detroit Lions: 5-2 (all regular season)
Green Bay Packers: 5-2 (4-2 regular season, 1-0 postseason)
Houston Texans: 9-2 (7-2 regular season, 2-0 postseason)
Indianapolis Colts: 15-4 (11-3 regular season, 3-1 postseason)
Jacksonville Jaguars: 8-1 (5-1 regular season, 3-0 postseason)
Kansas City Chiefs: 7-5 (5-5 regular season, 2-0 postseason)
Las Vegas Raiders: 6-1 (5-1 regular season, 1-0 postseason)
Los Angeles Chargers: 10-2 (7-2 regular season, 3-0 postseason)
Los Angeles Rams: 5-2 (3-2 regular season, 2-0 postseason)
Miami Dolphins: 23-12 (all regular season)
Minnesota Vikings: 6-0 (all regular season)
New England Patriots: 0-0
New Orleans Saints: 5-3 (4-3 regular season, 1-0 postseason)
New York Giants: 5-3 (5-1 regular season, 0-2 postseason)
New York Jets: 30-8 (29-7 regular season, 1-1 postseason)
Philadelphia Eagles: 5-2 (4-1 regular season, 1-1 postseason)
Pittsburgh Steelers: 12-3 (9-3 regular season, 3-0 postseason)
San Francisco 49ers: 2-1 (all regular season)
Seattle Seahawks: 2-2 (1-2 regular season, 1-0 postseason)
Tampa Bay Buccaneers: 4-0 (all regular season)
Tennessee Titans: 7-3 (5-2 regular season, 2-1 postseason)
Washington Football Team: 5-1 (4-1 regular season, 1-0 postseason)
Stats and records courtesy of Pro Football Reference