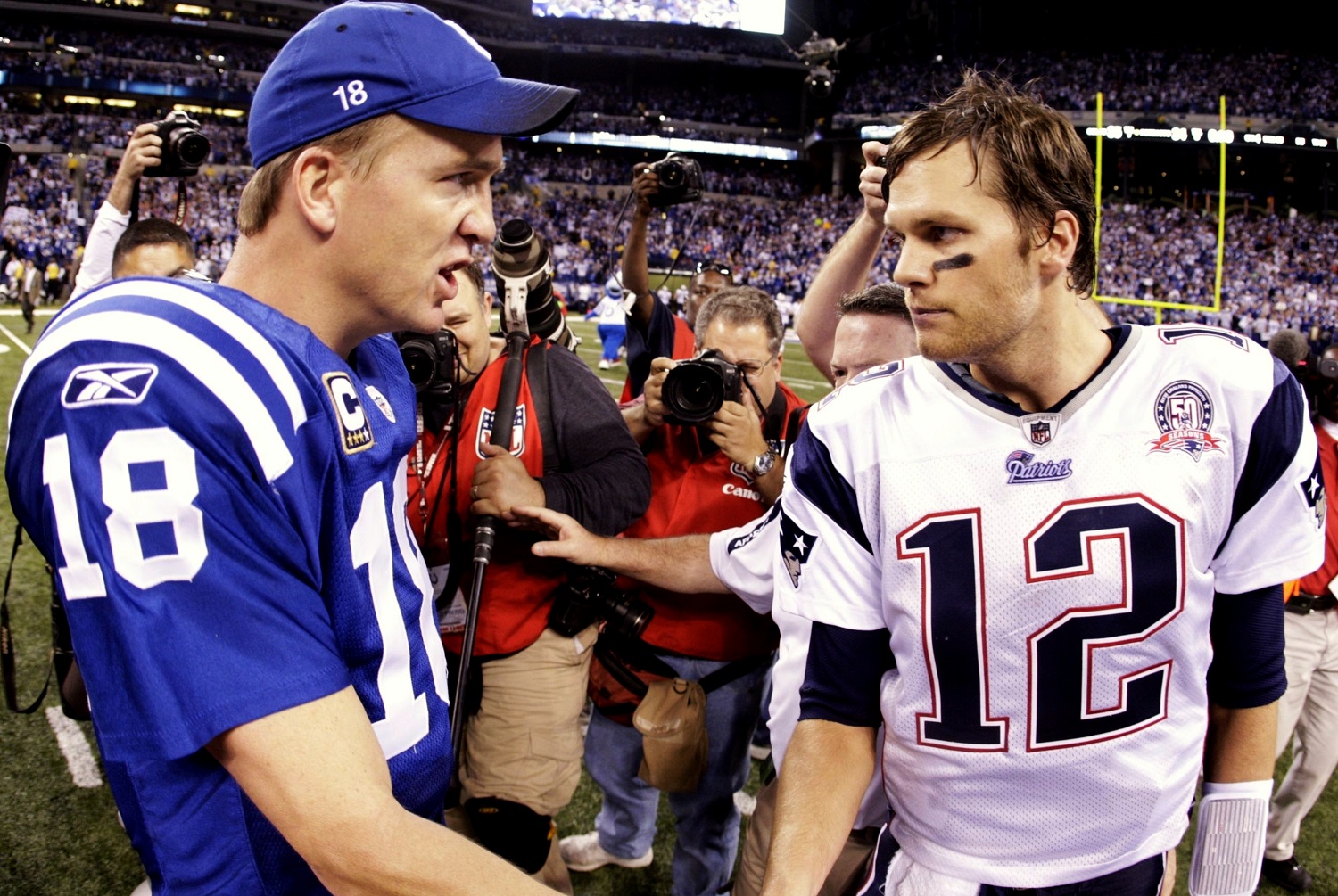 Bruce Arians Reveals What Tom Brady Has Always Done Better Than Peyton Manning
Buccaneers head coach Bruce Arians, who was once the QB coach for the Colts, says Tom Brady is better than Peyton Manning at one particular thing.
Tom Brady and Peyton Manning are easily two of the greatest quarterbacks in NFL history and will forever be linked due to their incredible rivalry. The two squared off 17 times before Manning retired with Brady emerging victorious the majority of the time. Brady, now in his 21st season in the NFL and his first in Tampa Bay, obviously also has more Super Bowl rings and has passed his former rival in most major passing categories since Manning retired following the 2015 season. Buccaneers head coach Bruce Arians has been lucky enough to coach both men and has now added one more little thing to Brady's column in comparing the two all-time greats.
Bruce Arians was Peyton Manning's quarterback coach with the Colts for three years
As mentioned, Bruce Arians has now coached both Peyton Manning and Tom Brady. He's obviously only coached Brady for a very short period of time, four games to be exact at the time of this writing, but he was the quarterbacks coach for the Indianapolis Colts from 1998 to 2000, which were the first three years of Manning's career. Arians has long been known as one of the best coaches of his generation as it pertains to quarterbacks and he played a crucial part in developing Peyton Manning into one of the best quarterbacks in the NFL.
Bruce Arians left the Colts following the 2000 season to become the offensive coordinator of the Cleveland Browns but returned to Indianapolis in 2012. However, he didn't get the chance to work with Manning again as that was the year the Colts released Manning and drafted Andrew Luck.
Tom Brady holds the edge over his former rival in most categories
The Tom Brady-Peyton Manning rivalry is a little more one-sided than some people think. As mentioned, the two went head-to-head on 17 occasions with Brady coming out on top 11 times. Brady was 8-4 when Manning played for the Colts and 3-2 when his rival played for the Broncos. Peyton Manning does, however, hold the postseason edge as he beat Brady's Patriots three times in five tries in the playoffs. Once again, Tom Brady obviously holds the edge in Super Bowl wins (6-2) and appearances (9-4).
As far as individual accolades are concerned, Manning won NFL MVP five times while Brady won it on three occasions. But Brady has won Super Bowl MVP four times while Manning won it only once. As it pertains to all-time passing statistics, Brady is second on the all-time passing yards list at 75,693 while Manning sits in third at 71,940. The order is the same on the all-time touchdown passes list with Tom Brady in second with 552 and Peyton Manning in third with 539.
Obviously, it must be noted that Tom Brady has played more seasons than Peyton Manning did in his career. Nevertheless, TB12 holds the edge in most categories and Bruce Arians recently tacked on something else.
Bruce Arians says Tom Brady throws a better spiral than Peyton Manning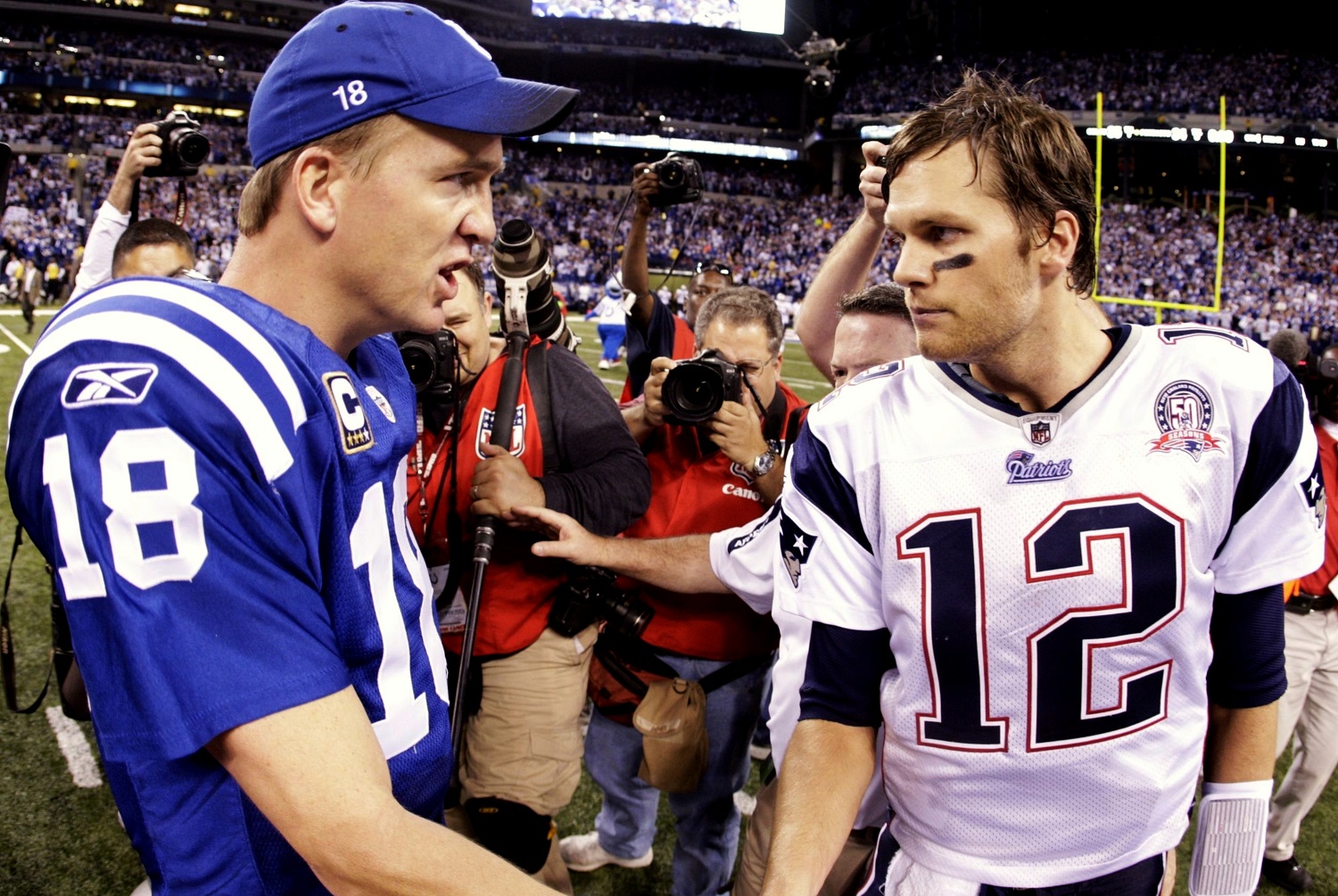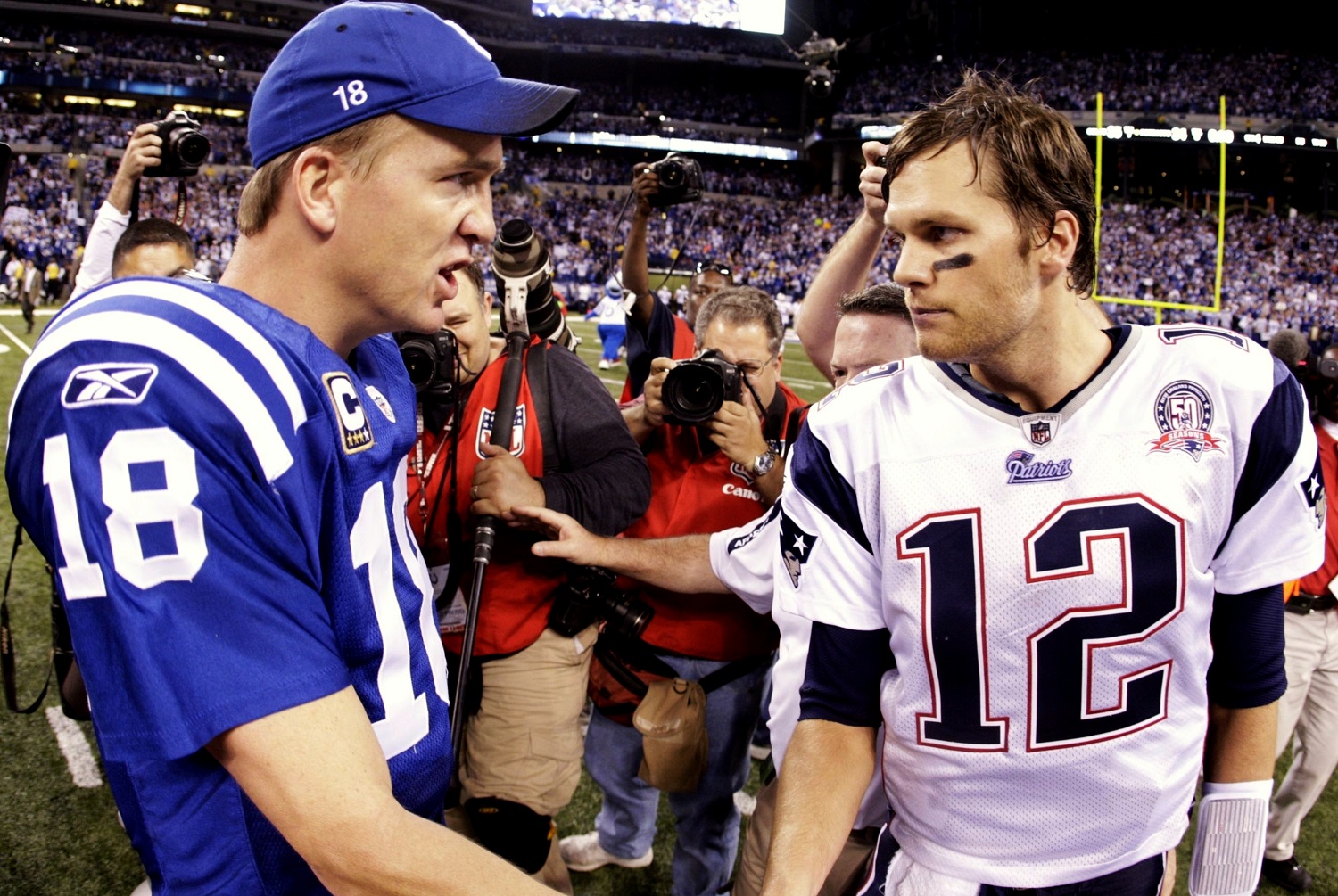 It might be the smallest thing but Bruce Arians has given Tom Brady one more thing to hold over Peyton Manning's head. Arians recently said on ESPN's NFL Sunday Countdown that Brady throws a better spiral than Manning (h/t Radio.com).
"Peyton was always very, very accurate, but the ball wouldn't spiral all the time. Tom gets really pissed when it's not a spiral."

Bruce Arians
But hey, at least Peyton Manning picked up the win in the most recent battle between the two when he and Tiger Woods defeated Tom Brady and Phil Mickelson in "The Match."
Stats courtesy of Pro Football Reference