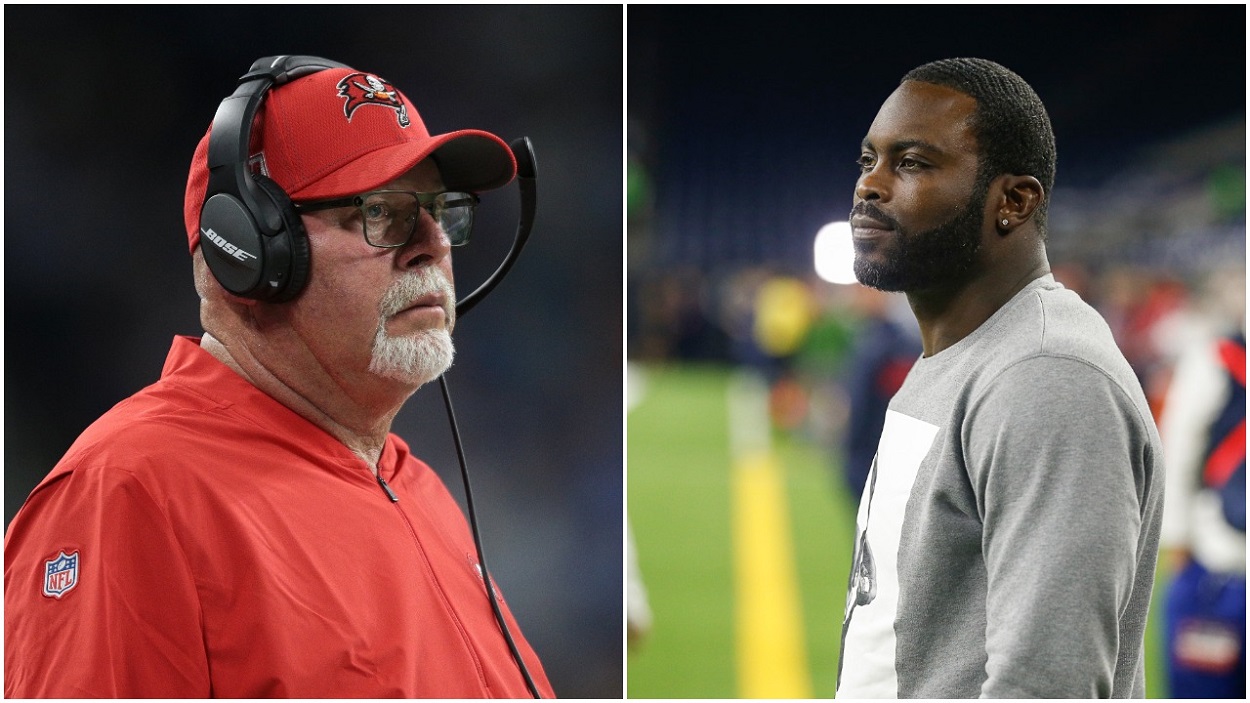 Bruce Arians Set a QB Rushing Record at Virginia Tech That Not Even Michael Vick Could Break
Tampa Bay Buccaneers head coach Bruce Arians set a quarterback rushing record at Virginia Tech that not even Michael Vick surpassed.
As Bruce Arians prepares to lead the Tampa Bay Buccaneers into a highly-anticipated Super Bowl 55 matchup with the defending champion Kansas City Chiefs, many of us sportswriters have gone digging for some interesting nuggets of information on the longtime coach. But one of the most fascinating things we came across actually has nothing to do with his coaching career whatsoever, although that's always for what he'll be best remembered.
No, what we came across recently has to do with Bruce Arians' playing days as a quarterback at Virginia Tech. Naturally, when most discussions occur about a former Virginia Tech quarterback, Michael Vick is the subject of conversation. And we're going to involve him in this topic as well as you might be surprised to learn that Arians set a quarterback rushing record during his time in Blacksburg.
Bruce Arians has been a football coach for more than four decades
As we said just a moment ago, Bruce Arians will always best be remembered as a coach. And he's certainly been coaching for a long time. Following his playing days at Virginia Tech, which we'll get to in just a moment, Arians stayed with the program as a graduate assistant for three seasons before heading south to become an assistant at Mississippi State.
After spending three seasons in Starkville, Arians worked for two years at the University of Alabama as Bear Bryant's running backs coach. He then received his first head coaching job in 1983 at Temple , where he amassed a 27-39 record over six seasons before taking his first job in the NFL with the Kansas City Chiefs as the running backs coach.
Arians returned to Mississippi State in 1993 as the Bulldogs' offensive coordinator and jumped back to the NFL to be the tight ends coach for the New Orleans Saints in 1996, a position he held for just one season before returning to Tuscaloosa to be the offensive coordinator for the Crimson Tide.
Bruce Arians returned to the NFL for good in 1998 and held various positions with the Indianapolis Colts, Cleveland Browns, and Pittsburgh Steelers before becoming the head coach of the Arizona Cardinals in 2013. After five seasons in Phoenix, he took a one-year hiatus and then came out of retirement to become the head coach of the Tampa Bay Buccaneers in 2019.
Yeah, the guy's been around.
'The Quarterback Whisperer' was a QB himself in his playing days
Perhaps one of the reasons why Bruce Arians has been called "The Quarterback Whisperer" as a coach is because he played the position himself back in the day.
Arians played multiple sports growing up but football eventually became his favorite and he was a standout quarterback at two different high schools in York, Pennsylvania. He enrolled at Virginia Tech in 1971 and joined the varsity squad as a sophomore the following season as a backup quarterback.
Arians completed five of 13 passes that year for 105 yards with two touchdowns and an interception. As a junior in 1973, he was still the backup but saw a little more playing time, completing 20 of 43 passes for 213 yards and a touchdown.
Bruce Arians finally became the starter as a senior and it's that particular season in which the aforementioned record comes in.
Bruce Arians had more rushing touchdowns in a single season at Virginia Tech than did Michael Vick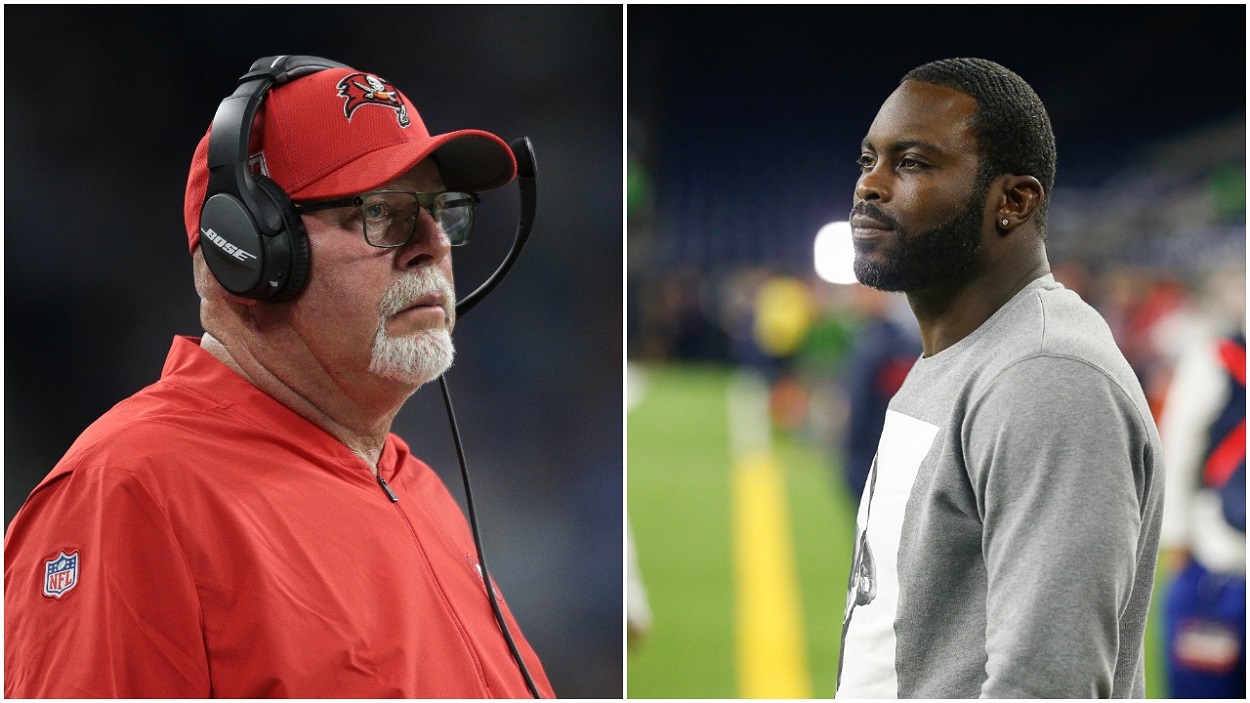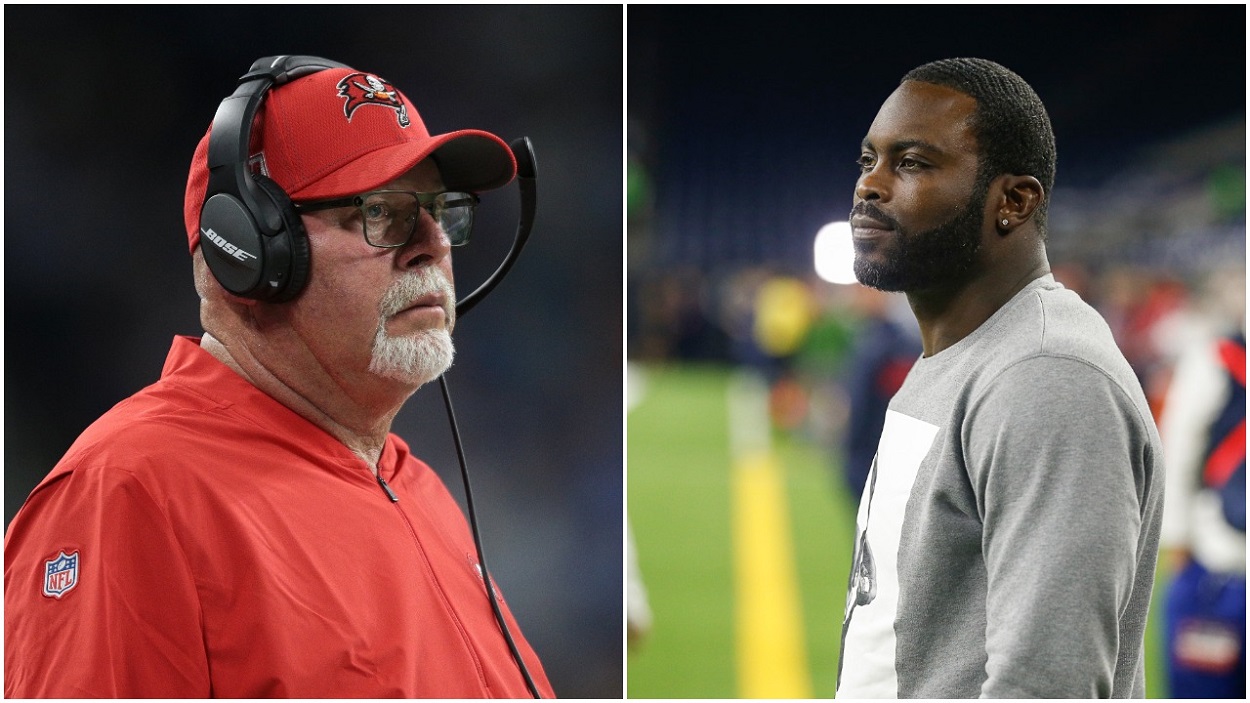 In 1974, under new head coach Jimmy Sharpe, Bruce Arians was named the staring quarterback at Virginia Tech and while he didn't have the greatest passing statistics — he completed 44.9% of his passes for 952 yards with just three touchdowns against seven interceptions — he did rush for 11 scores, setting a school record for the most rushing touchdowns by a quarterback in a single season.
Now, one would think that Michael Vick would have broken that record in at least one of his two seasons at Virginia Tech, especially given the fact that he rushed for three touchdowns in just over a quarter in his first game as a redshirt freshman in 1999. However, Vick ran for just six more scores that year in leading the Hokies to the national title game and then ran for only eight the following year.
But let's not get this twisted. Bruce Arians was nowhere near as good a runner as Michael Vick. In that season Arians set the record, he rushed 114 times for 243 yards. That's 2.1 yards per carry. In his two seasons as a starter in Blacksburg, Vick averaged 5.5 yards per rush, carrying the ball 235 times for 1,299 yards. But hey, Arians can at least say that he's got something over one of the best running quarterbacks in history.
However, what Bruce Arians can't say any longer is that he still holds that record at Virginia Tech as Hokies quarterback Jerod Evans broke it in 2016 when he rushed for 12 touchdowns. Still, the mark stood for 42 years, which is quite impressive.
Stats courtesy of Sports Reference