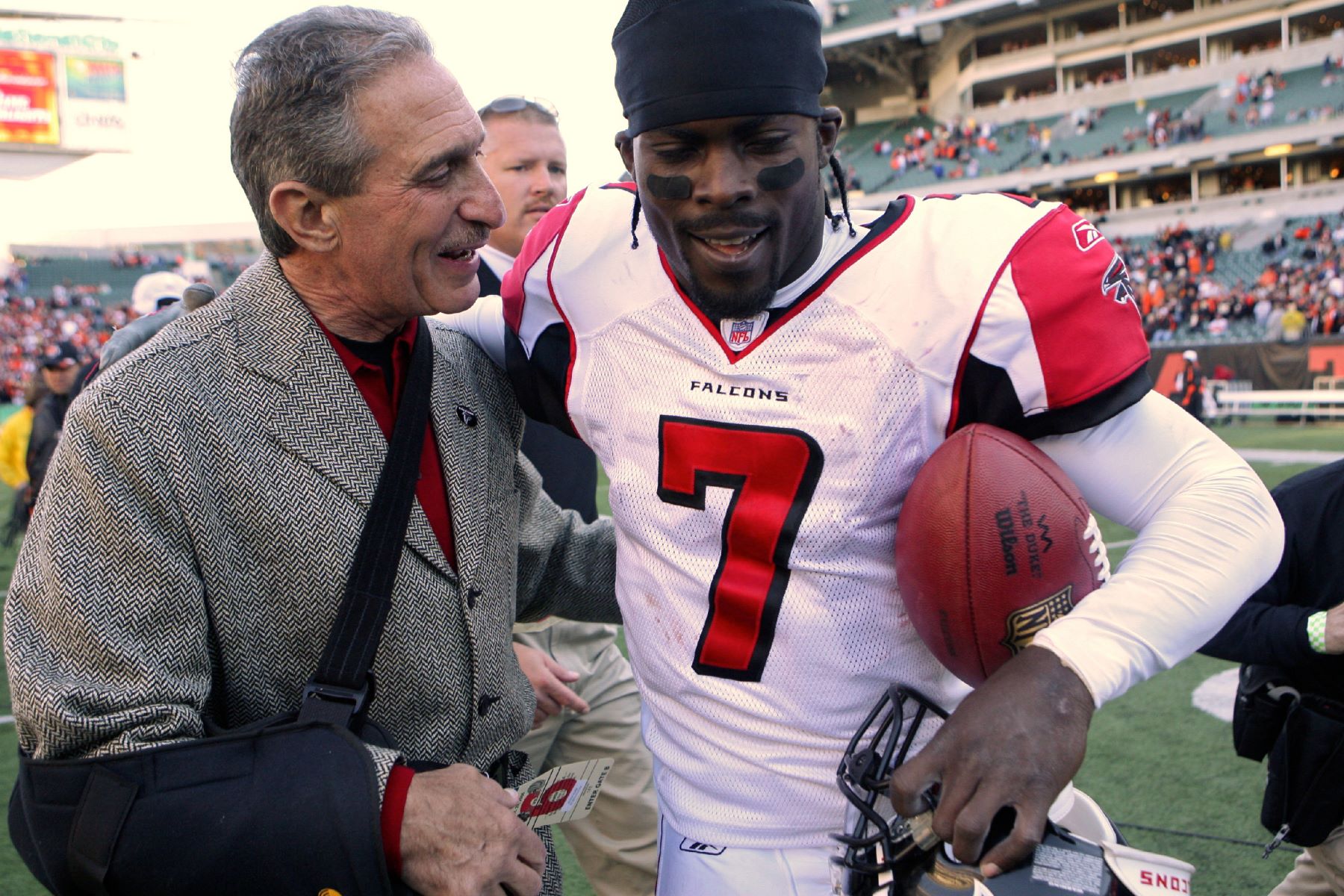 Michael Vick Confesses to the Disturbing Reason He Ran a Dogfighting Ring in Arthur Blank's New Book
In his book, Atlanta Falcons owner Arthur Blank revealed the disturbing reason behind Michael Vick's dogfighting ring creation that destroyed the quarterback's career.
What is Michael Vick famous for? Michael Vick was one of the best NFL quarterbacks right around the turn of the century. He won games with his arm and legs for the Atlanta Falcons, who selected him with the No. 1 overall pick in the 2001 NFL draft. Then, in 2007, it all came crashing down for the three-time Pro Bowler when his involvement in a dogfighting ring made national headlines.
The sickening news stunned everyone. Vick wasn't a fringe player in the activity. He was right in the middle of it all, funding the illegal and cruel enterprise. In addition to being shocked by the news, Atlanta Falcons owner Arthur Blank also felt betrayed by Vick. In Blank's book, Good Company, he details the personal conversations he had with Vick regarding the dogfighting and how it understandably changed their relationship forever.  
Michael Vick was an Atlanta Falcons superstar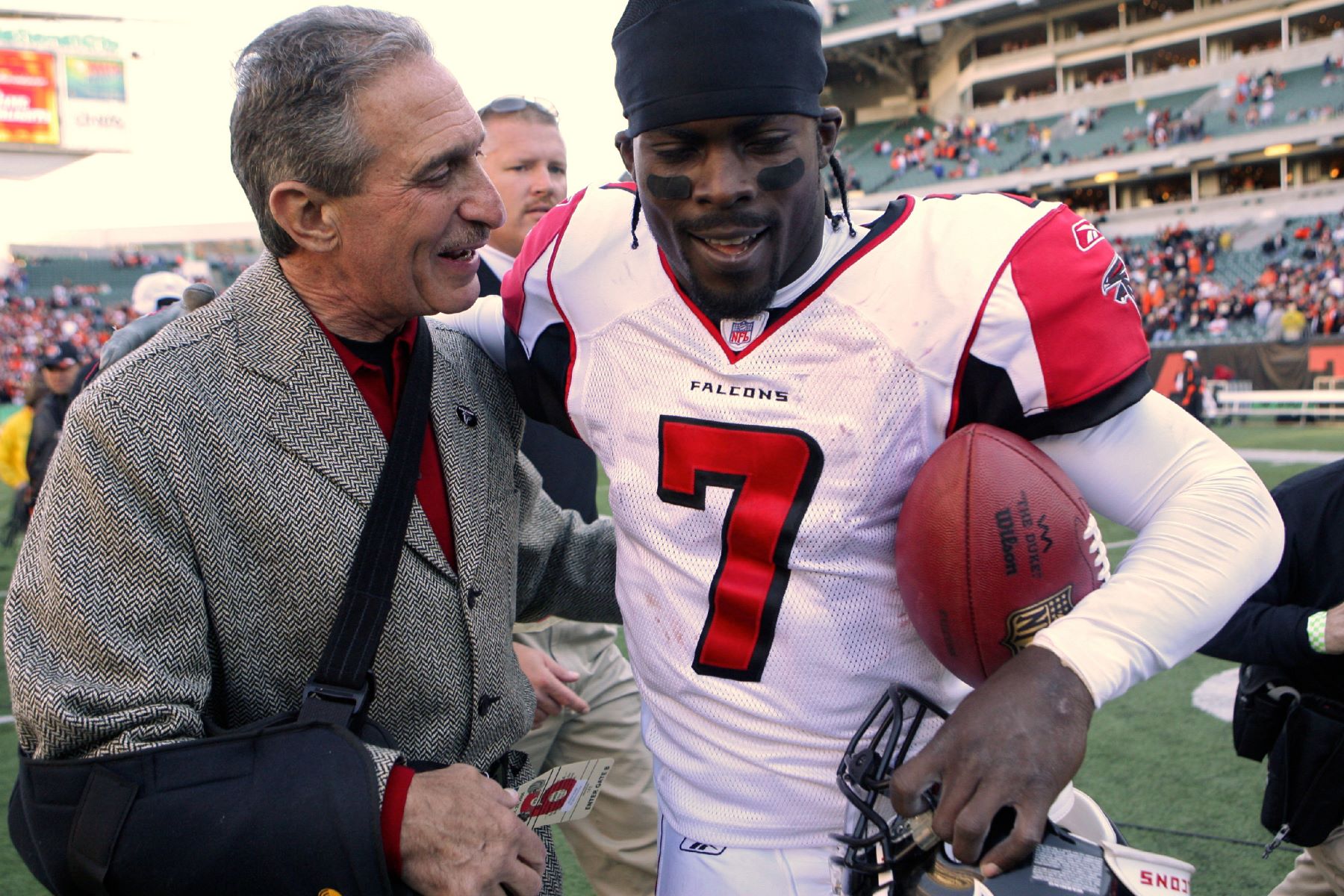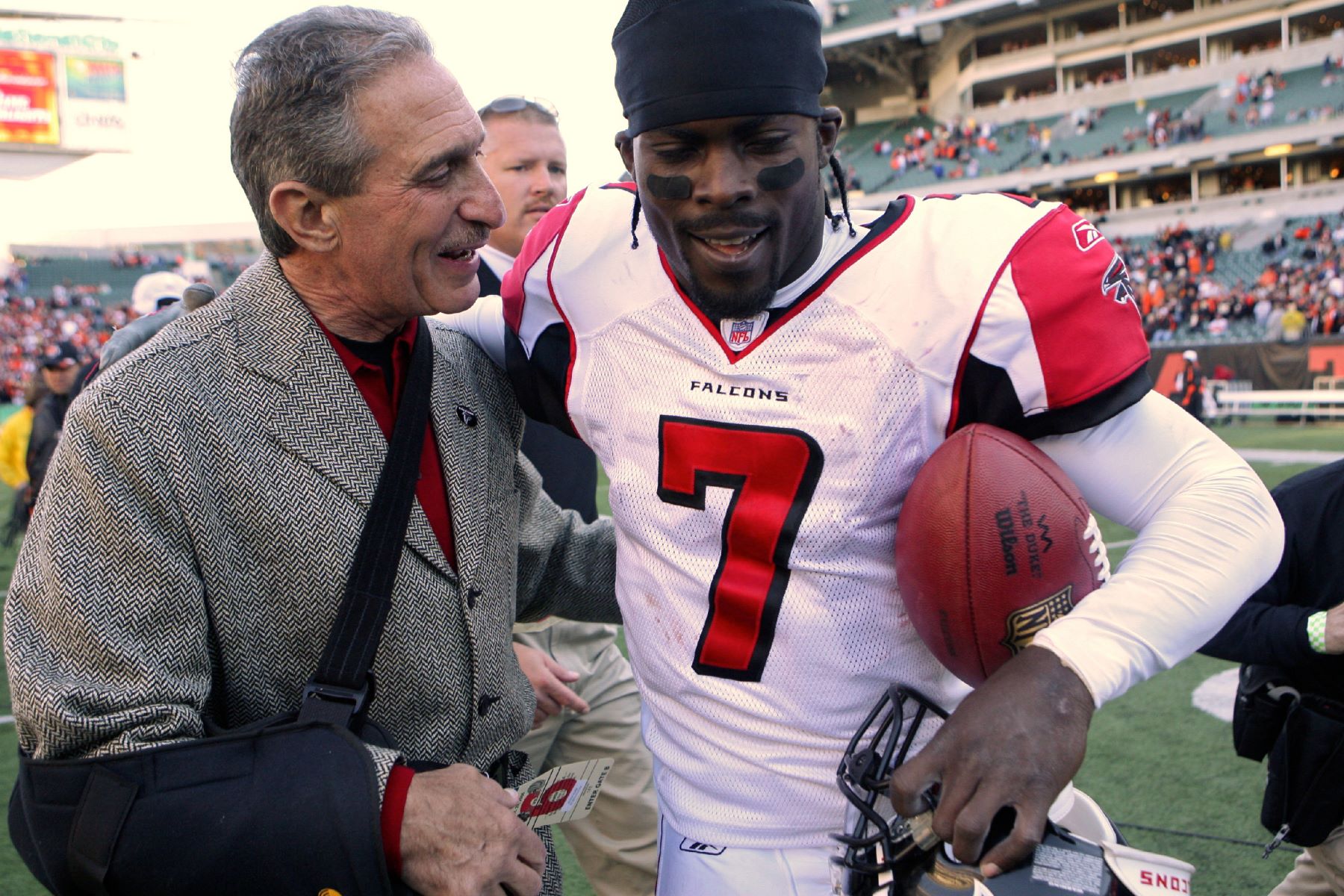 After a very successful college career at Virginia Tech, the Atlanta Falcons selected Michael Vick with the No. 1 overall pick in the 2001 NFL draft. In his rookie season, Vick saw limited action. 
That changed in 2002 when he started 15 games and passed for 2,936 yards and 16 touchdowns, according to Pro-Football-Reference. He added 777 rushing yards and eight touchdowns on the ground. He made his first Pro Bowl as the Falcons finished with a 9-6-1 record and earned a trip to the playoffs.
Vick played four more seasons in Atlanta, including two more Pro Bowl appearances in 2004 and 2005. In 2004, Vick became the first NFL quarterback to throw for over 250 yards and rush for more than 100 yards in a single game. It was one of many highlights in a season where the Falcons went 11-4 and made the playoffs, eventually losing to the Philadelphia Eagles in the conference championship game.
Michael Vick's dogfighting ring destroyed his career and put him in jail
In April 2007, Michael Vick had finished his sixth season in Atlanta several months earlier and had three Pro Bowls to his credit. In addition to his on-field successes, Vick was doing good off of it. That month he was scheduled to speak with members of Congress about increased funding for after-school programs. 
Vick never made it to Congress. Instead, he went into hiding after his name appeared in the headlines revealing he was involved in a dogfighting ring with more than 50 dogs. After initially pleading not guilty in July, Vick and the three other defendants pleaded guilty to various charges in August, according to History. 
The NFL suspended Vick for violating the league's personal conduct policy. Vick held a press conference following the suspension announcement where he apologized to Falcons owner Arthur Blank, head coach Bobby Petrino, and the organization and its fans. He admitted he lied to many people because he was ashamed. 
In Dec. 2007, Michael Vick was sentenced to 23 months in federal prison. After serving 19 months, he was released from federal prison in May 2009, according to ESPN.
Arthur Blank was 'deeply disappointed and betrayed'
Arthur Blank, the co-founder of Home Depot, bought the Atlanta Falcons just a year after the team had drafted Michael Vick. The two developed a strong relationship and were responsible for taking the Falcons to new heights. When news broke about the dogfighting, Blank confronted his superstar quarterback and pointedly asked if the reports were true.
"No, Mr. B," Vick responded, according to Blank's book Good Company. "I knew Michael — or at least, I thought I did," Blank said. "I believed him to be a man of his word." After that initial discussion, Blank departed for vacation. When he returned, more information had come to light. And it wasn't good. "I felt deeply disappointed and betrayed — both personally and for the franchise — when Michael's shadow life came to light," Blank writes, according to Yahoo. 
Like so many others, Blank had one single question for Vick: why? Why would he risk all of his fame and fortune for something so cruel and horrendous? "I never thought I'd get caught," Vick bluntly admitted to Blank.
Vick's arrogance eventually caught up to him and cost him everything. He served his time. Since his release, he has become an animal rights advocate lobbying for legislation against illegal animal fighting. There's no denying that Michael Vick made some very poor choices in his life. However, to his credit, he's made a concerted effort to atone for those mistakes. In life, that's all we can ask of ourselves and others.