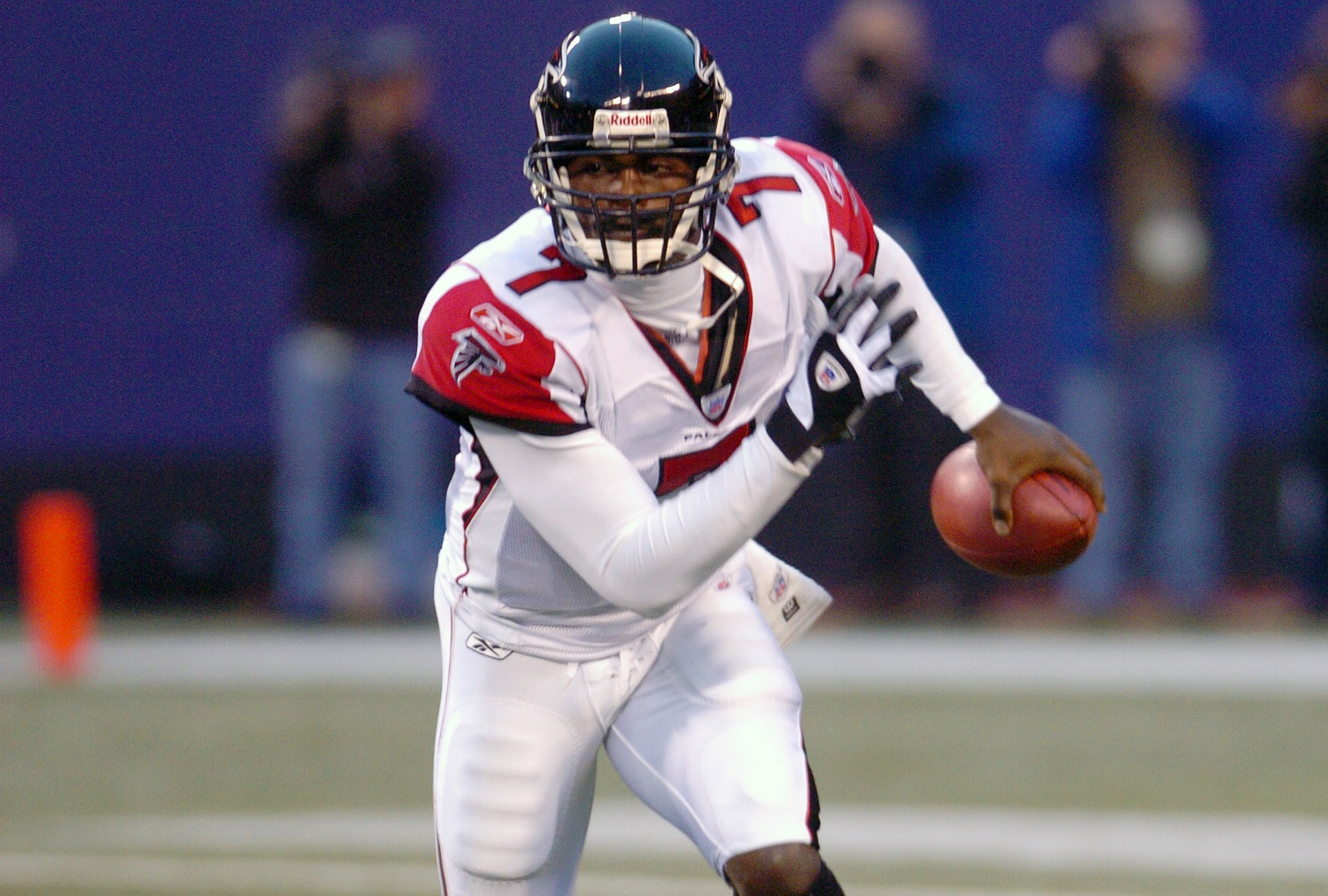 Michael Vick Has Thrown Down the Gauntlet for Every NFL Quarterback, and That Includes Patrick Mahomes
Even at 40 years old, retired NFL quarterback Michael Vick possesses dazzling speed in the 40-yard dash.
We'll never know what kind of numbers Michael Vick would have amassed without the self-inflicted legal troubles. The dynamic quarterback missed two full seasons in the prime of his career after an impressive start with the Atlanta Falcons and enjoyed just three genuinely productive years afterward.
But we'll say this much: If we needed a 40-year-old quarterback who's been out of the game for six years to try picking up eight yards on a third-down scramble, then Vick would be our guy.
Michael Vick can still run like the wind
Michael Vick was never as much an NFL quarterback as he was a disruptive force handling the ball on every play. His passer rating exceeded 86.5 only once in a season in which Vick played more than sparingly. But his ground game was every bit as impressive as what Barry Sanders or Emmitt Smith threw at defenses.
Vick rushed for 1,039 yards in 2006, his last season before the banishment. In all, he carried for 6,109 yards and 36 touchdowns in parts of 13 seasons. The yardage total is a record for NFL quarterbacks, and the average of 7.0 yards a carry is completely off the chart.
"People love … to tell me their 'Vick in Madden' stories. About how they ran for 500 yards in one game. Or about how they broke the touchdown record in a season, 10 times over. They'll tell me that I was like a blur of a blur. That I was a human cheat code," Vick told  The Players' Tribune.
People who saw him play on real NFL fields had that same feeling.
Vick still possesses that sprinter speed
Vick posted two solid seasons at Virginia Tech before turning pro after the 2000 season. Pro scouts already had plenty of film on him, but Vick gave them something to remember by clocking 4.33 seconds in the 40-yard dash during his pro-day workout, a record for quarterbacks and right up there with the fastest running backs and cornerbacks.
It was one more credential that led the Falcons to make Vick the first pick in the 2001 draft.
Two decades later, Vick would still be a first-round pick for someone putting together a relay for a track and field team. As part of NFL Network's recent "Run Rich Run" charity edition, Vick recorded a time of 4.72 seconds in the 40, according to Larry Brown Sports.
The best part? Vick said he felt a twinge in his hamstring, slowing his 40-year-old body down a little bit. The man is sure he still has some high 4.5s in him.
Even a lot of active QBs can't keep up
The league canceled the NFL Scouting Combine in Indianapolis this year because of the pandemic, so consistent testing data isn't available. Going back to 2020, however, Vick's 4.72 for 40 yards at age 40 puts the young guys to shame.
Jordan Love, the Green Bay Packers' first-round pick, only clocked a 4.74. Jake Fromm, a fifth-rounder for the Buffalo Bills, turned in a meandering 5.01. Justin Herbert (4.68) and Jalen Hurts (4.59) were only marginally faster than Vick.
Herbert is the only one of that bunch who made much of an impact on the field last season. However, a guy from the quarterback class of 2017 took notice of Vick's fancy footwork.
"Man he is still faster than me," Kansas City Chiefs star Patrick Mahomes tweeted.
It's true. Mahomes ran the 40 in 4.80 seconds at the NFL Scouting Combine before his senior year.
All stats courtesy of Pro Football Reference.