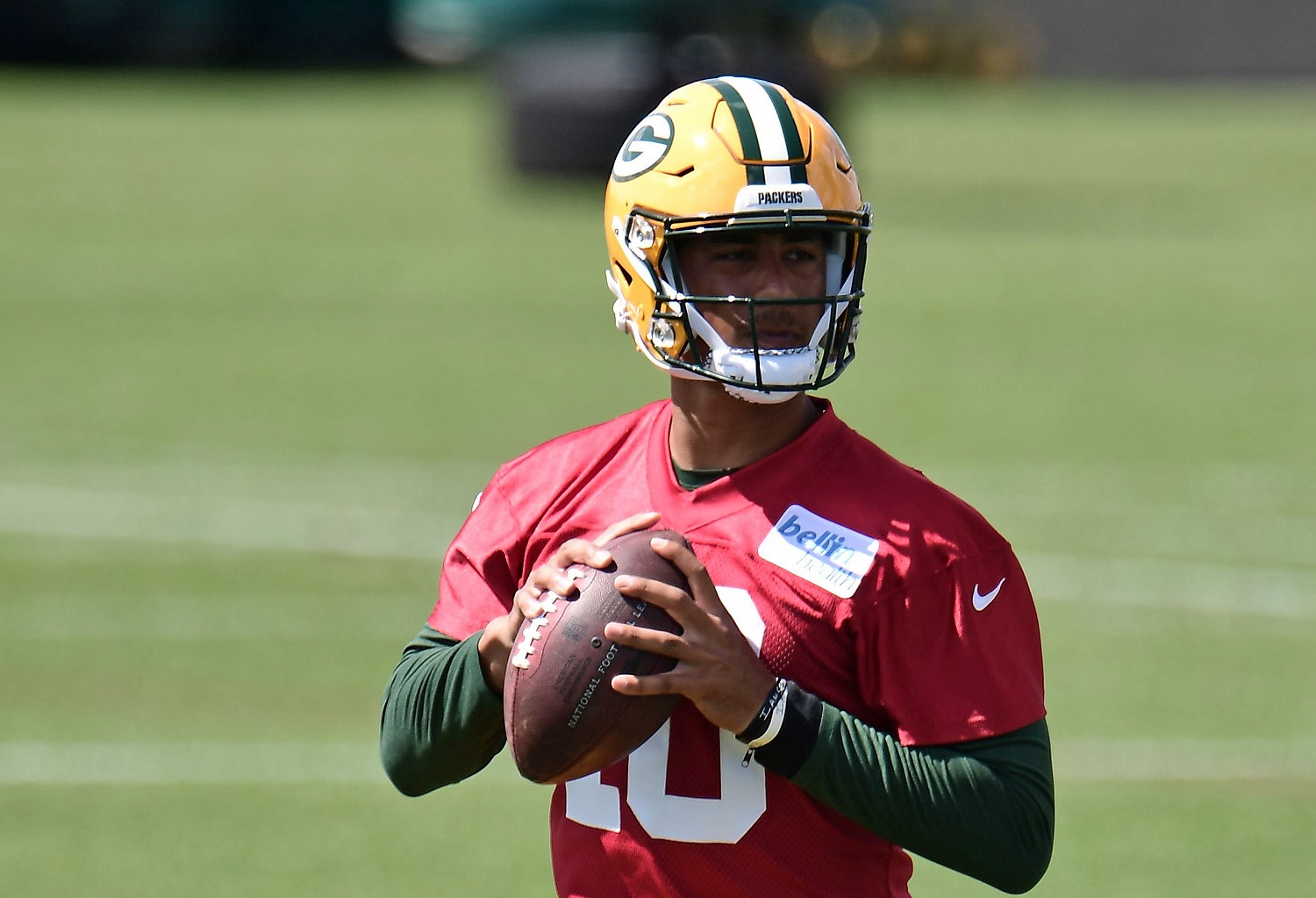 The Irony of the Packers' Handling of Aaron Rodgers and Jordan Love Is Staggering
Jordan Love is stuck behind a disgruntled star quarterback on the Green Bay Packers just as Aaron Rodgers was in 2008 before the team dealt Brett Favre to the New York Jets.
Those who forget history are condemned to repeat the Green Bay Packers' mistakes. That's not quite what George Santayana wrote, but it's close enough.
The NFL team is saying all the right things to Jordan Love while making all the wrong moves with Aaron Rodgers. The Packers apparently possess no remaining institutional knowledge of the Brett Favre saga 13 years ago.
Tying together Brett Favre, Aaron Rodgers, and Jordan Love
To understand how the Packers arrived at this mess over Rodgers, recall what the Milwaukee Journal Sentinel wrote just before Green Bay traded Favre to the New York Jets on Aug. 7, 2008:
"Just about everyone who counted in the football department reached the conclusion that Favre could never win another championship. His dismal playoff record in the past decade couldn't be overlooked. And the Packers concluded that it would be the mother of all mistakes if Aaron Rodgers got away without being properly evaluated as a starter.

"Favre had one chance, and one chance only, to salvage his career in Green Bay. He had to commit wholeheartedly for another season by early March.

"One could argue that the Packers erred by asking Favre for an answer that early. But having been hung out to dry by Favre too often in the past, they were in no mood for drama. Their days of mollycoddling were over."
Replace "Rodgers" with "Love" in those three paragraphs. And then replace "Favre" with "Rodgers." That's almost exactly where the Packers are today.
With a draft-day trade no longer on the table, general manager Brian Gutekunst and president Mark Murphy have one fewer option with the season four months away.
Taking the parallels a step further
Favre still had quality football left in him when Green Bay made Rodgers its first-round draft pick in 2005. Favre was only 35 years old at the time and still had another six seasons and 132 touchdown passes in front of him. But the Packers hadn't won a Super Bowl since the 1996 season, and Favre's 18 interceptions in seven postseason losses by the time of his trade were too many to gloss over.
Still, the Packers made Rodgers wait behind Favre for three seasons. Then they brought him to training camp in 2008 with no clear vision for the future. Favre seemingly changed his mind weekly in the spring and early summer about committing. The vacillation was closer to daily early in camp before GM Ted Thompson and coach Mike McCarthy dispatched the quarterback to the Jets.
Green Bay slipped from 13-3 in Favre's final regular season to 6-10 with Rodgers. In fairness, defense was an issue on the 2008 team, and Rodgers did compile a 93.8 passer rating despite 13 interceptions (his highest total to date).
Now, however, the Packers have a new quarterback in waiting. They traded up in 2019 to select Love late in the first round. He's younger and cheaper than Rodgers, but Green Bay's QB1 is coming off a season with 48 touchdown passes and a 121.5 passer rating.
How's Love supposed to get on the field with Rodgers clearly still capable of playing at such a high level?
Matt LaFleur's advice for Love
The Packers' brain trust remains united in the sentiment (publicly, at least) that they cannot imagine a 2021 season without Rodgers.
Coach Matt LaFleur isn't saying what he and Rodgers talk about these days, but the leaks from the Rodgers camp center on the three-time first-team All-Pro wanting out of Green Bay unless there's a shakeup in the front office.
On the other hand, LaFleur is discussing what he has been telling Love.
"I've talked to Jordan, and I told him, you know, there's a lot of noise out there," LaFleur said, according to ESPN. "You can't focus on that. You've got to focus on yourself. And I know you guys think it's cliché, but he's got to be the best version of him, and he's got to do everything in his power to make sure he knows the expectations, the standards which we've developed at that position. I know he's working hard."
It's almost certainly the same thing McCarthy was telling Rodgers 13 years ago, likely one more bit of forgotten history in Green Bay.
All stats courtesy of Pro Football Reference.