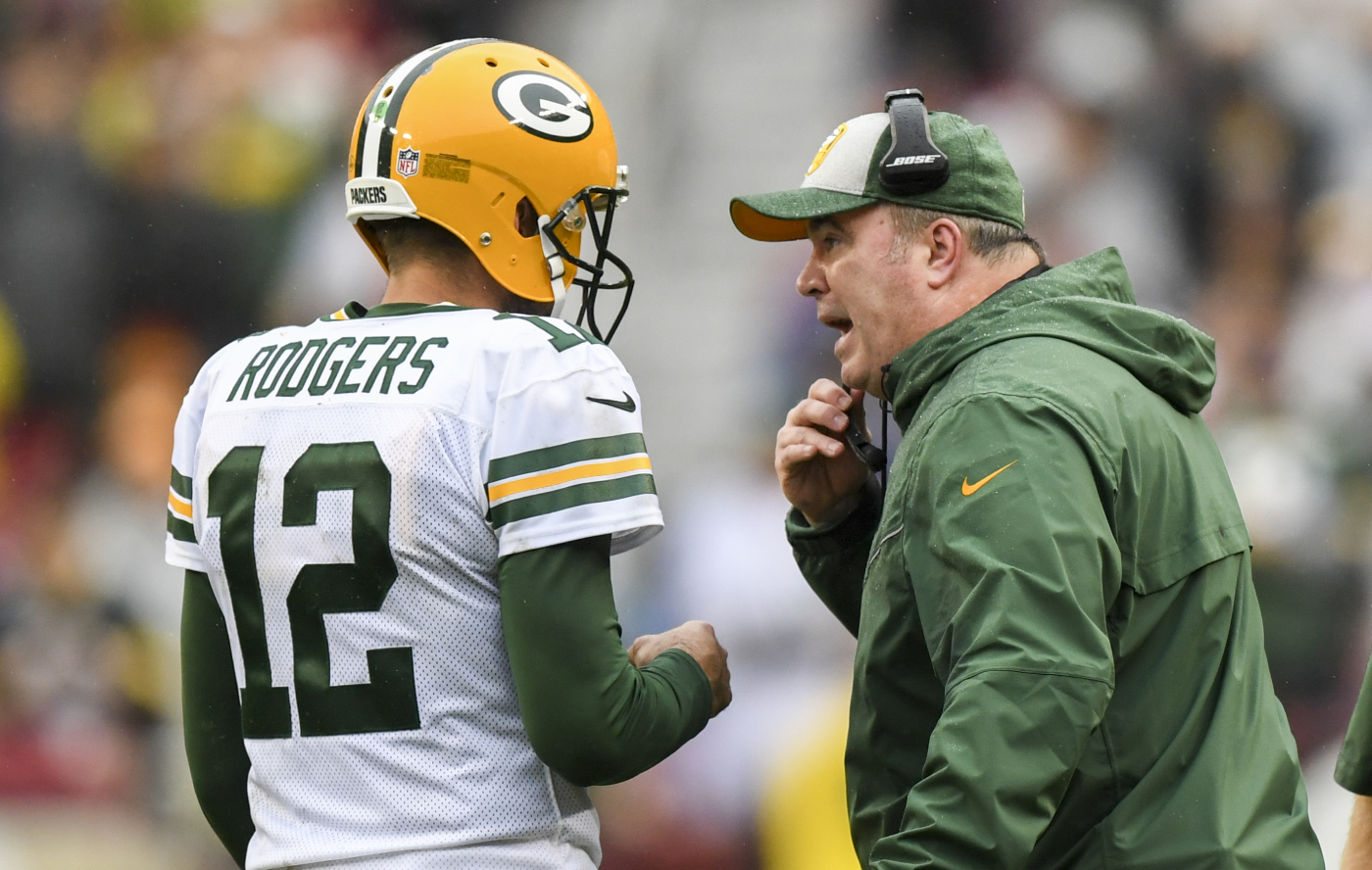 Aaron Rodgers Sees His Legacy Blossom as Mike McCarthy's Crumbles
Green Bay Packers quarterback Aaron Rodgers sees his legacy blossom as Mike McCathy's crumbles with the Dallas Cowboys.
It's pretty clear that Dallas Cowboys head coach Mike McCarthy needed Aaron Rodgers more than Rodgers needed McCarthy. The two teamed up for a Super Bowl title with the Green Bay Packers during the 2010 season. McCarthy was fired as Green Bay's head coach in 2018 and hired by the Cowboys this year. While McCarthy is struggling mightily in Dallas, Rodgers is thriving without him.
Mike McCarthy's struggles
Mike McCarthy had a very good career as a head coach with the Green Bay Packers – at least for the first 11 of his 13 seasons. McCarthy compiled a record of 135-85-2 record, postseason included, as the head man in Green Bay. McCarthy had one losing season in his first 11 seasons with the Packers.
Things began to fall apart for McCarthy in 2017. The team went 7-9 in its first losing season since 2008. In 2018, Green Bay struggled mightily. The Packers won four times through 12 games before firing McCarthy during the season.
McCarthy sat out the entire 2019 season before being hired to replace longtime Dallas Cowboys coach Jason Garrett as head coach of the Cowboys. Expectations were high. The Cowboys have been atrocious, going 2-5. Their defense has given up points in record-setting fashion. Quarterback Dak Prescott was injured two weeks ago and is lost for the season. Dallas is coming off an embarrassing 25-3 loss to the lowly Washington Football Team.
Aaron Rodgers having an MVP-type season
It took five games for Aaron Rogers to show he's human. After leading the Green Bay Packers to a 4-0 start, Rodgers and the Packers were thumped at Tampa Bay two weeks ago. After leading 10-0, the Buccaneers rattled off 38 unanswered points to hand the Packers their first loss. Rodgers bounced back with a four-touchdown performance in a victory over the Houston Texans.
Rodgers threw a pair of interceptions in the loss to the Buccaneers. Those are his only two of the season. In 2020, Rodgers has thrown 17 touchdown passes. He has completed 65.9% of his passes. Rodgers shined against the Texans despite playing without his top running back Aaron Jones and his Pr Bowl left tackle David Bakhtiari.
Rodgers relieved heavily on Davante Adams (13 catches), but also threw touchdown passes to two guys – Jace Sternberger and Malik Harris – who made their first touchdown grabs of the season. "That definitely lit up the bingo card, I'm sure, from training camp," Rodgers said, according to ESPN. "Sternberger touchdown, Malik Taylor touchdown, Henry Black forced fumble, that's pretty special right there. That's a credit to those guys. There were a lot of guys we knew this week that were gonna get a chance to play."
Rodgers thriving without McCarthy
Since 2017, things have gone downhill for Mike McCarthy. In 2018, he seemed to lose control of the Green Bay Packers after 13 seasons with the team. He was fired during the season with the team sporting a record of 4-7-1.
In his first season with the Cowboys, he's apparently lost control after a few games. Multiple anonymous players went to the media and said how dissatisfied with the coaching staff. Meanwhile in Green Bay, Aaron Rodgers and the Packers are 5-1 under second-year coach Matt LaFleur. This comes one year after LaFleur, Rodgers, and the Packers advanced to the NFC title game.
Rodgers said there were no hard feelings with McCarthy and he said he was happy for him when he was hired by the Cowboys. McCarthy was 8-3 against the Cowboys as the Packers head coach. "We've had a lot of success down there," Rodgers said, according to PackersNews.com in January, "and I think that was probably one of the reasons. We obviously won the Super Bowl there, but we won some big games down there over the years. So I'm not surprised that Jerry had an infatuation with Mike because we've had some really good performances."