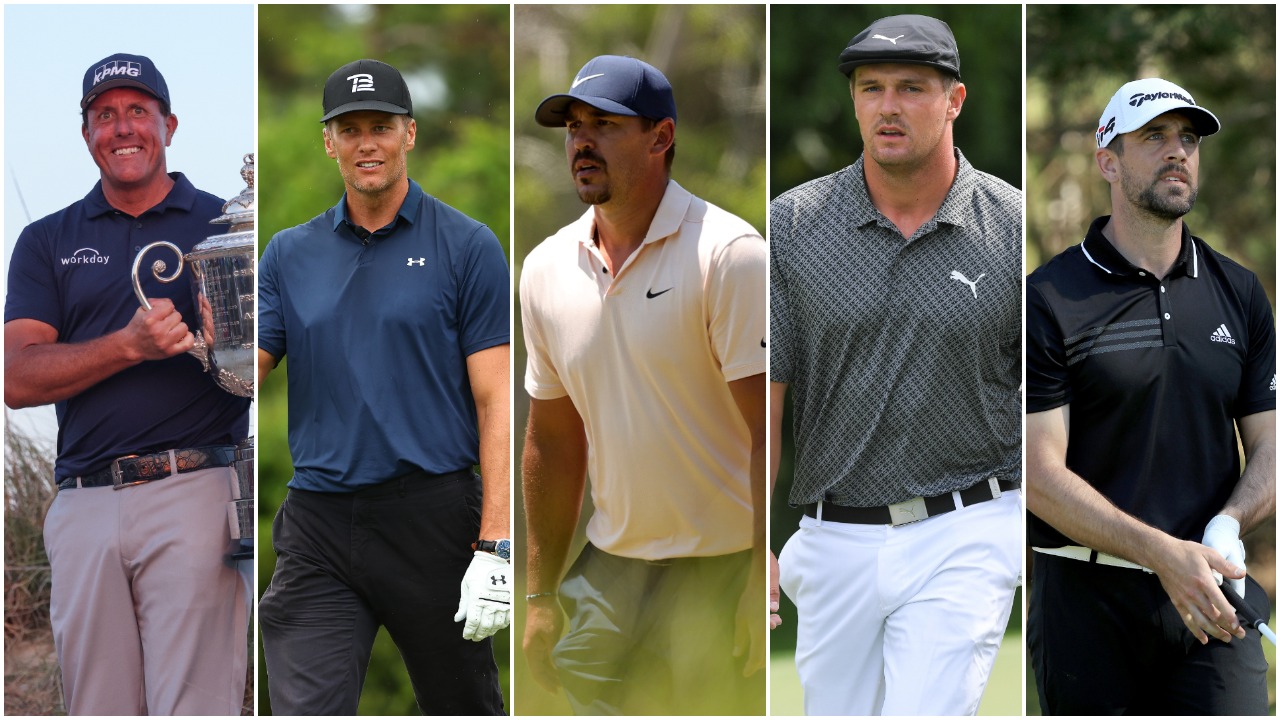 Tom Brady Trolling Aaron Rodgers About the Latest Edition of 'The Match' With Phil Mickelson Set Off the Newest Chapter in the Ongoing Feud Between Bryson DeChambeau and Brooks Koepka
Trash talk in the upcoming Phil Mickelson/Tom Brady vs. Bryson DeChambeau/Aaron Rodgers has begun and Brooks Koepka has inserted himself into the conversation.
It's only been a few hours since it was announced that newly-crowned PGA champ Phil Mickelson and Tom Brady will battle Bryson DeChambeau and Aaron Rodgers in the newest edition of "The Match," and shots are already being fired. But it's not just the four participants who are chiming in as DeChambeau's bitter rival, Brooks Koepka, got in on the action as well.
Phil Mickelson and Tom Brady battle Bryson DeChambeau and Aaron Rodgers in July
Early Wednesday morning, it was announced that Mickelson and Brady will take on DeChambeau and Rodgers in the latest edition of "The Match" on Tuesday, July 6. The event, which will air on TNT at 5:00 p.m. Eastern, will take place at The Reserve at Moonlight Basin in Big Sky, Montana, and is being billed "Big Time in Big Sky."
This is the second time the team of Mickelson and Brady will take part in the event as the two teamed up last May in a losing effort against Tiger Woods and Peyton Manning. As far as we know at this time, DeChambeau and Rodgers have never played together, but both certainly bring a lot of star power to this latest edition. The format is said to be modified alternate shot, meaning both players from each team tee off and then choose which shot they want to use. The player whose tee shot wasn't chosen then hits the second shot, and then the two players alternate shots until the hole is completed.
Let's get to the fun stuff.
Brady trolled Rodgers with a couple of DeChambeau-Koepka memes
For those who may have missed it, soon after Koepka finished his final round on Sunday alongside Mickelson at the PGA Championship, he was participating in an interview with Golf Channel when DeChambeau, with whom he's been at odds with for quite some time now, walked past. Koepka, apparently annoyed with the sound Bryson's metal spikes were making, rolled his eyes, and dropped numerous profanities as he literally lost his train of thought.
Over the last few days, Koepka's eye-roll has become a very popular meme on social media and Brady used it on Wednesday to take shots at both DeChambeau and Rodgers.
Brady also used the poster of "The Match" to take a shot at Rodgers, whom he beat in the NFC Championship Game on the way to winning his seventh Super Bowl.
But Twitter isn't the only place where Brady was taking jabs as he had more jokes on Instagram.
But Brady wasn't the only one firing shots.
Brooks Koepka inserted himself into the conversation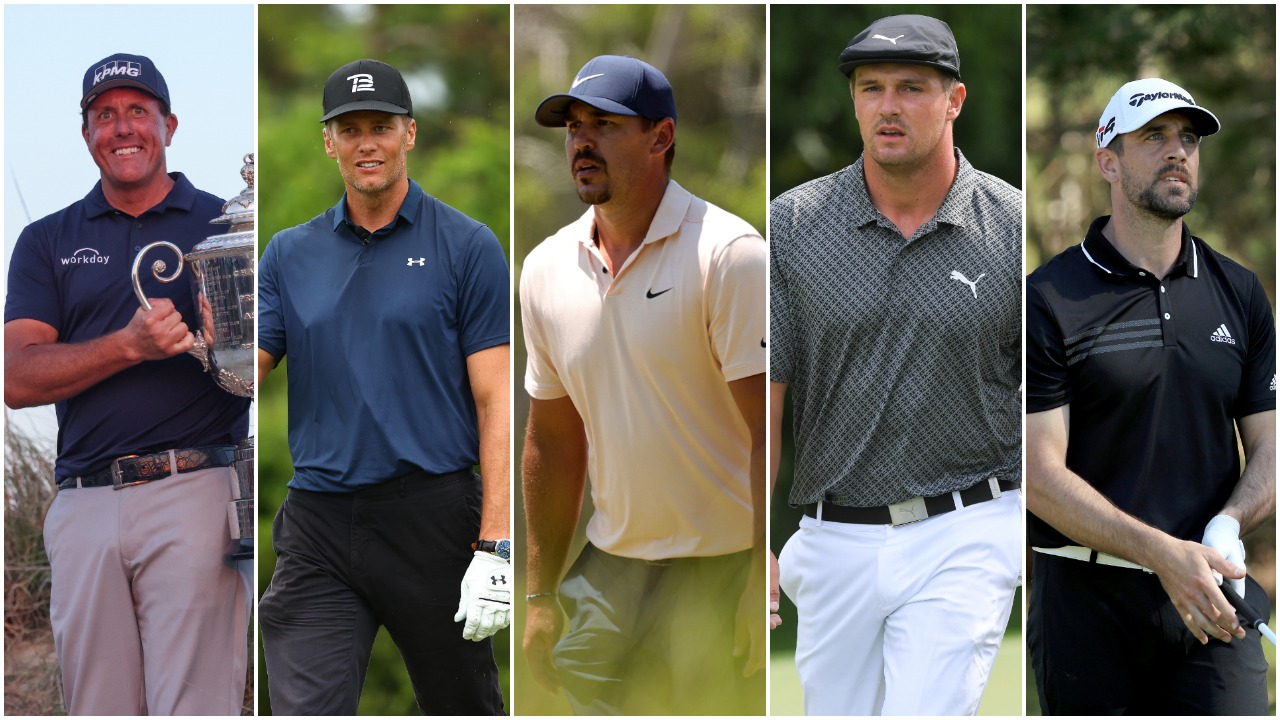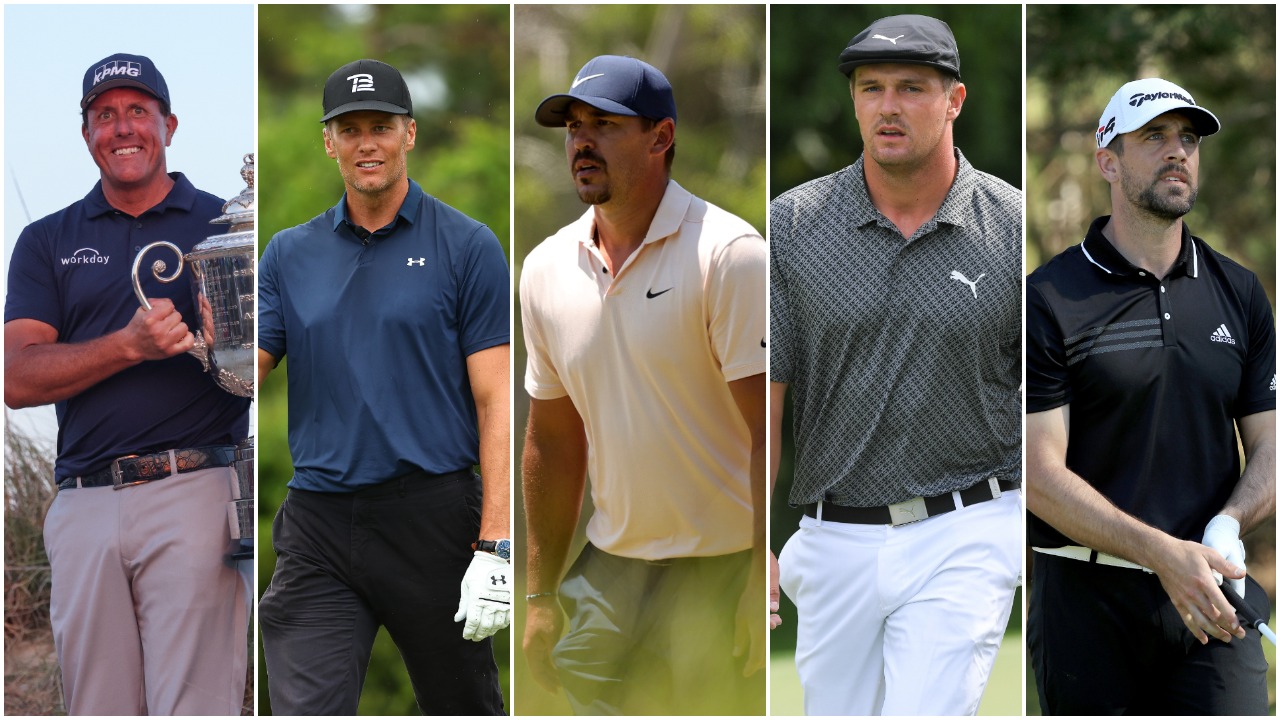 Soon after all of this began, Koepka himself got in on the action with a simple tweet directed at Rodgers.
But things certainly didn't end there as DeChambeau, certainly never one to back down, responded about an hour later with this gem.
And Koepka's response?
As of this writing, that was the last tweet between the two but it certainly wouldn't be shocking to see a few more before the day is over. It's a shame that Koepka and a partner (Patrick Mahomes perhaps…Brady connection with the Super Bowl, Rodgers connection with State Farm) aren't included in the upcoming edition of "The Match" as that would truly make the event must-see television. But with Mickelson, Brady, DeChambeau, and Rodgers in the mix and all wearing mics, we're all in for a treat.
Perhaps TNT can bring in Koepka to team up with Charles Barkley on commentary. Now that would be a treat.