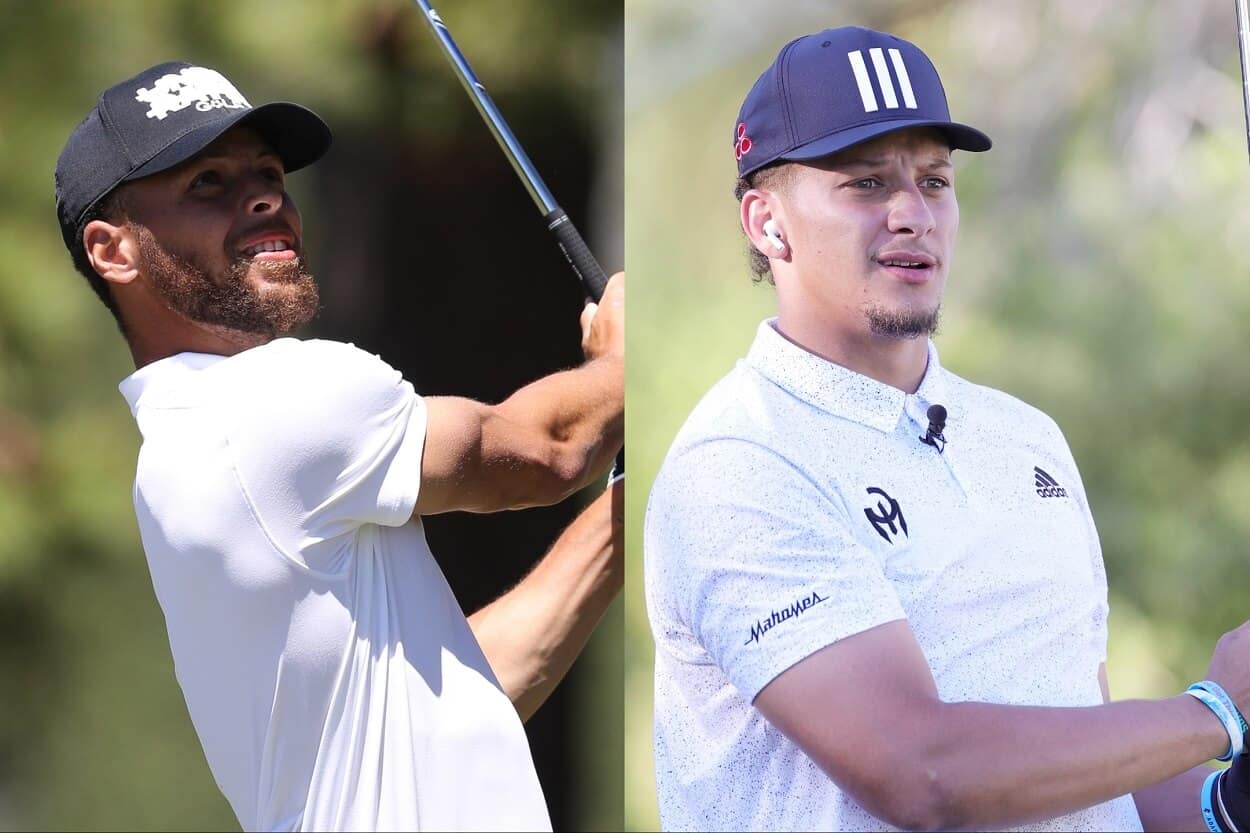 The Match: Who Makes More Money, Stephen Curry or Patrick Mahomes?
Comparing the salaries of four-time NBA champ Stephen Curry and two-time Super Bowl winner Patrick Mahomes.
With all due respect to Klay Thompson and Travis Kelce, both of whom are massive superstars and multi-time champions in their own right, the biggest draws of the eighth edition of The Match are Stephen Curry and Patrick Mahomes.
Again, with respect to Thompson, when you think of the Golden State Warriors, you first think of Curry, who's a two-time NBA MVP, a nine-time All-Star, a nine-time All-NBA selection, an NBA Finals MVP, and has led the Dubs to four titles in the last nine years.
And again, with respect to Kelce, when you think of the Kansas City Chiefs, you first think of Mahomes, who's a two-time NFL MVP, a five-time Pro Bowler, a three-time All-Pro, a two-time Super Bowl MVP, and has led the Chiefs to two titles in the last four seasons.
So they're obviously both pretty good at what they do for a living.
As for this most recent edition of The Match, which is the first pitting teammates from two different sports against one another as Curry and Thompson battle Mahomes and Kelce, the edge is undoubtedly with Steph, who owns a 0.3 handicap index and has even made a few starts on the Korn Ferry Tour.
But it's not as if Mahomes doesn't have skills, which he showcased in this event last year when he teamed with Josh Allen to take on Tom Brady and Aaron Rodgers, losing by just a single hole. This is also Curry's second appearance in The Match as he teamed with Peyton Manning in the third edition back in 2020, losing 4&3 to Phil Mickelson and Charles Barkley.
So with all their accolades out of the way, let's get to the question to which you came for the answer. Who makes more money?
Who makes more money, Stephen Curry or Patrick Mahomes?
In addition to golf, it might surprise you to know that Stephen Curry holds the edge over Patrick Mahomes in yet another area: money.
As each is one of the biggest superstars in their respective sports, both are obviously compensated handsomely for their efforts. But as it currently stands, Curry banks a bit more than does Mahomes.
Here's a quick look at what each made this past year, as well as what each will earn over the next three seasons, which is when Curry's current contract expires. Yes, NBA and NFL contracts differ with roster/signing bonuses in the latter, but we're taking those into account here and going with total "Yearly Cash" as listed by Spotrac.
| Season | Stephen Curry | Patrick Mahomes |
| --- | --- | --- |
| 2022-23 | $48,070,014 | $31,950,000 |
| 2023-24 | $51,915,615 | $40,450,000 |
| 2024-25 | $55,761,216 | $37,950,000 |
| 2025-26 | $59,606,817 | $41,950,000 |
| Total | $215,353,662 | $152,300,000 |
And there you have it. In this four-year span, Curry's AAV is $53,838,415.50, while Mahomes' is $38,075,000.
It should be noted, however, that Mahomes did restructure the 10-year/$450 million deal he signed in July 2020 a couple of times already to move some money around.
As mentioned, Curry has no contract beyond the 2025-26 NBA season at this time. Mahomes, however, is signed through the end of the 2031-32 NFL season. And in the six campaigns following those listed above, he'll bank $294.2 million, giving him an AAV of $49,033,333.33.
So while he still won't average what Stephen Curry is now, Patrick Mahomes will be just fine.