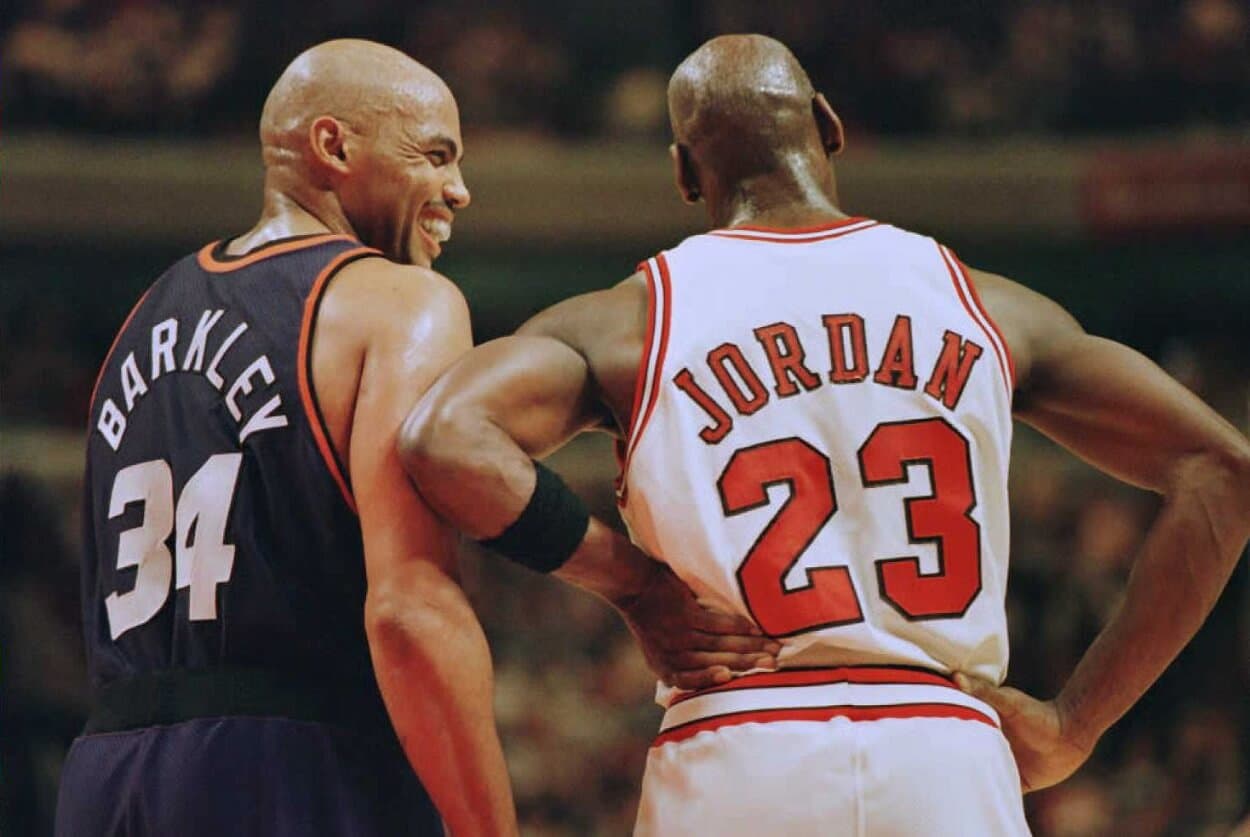 Charles Barkley Hired a Well-Known Heckler to Harass Michael Jordan During the 1993 NBA Finals
Charles Barkley paid a well-known heckler to harass Michael Jordan during the 1993 NBA Finals.
In 1993, Charles Barkley had his best shot at an NBA title.
After spending the first eight years of his career with the Philadelphia 76ers, the "Round Mound of Rebound" was traded to the Phoenix Suns ahead of the 1992-93 campaign and quickly made an impact in the desert. Not only did he lead his new team to an NBA-best 62-20 record, Barkley also took NBA MVP honors, averaging 25.6 points, 12.2 rebounds, 5.1 assists, 1.6 blocks, and one steal per game.
But once he led the Suns to victories over the LA Lakers, San Antonio Spurs, and Seattle Supersonics on the Western Conference side of the bracket in the NBA Playoffs, Barkley was left with a significant barrier to overcome to snag his first ring: Michael Jordan and the Chicago Bulls.
The Bulls, of course, were the two-time defending NBA champs at that point. And Jordan was in the prime of his career and was coming off another MVP-caliber season of his own. In leading the Bulls to a 57-25 regular-season record, he won a seventh straight scoring title, averaging 32.6 points, led the league in steals for a third time with 2.8 per game, and also averaged 6.7 rebounds and 5.5 assists.
So the Suns certainly had their work cut out for them in the 1993 NBA Finals. And while playing against who was then one of his great friends, Barkley was ready to do anything to knock Jordan off the top of the mountain. He even went so far as to hire a well-known heckler to sit right behind the Bulls' bench and harass His Airness.
Charles Barkley hired a well-known heckler to harass Michael Jordan during the 1993 NBA Finals
In the 1980s and 1990s, Robin Ficker, a season-ticket holder of the then-Washington Bullets, was seen as one of the most relentless hecklers in professional sports history. He was spit on by several NBA players and coaches. Longtime Portland Trail Blazers center once attempted to attack him but was restrained before he could get to him.
Ficker annoyed Pistons legend Isiah Thomas so much that Zeke threw a shoe at him. Along those same lines, even Michael Jordan lost his temper and chucked a basketball at him at one point. And although Charles Barkley had also long been a target of Ficker's taunts, he also knew Jordan, typically a cool customer on the court, had been rattled by this guy.
And with that in mind, as Ficker himself later told Sirius XM's Mad Dog Radio, Barkley actually flew Ficker to Phoenix for the NBA Finals and got him tickets right behind the Chicago bench to harass Jordan. And Ficker certainly did his best.
As this series wasn't long after Michael Jordan's gambling issues came to light, Ficker brought along oversized playing cards, $100 bills, and poker chips. He even went so far as to wave around a copy of Richard Esquinas' book, "Michael and Me: Our Gambling Addiction…My Cry for Help," in an attempt to get under MJ's skin.
Now, it's unclear how many games Ficker attended. But no matter the amount, Barkley's plan obviously didn't work out as he'd hoped.
For starters, the Bulls won all three games in Phoenix, including the series-clinching Game 6. And in those three games on the road, Jordan averaged 35.3 points, 9.0 rebounds, 7.0 assists, and 2.7 steals. Ficker claimed MJ had a "great sense of humor" about the whole thing, saying they even had a little game going.
Ficker says he would ask Jordan how much he wanted to bet, and MJ would reply by just holding up three fingers, clearly referring to how the Bulls were going to win their third straight championship, which they obviously did.
But then-NBA commish David Stern didn't see the humor in any of it. Not long after, the NBA instituted a new rule, dubbed The Ficker Rule, that was aimed at unruly fans. Violators were given one warning to start, and a second offense meant automatic ejection.
Ficker, who later ran for governor in Maryland, gave up his season tickets in Washington a few years before Michael Jordan bought a stake in the franchise.