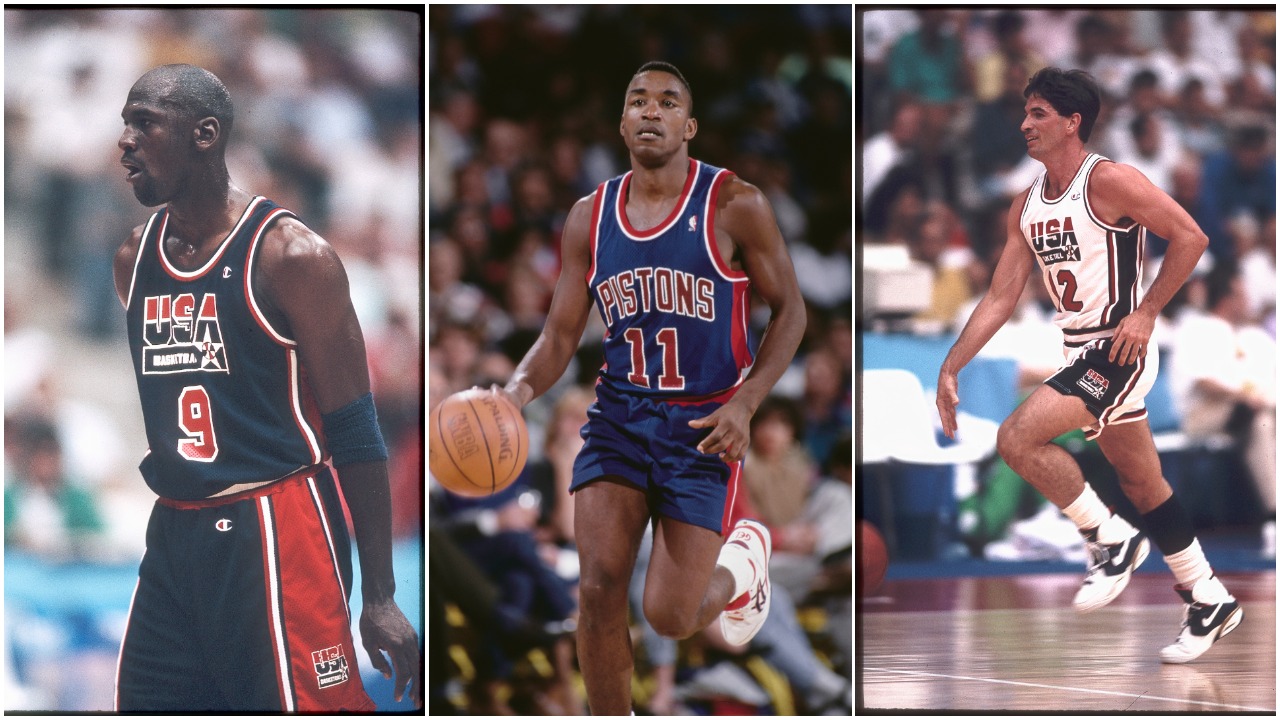 Michael Jordan Inadvertently Created a Dream Team Opening for Isiah Thomas by Breaking John Stockton's Leg
Michael Jordan created an opening for Isiah Thomas on the famed 1992 Dream Team by accidentally breaking John Stockton's leg.
For nearly three decades now, people have been discussing whether or not Michael Jordan was responsible for keeping Isiah Thomas off the famed Dream Team that won gold at the 1992 Summer Olympics in Barcelona. MJ denied it for years, even during the fifth episode of The Last Dance documentary that aired in 2020. But we all know now that wasn't the case.
Soon after the episode aired, author Jack McCallum, who published a book on the Dream Team in 2013, released an audio recording from his interview with Jordan for the project in which MJ fully admitted to telling former Chicago Bulls GM and USA Basketball Selection Committee Chairman Rod Thorn that he wouldn't play if Thomas was included.
But we're not here to rehash that story yet again.
What we'll be looking at today is how Jordan inadvertently created an opening for Isiah to join the Dream Team by breaking the leg of John Stockton, the man chosen ahead of Thomas to be the team's second point guard behind Magic Johnson.
Michael Jordan wasn't the only reason Isiah Thomas was left off the Dream Team
Jordan certainly wasn't the only member of the Dream Team to have issues with Isiah over the years as Zeke had run-ins with Magic, Larry Bird, Charles Barkley, obviously Scottie Pippen, and probably just about everyone else on the roster besides Christian Laettner. So it's not as if MJ was the only one who didn't want Isiah around.
But here's the thing. While Thomas certainly hadn't had the resume to be on the team, he simply wasn't one of the two best options at point guard at that time. There was no way Magic wasn't going to be on the team given his worldwide popularity and even though he didn't play the 1991-1992 season following his HIV diagnosis, he'd been an All-NBA First Team selection nine years in a row leading up to his retirement.
As for Stockton, he'd been an All-NBA selection in each of the five seasons leading into the '92 Olympics, earning Second Team honors in 1988, 1989, 1990, and 1992, and Third Team honors in 1991. Isiah, on the other hand, hadn't been selected to any All-NBA team since 1987. So even if Jordan didn't mind him being there, he might not have been chosen anyway.
Jordan accidentally broke John Stockton's leg in the Dream Team's second game at the Tournament of the Americas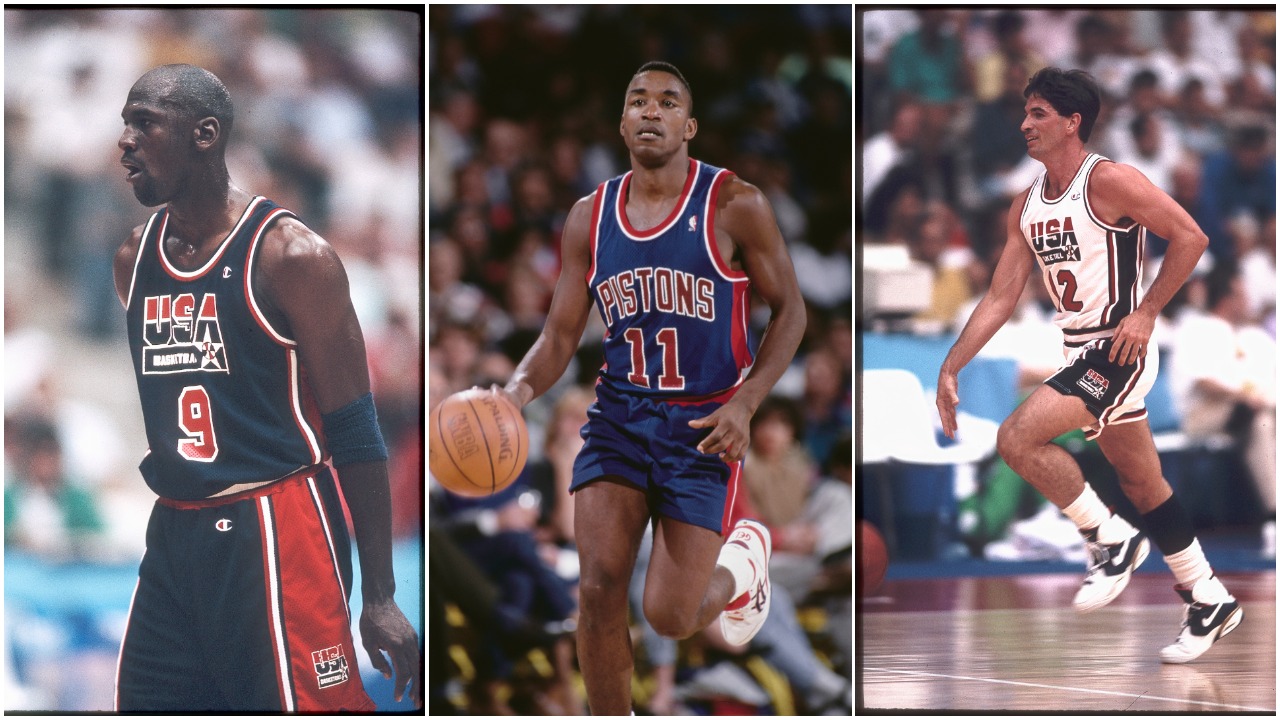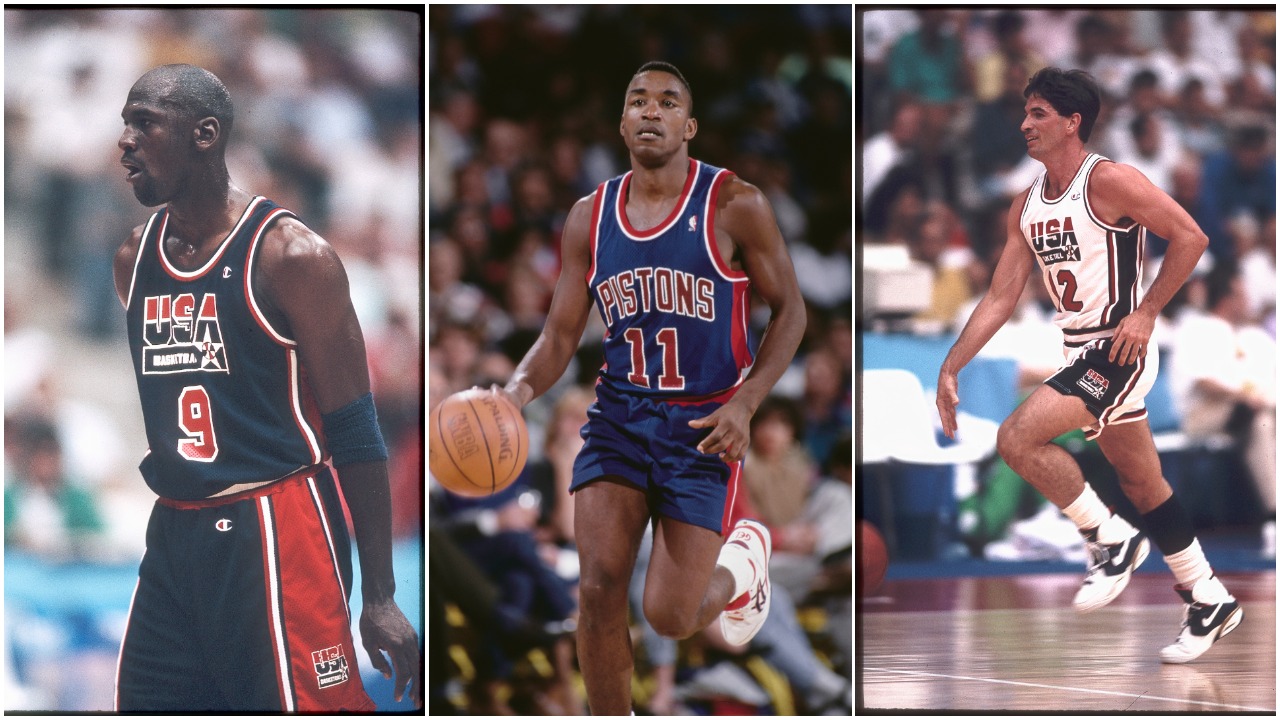 Leading into the Olympics, the Dream Team first competed at the Tournament of the Americas in Portland. After manhandling Cuba in their debut game, 136-57, the U.S. squared off with Canada in the second game of group play on June 29 and again won easily, 105-61, but lost Stockton in the process.
Early in the first half, just after Stockton had checked in replacing Magic, Jordan missed a 3-pointer on the offensive end but hustled back down to the defensive end as Canada was pushing the ball up the floor. Essentially running at full speed, MJ attempted a steal but missed and ran directly into Stockton (it initially looked as if their knees had collided), knocking him to the ground.
Stockton attempted to press on, dribbling the ball up the court when the U.S. regained possession. But he was clearly in pain, prompting Chuck Daly to call timeout, at which point Stockton exited the game. It was initially thought that the Jazz point guard had nothing more than a bruised right calf but X-rays revealed he'd suffered an undisplaced fracture of his fibula.
And here's where Isiah comes back into play.
Chuck Daly could have replaced Stockton with Isiah but chose not to
When it was discovered that Stockton had broken his leg, doctors weren't completely certain he'd be able to compete at the Olympics, leaving Daly with a choice to make.
Stockton was unable to be replaced on the roster at the Tournament of the Americas due to tourney rules. However, Daly had until July 15 to set the 12-man roster for Barcelona. As Magic was the only true point guard on the team after Stockton's injury, it would have made perfect sense had Daly chosen to bring another one in. And one of those options was obviously his own Pistons point guard in Isiah. Mark Price and Tim Hardaway probably would have been the other two candidates at that particular time.
But no roster move was made and Stockton returned to action during the Dream Team's fifth game at the Olympics, a 122-81 win over Spain. Perhaps Daly knew of Jordan's desire not to have Isiah around or maybe he simply didn't want to send Stockton home as he'd truly earned his place on the team.
Either way, there was a small opening for Thomas on the Dream Team, an opening Jordan created, and Zeke still never got his shot at a gold medal.
Stats courtesy of Basketball Reference