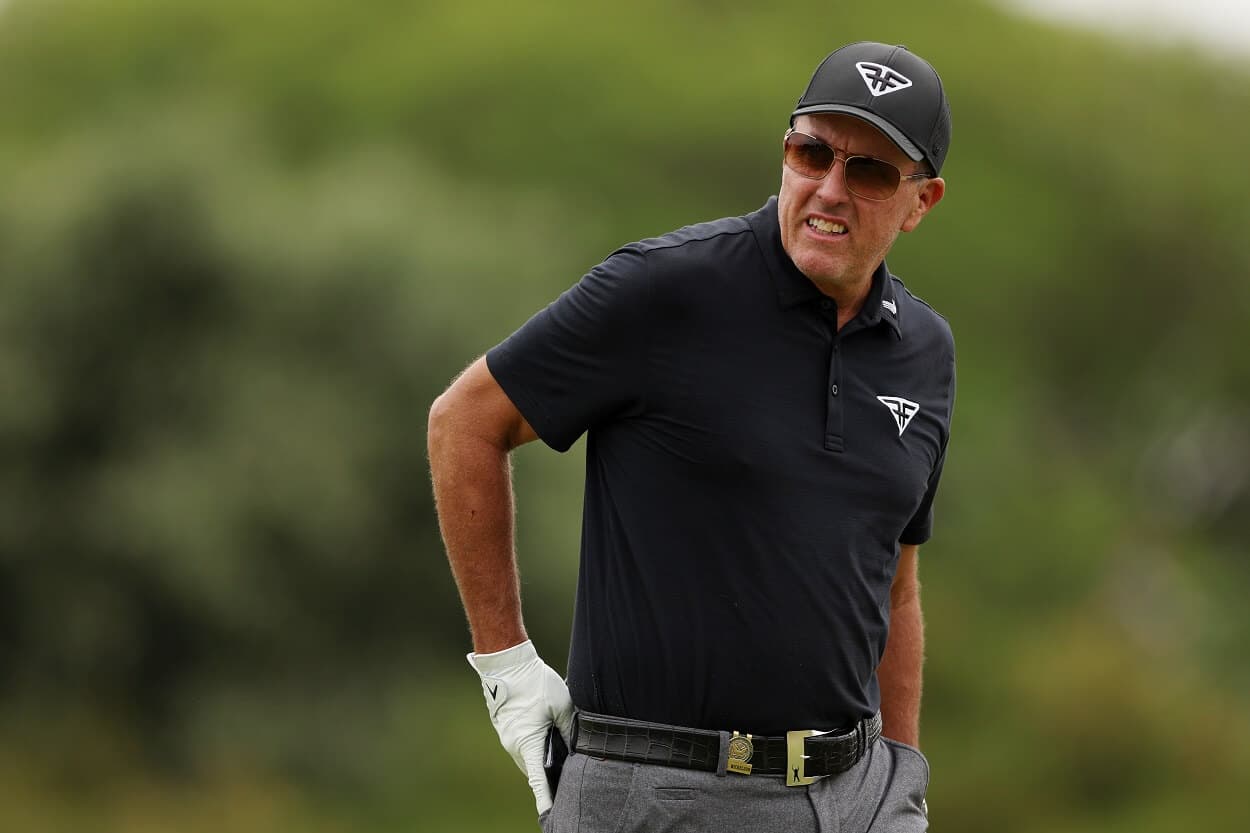 Phil Mickelson Tops New List of the 10 Golfers Who Take the Most Online Abuse
A new study shows Phil Mickelson receives more online abuse than any other golfer.
For three decades, Phil Mickelson was one of the most beloved golfers on the PGA Tour, where he racked up 45 victories, good for a tie for eighth on the all-time list, and six major championships.
These stats are all the more impressive due to the fact that Lefty played the vast majority of his prime years during the Tiger Woods era. Woods, of course, won 82 times on the PGA Tour and owns 15 major titles.
But while Woods was more like Jack Nicklaus, extremely strategic on the golf course and a bit guarded more often than not, Phil Mickelson was more like Arnold Palmer. His fearless approach to the game made fans love him, and he certainly loved them back, consistently carving time out of his daily schedule at tournaments to sign autographs.
But in 2022, everything changed.
Despite telling renowned golf writer Alan Shipnuck that Saudi Arabians are "scary motherf*****s" who murdered journalist Jamal Khashoggi and have a "horrible record on human rights," Mickelson still defected from the PGA Tour to join LIV Golf.
And he's essentially been the biggest villain in golf ever since. In fact, a new study shows that Phil receives the most online abuse of any player on the planet.
Phil Mickelson takes the most online abuse of any golfer
In a recent study conducted by Ace Odds, Mickelson generated 60% negative sentiment in Twitter posts from January 2022 through the 2023 U.S. Open at Los Angeles Country Club, where Lefty missed the cut.
Aside from Phil simply joining the Saudi-backed series, a decent portion of that negative sentiment is likely due to the fact that he hasn't performed well in LIV Golf.
In 14 starts, not including last year's Team Championship, Mickelson has recorded just one top-10 and has an average finishing position of 30.9. Let's not forget these are just 48-player fields. Of course, he really has little reason to care as he was given $200 million in guaranteed money just to show up, more than double what he made in 30 years on the PGA Tour.
As for the 40% positive sentiment, much of that was likely due to his throwback performance at this year's Masters, where he tied for second with Brooks Koepka.
And speaking of Koepka, he's one of four additional LIV Golf players to join Mickelson in the top 10 of this study, the others being Bryson DeChambeau, Patrick Reed, and Dustin Johnson.
The lone PGA Tour player in the top five, surprisingly, is Rickie Fowler, who's generated 55% negative sentiment over the last year and a half. Here's a quick look at the entire top 10.
| Player | Tour | Positive sentiment | Negative sentiment |
| --- | --- | --- | --- |
| Phil Mickelson | LIV Golf | 40% | 60% |
| Bryson DeChambeau | LIV Golf | 45% | 55% |
| Patrick Reed | LIV Golf | 45% | 55% |
| Rickie Fowler | PGA Tour | 45% | 55% |
| Brooks Koepka | LIV Golf | 55% | 45% |
| Dustin Johnson | LIV Golf | 55% | 45% |
| Jason Day | PGA Tour | 55% | 45% |
| Tyrrell Hatton | PGA Tour | 55% | 45% |
| Jordan Spieth | PGA Tour | 65% | 35% |
| Shane Lowry | PGA Tour | 65% | 35% |
For those wondering where Rory McIlroy placed on the list of those studied, he's near the bottom, generating only 15% negativity.
As for Mickelson, it'll certainly be interesting to see where he places once this PGA Tour-LIV Golf merger is complete.