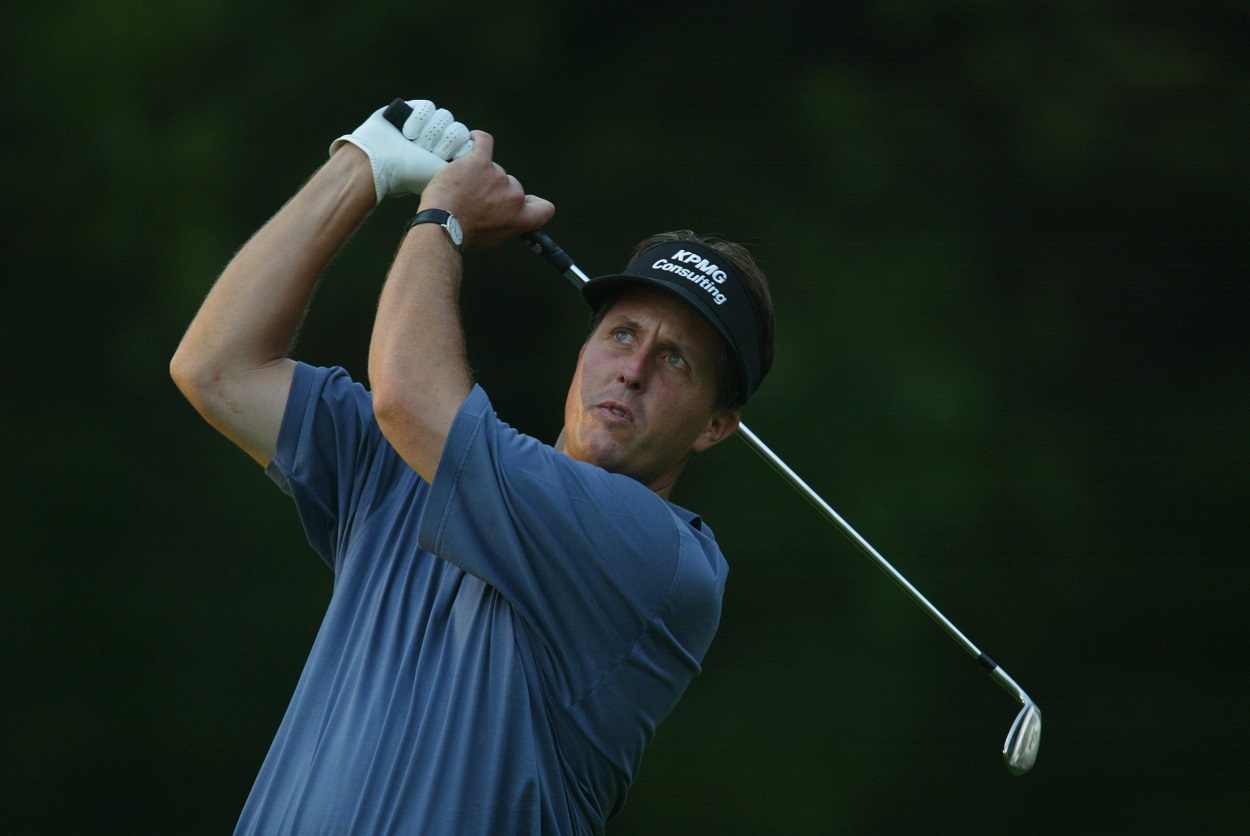 Ranking Phil Mickelson's U.S. Open Runner-Up Finishes by Level of Heartbreak
Ranked by the level of heartbreak, here's a look at the six runner-up finishes of Phil Mickelson at the U.S. Open.
With 45 PGA Tour wins and six major championship victories, Phil Mickelson is already a Hall of Famer and easily one of the greatest golfers of all time. He just recently became the oldest winner of a major championship by winning the PGA Championship at age 50 and has won three legs of the career Grand Slam with three victories at The Masters, two at the PGA, and one at The Open Championship. But then there's the U.S. Open, the one major victory that's eluded Mickelson for three decades now, which is rather unfortunate for Lefty as he's long said it's the major he always wanted to win more than any other.
It's not as if Mickelson hasn't come close to winning a U.S. Open as he's famously finished as the runner-up a record six times. Phil really wasn't in contention for one of those but he was right there for the other five and just couldn't get it done for one reason or another. So what we decided to do here today was rank Mickelson's six runner-up finishes at the U.S. Open, starting with the least excruciating and counting down to the most heartbreaking.
6. 2002-Phil Mickelson finishes second to Tiger Woods at Bethpage Black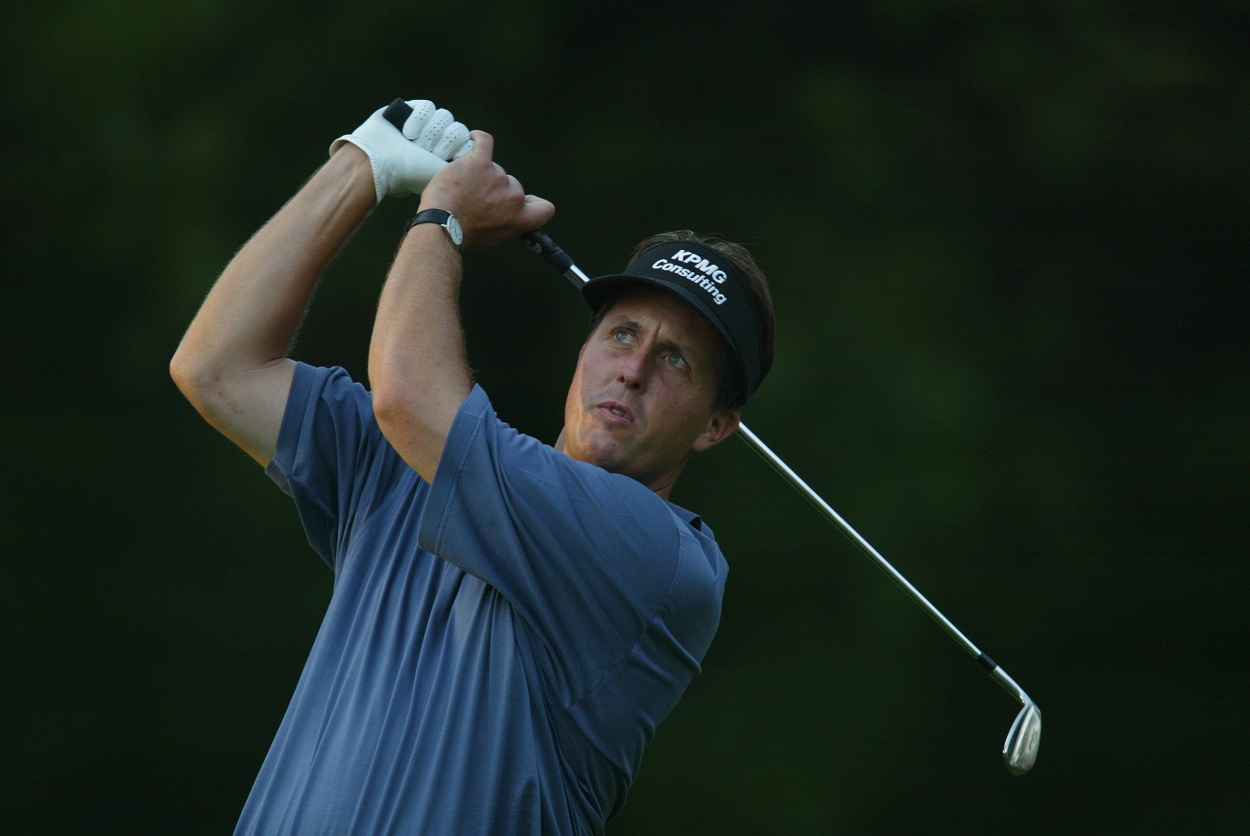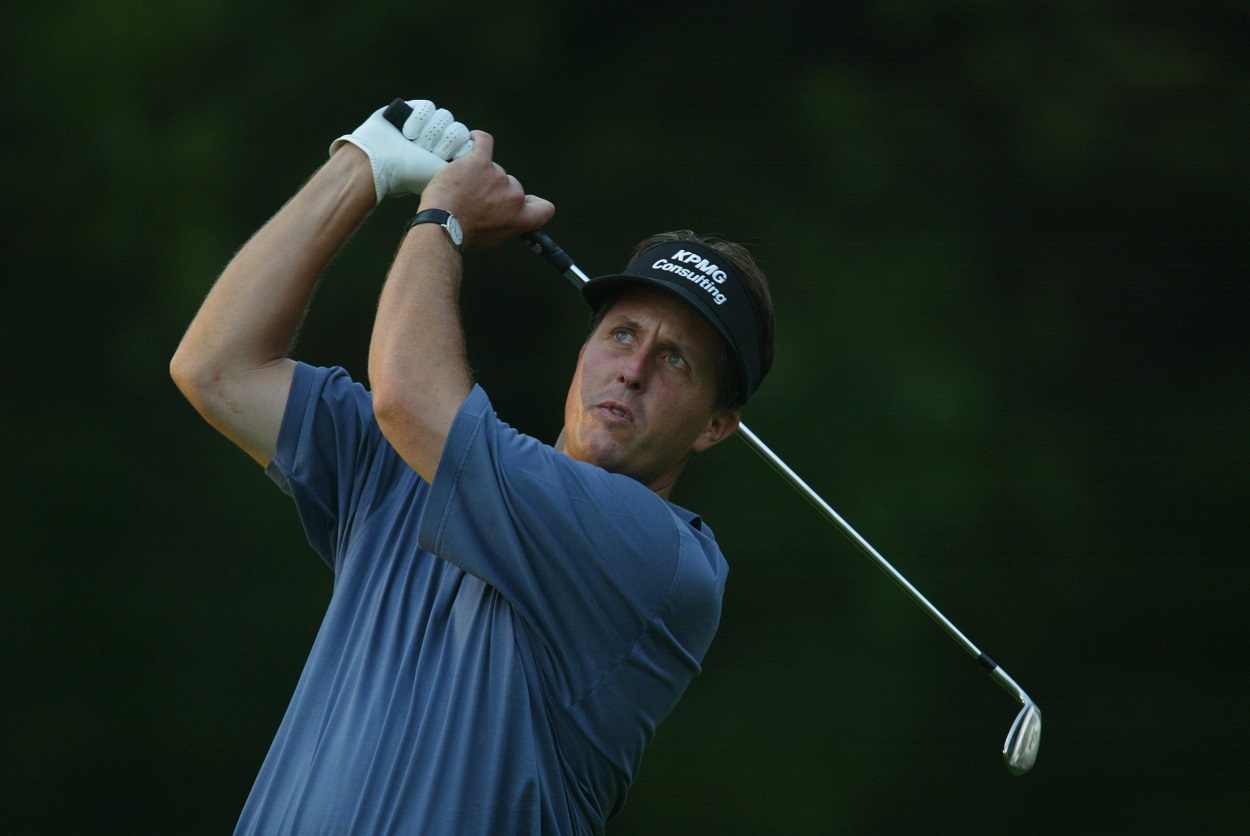 After shooting 70-73-67 over the first three days of the 2002 U.S. Open at Bethpage Black, Mickelson entered the final round five shots back of Tiger Woods, who was one of just two players under par after 54 holes, the other being Sergio Garcia. Woods opened the door a bit with some early three-putts but nobody was willing to walk through. Phil struggled a bit on his own on the front nine and while he still finished two shots better than Tiger that day, Woods still won by three to capture his second of three U.S. Open titles.
5. 2009-Lefty comes up short at Bethpage yet again
The U.S. Open returned to Bethpage Black in 2009 and Mickelson again found himself in contention. But golf certainly wasn't the biggest thing on his mind that week as his longtime wife, Amy, had recently been diagnosed with breast cancer and her treatments would be starting soon. Phil actually skipped The Open Championship the following month.
Weather played a major factor at Bethpage that week as none of the four rounds were completed in a single day, resulting in a Monday finish. Mickelson trailed by six shots after 54 holes, but found himself tied for the lead following an eagle at the par-5 13th during his final round on Monday. However, he then missed a short birdie at the 14th, bogeyed the 15th, missed another birdie at the 16th, and then bogeyed the 17th to take himself out of the running. Mickelson tied for second with David Duval and Ricky Barnes at 2-under, two strokes back of winner Lucas Glover.
4. 2004-Mickelson was one of just two players under par at Shinnecock Hills but lost by two
The 2004 U.S. Open was contested at Shinnecock Hills Golf Club and Mickelson, coming off his first major title at The Masters a few months earlier, was tied for the lead at 6-under after 36 holes following rounds of 68 and 66. But he bogeyed the final two holes during his third round and finished with a 3-over round of 73, leaving him two shots back of 2001 champion Retief Goosen heading into the final round.
Conditions were absolutely brutal on Sunday as not a single player shot under par, the average score for the day being 78.7. But Mickelson fought hard to keep himself in the tournament and took the lead with birdies at 15 and 16. However, a double at the par-3 17th, combined with a Goosen birdie at the 16th, left Phil two strokes behind, which is how the tourney finished. Goosen and Mickelson were the only two players in the field to finish under par.
3. 1999-Payne's putt at Pinehurst
The 1999 U.S. Open at Pinehurst No. 2 will be remembered for so many different reasons that pertain to golf, but will also sadly be remembered for what happened just a few months later.
Mickelson, who was ready to withdraw from the tournament at a moment's notice as his wife was due with their first child, shared the lead after each of the first two rounds but was one stroke behind leader Payne Stewart with 18 holes to play. Tiger was in the mix as well, beginning the final round just two strokes back of the lead, marking the first time Woods and Mickelson were both in contention at the same major.
But that day will always be remembered for the duel between Stewart and Mickelson, who traded the lead on multiple occasions coming down the stretch. With a birdie at the 17th, Stewart took a one-stroke lead into the final hole but missed the fairway at the par-4 18th, forcing him to punch out on his second shot. He reached the green with his third, his ball coming to rest about 15 feet from the hole. Phil had reached the green in regulation and the general consensus was that he would two-putt for par, while Stewart would two-putt for bogey, sending things to a Monday playoff.
But it wasn't to be as Stewart drained his putt to win his second U.S. Open title. It actually turned out to be a good thing for Mickelson as he would have to leave a Monday playoff as his daughter Amanda was born that morning. Stewart tragically died in a plane crash just over four months later.
2. 2013-Mickelson's mistakes at Merion open the door for Justin Rose
Phil's runner-up finish at the 2013 U.S. Open at Merion Golf Club could easily be No. 1 on this list, but we've got it as a close No. 2.
Mickelson owned at least a share of the lead following each of the first three rounds and held the lead on his own heading into Sunday, holding a one-stroke advantage over Hunter Mahan, reigning Masters champ Charl Schwartzel, and Steve Stricker, and a two-stroke lead on Luke Donald, Billy Horschel, and Justin Rose.
Phil got off to a horrendous start, making double-bogeys on two of his first five holes. He rallied by holing out for eagle at the par-4 10th to regain the lead but it was all downhill from there. As essentially everyone else crumbled, Rose played steady golf (shocking, I know) down the stretch and watched as Mickelson made bogeys at 13,15, and 18 to finish at 3-over for the week, two strokes behind Rose, who somehow still hasn't won a second major.
1. 2006-Phil flops at Winged Foot
We're guessing that most people would name the 2006 U.S. Open at Winged Foot as Phil Mickelson's most tragic loss and that's what we're going with as well.
Lefty came into Winged Foot looking to claim a third consecutive major championship following wins at the 2005 PGA Championship and 2006 Masters, and certainly put himself in a great position to do so. Four back of the lead after 36 holes, Phil fired a 1-under 69 on Saturday and was tied for the lead going into the final 18 holes.
10 players were within four shots of the lead as the final round got underway on Sunday, which proved to a brutal day for scoring. Mickelson did not hit the ball well at all, hitting just two fairways the entire round. So it was somewhat of a miracle when he walked to the 18th tee with a one-stroke lead.
And we all know what happened from there.
Phil sailed his tee shot at the par-4 closing hole well left of the fairway, so far left it actually hit one of the hospitality tents. However, he got a decent bounce as his ball shifted back to the right. Sure, he was still in the rough but he had a decent lie. With a tree in his line to the green, the play seemed to be him pitching back out to the fairway, hitting a wedge into the green (which we know he's great at), and attempting to make par that way.
But this is Phil Mickelson we're talking about here.
As he does, Lefty went for the hero shot, hit a tree, and had a more difficult shot than before. He eventually ended up in a greenside bunker, went on to make double, and lost by one to Geoff Ogilvy.
Stats courtesy of PGATour.com