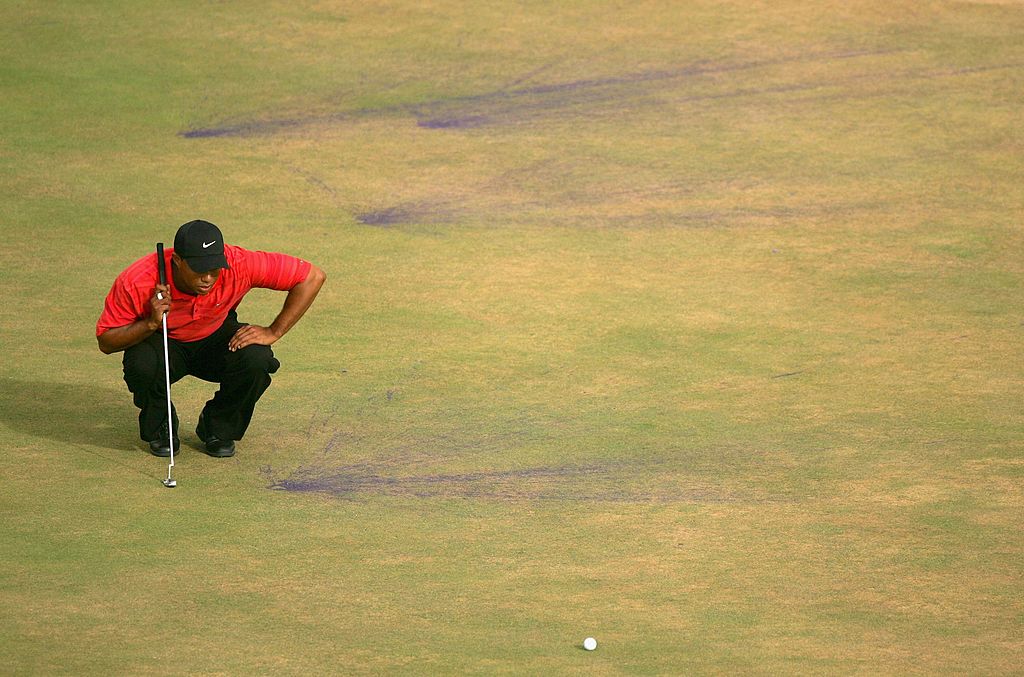 How Tiger Woods Took His Toughest Loss and Turned It Into an Emotional Triumph
Tiger Woods turned what he admits was the toughest loss of his life into one of the most emotional moments in golf history soon after.
Tiger Woods has racked up 109 wins in his professional career, 82 of which have come on the PGA Tour, which is tied for the all-time lead with Sam Snead. He has 15 major championships to his credit, second only to Jack Nicklaus' record of 18. He's easily in the conversation of the greatest golfers of all time, a conversation that truthfully involves only him and Jack.
However, as it's been with every single professional golfer that's ever teed it up, Tiger Woods has lost more tournaments than he's one. That's just how the game goes. At one point, Tiger's winning percentage was insane but the fact of the matter remains that losses come more frequently than wins in golf. But one particular defeat hit Tiger Woods harder than any other.
Tiger was introduced to the game of golf by his father
It's no secret that Tiger Woods was close to his father, Earl. His dad was actually the one to give him the Tiger nickname, an honor to a close friend he made while serving in Vietnam. Earl introduced Tiger to the game of golf before he turned two. By age three, he had already broken 50 over nine holes. Tiger went on to win six Junior World Championships and then won three consecutive U.S. Amateur titles before turning pro in 1996.
In 1997, Earl was right there at The Masters when Tiger Woods made history at Augusta National. The embrace the two shared as Tiger walked off the 18th hole will forever be one of the great images in sports. Tiger won The Masters again in 2001 and then again in 2005. By the time the 2006 Masters rolled around, Earl Woods had seen his son rack up 10 major championship victories. But his health was declining and he knew he didn't have much time left. Earl was unable to travel to Augusta in 2006 and Tiger wanted nothing more than to win one more major for his father before he passed.
Tiger Woods says losing The Masters in 2006 was his toughest defeat
Tiger Woods' goal of winning The Masters in 2006 for his father didn't get off to a great start. He was five shots behind leader Vijay Singh after an opening-round 72 and remained five back of the lead at the halfway point at 1-under for the week. However, as the leaders struggled a bit, Tiger was just two back of leader Phil Mickelson heading to Sunday's final round following a Saturday round of 71.
Woods pulled within one of the lead with a birdie at the par-5 second on Sunday but that's as close as he would get. He made a bogey at the sixth and then another at the 11th and was out of it. He took 33 putts on Sunday, easily his worst showing of the week, and finished three shots back of Mickelson, who collected his second green jacket in three years.
Many years later, Tiger Woods admitted that the loss at The Masters in 2006 was tougher than any other he'd suffered in his career.
"That one hurt the most of any tournament that I have failed to win. I've lost tournaments before, and I've been through some tough defeats over the years, but nothing like that because I knew my dad would never live to see another major championship.

"At the time, going into that final round and on the back nine, I pressed and I tried to make putts that instead of just allowing it to happen, I've tried to force it. I know he was at home watching, and just really wanted to have him be a part of one last major championship victory. And I didn't get it done."

Tiger Woods
Earl Woods died three weeks later following a long battle with prostate cancer.
His win at The Open Championship in 2006 was extremely emotional
In the weeks following the death of his father, it was clear that Tiger Woods was struggling with it. Following his loss at The Masters, he didn't play again for two months. His first tournament back was the U.S. Open at Winged Foot and following consecutive rounds of 76, he missed the cut at a major championship for the first time in his professional career, a string of 37 straight starts. Three weeks later, however, he finished tied for second at the Western Open and the stage was set for The Open Championship at Royal Liverpool.
Tiger later said that he finally felt at peace when the 2006 edition of The Open began and he made that clear early on, firing a first-round 67. He was even better on day two, shooting a 7-under round of 65 to take a one-shot lead into the weekend. He maintained that one-shot advantage on Saturday with a third-round 71. Tiger was being chased by three of the best players in the world at that time, Ernie Els, Sergio Garcia, and Chris DiMarco, but he remained poised and held on for a two-shot victory.
It was rare in those days to see Tiger Woods so emotional. But when the final putt dropped, he lost it. He embraced his longtime caddie, Steve Williams, as tears streamed down his face. It was an emotional victory for Tiger as it was the first without Earl. But he later said that he felt his father was still with him that day.
"On Sunday I felt really calm out there. It was surreal. I've had a few moments in Majors where I have felt that way on a Sunday and that was certainly one of them.

"I really felt my dad was with me on that one round. It was like having a 15th club. I felt that type of peace when I was out there."

Tiger Woods
A month later, Tiger Woods won the PGA Championship and has added three more major championships since then, the most recent coming at The Masters in 2019.