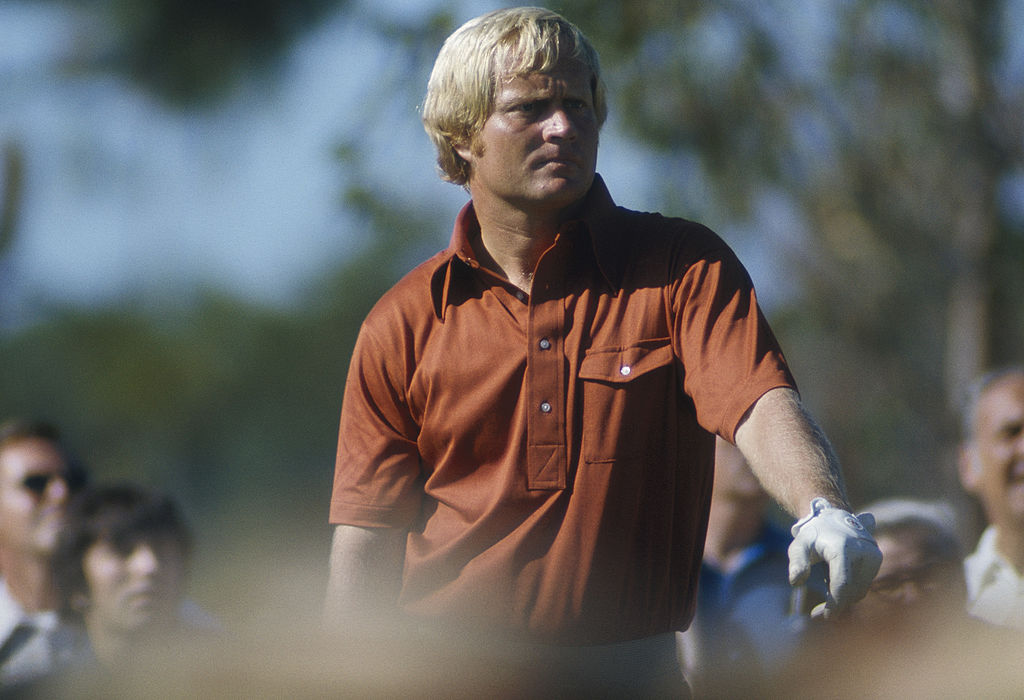 The Real Story Behind Jack Nicklaus's Golden Bear Nickname
Jack Nicklaus's presence is a reminder of how branding exists pro sports. Even young golfers know his nickname, the Golden Bear.
Thanks to Jack Nicklaus still being active in golf, newer generations can get to know one of the greatest golfers of all time. After nearly 60 years as a pro, his ubiquitous presence is a reminder of how branding plays a part in pro sports. Even younger golfers know the now-80-year-old's nickname, "The Golden Bear."
At one time, his nickname had real meaning. Plus, there was a fortuitous connection to The Golden Bear and perhaps the greatest luck of the draw in sports marketing history.
Cutting through the myths of where Jack Nicklaus got his nickname
Over the years, a lot of myths have popped up on where the Golden Bear came from. It took six years for Nicklaus to gain this moniker since he first turned pro in 1961. According to The Golf Channel, he signed a deal with a shirt company at the time, even though he had no personal logo to use.
His biggest problem was trying to fit in with the decade's most popular golfer: Arnold Palmer. By 1967, many people in the golfing world looked askance at Nicklaus since he started gaining on Palmer's record, outside the two being friends.
Winning more majors at this time pushed Nicklaus into the bigger leagues, if still not having any marketable nickname to go by. Palmer was known for revolutionizing the role of marketing to cash in on his golf popularity — for example, his famous drink the Arnold Palmer, plus golf clubs and apparel.
All Nicklaus was basically known for was being called "Fat Jack," because he looked a bit husky for his age.
An Australian sportswriter came up with "The Golden Bear"
When Nicklaus played in the 1967 U.S. Open, an Australian sportswriter named Don Lawrence wrote about Nicklaus's playing style. Based on the golfer having blonde hair and a husky build, according to the Golf News Net, Lawrence coined the term "Golden Bear".
When visiting Australia, Nicklaus and his wife saw the moniker referenced in local media. He knew this was the marketing logo he needed. Besides, it was also the mascot of his old high school. Lawrence's famous quote about Nicklaus summed it up: "He looks like a big, cuddly, golden bear."
So a sports nickname became one for the ages. What some may not know is how much Nicklaus used the Golden Bear designation as a strong part of his brand. He created a logo and used the name in other capacities over the years.
Using the Golden Bear logo on everything
Those who existed in the Arnold Palmer era may recall that he created an umbrella logo. Nicklaus ran with this idea and began using a golden bear logo on all his merchandise, including golfing equipment.
A few may even remember Nicklaus put out an ice cream product in 2015, using the golden bear logo once again. Placing that "golden" stamp on his products became a standard in making each item quality. His ice cream partnered with Schwan in using premium ingredients through seven flavors.
The same goes for Nicklaus's men's and women's clothing lines. He uses the golden bear logo on the apparel website but also uses his official signature on many clothing items. Sometimes a signature gives a more personal reflection of a brand than a logo.
Thanks to Nicklaus's golfing skills still being at tournament level, he occasionally shows why his Golden Bear nickname became so singular 52 years ago.