The Trash-Talk Has Begun in the Tiger Woods & Peyton Manning vs. Phil Mickelson & Tom Brady Golf Match
A few weeks back, rumors began to swirl that a two-on-two golf match featuring the team of Tiger Woods and Peyton Manning would take on Phil Mickelson and Tom Brady in an effort to raise money for COVID-19 relief. The match was finally confirmed last week and although it isn't known exactly when or where the match will take place (there have been rumors about Memorial Day weekend in South Florida), that hasn't stopped the participants from getting the trash-talking going.
Phil Mickelson got the trash-talk started by bringing up his victory over Tiger Woods
On the day the match was announced, Phil Mickelson fired the first of what will be many shots fired as this highly-anticipated match gets closer. It was a quick jab at his longtime rival as he referenced his victory over Tiger Woods in their one-on-one matchup in 2018 in Las Vegas, which saw Mickelson walk away with the $9 million purse and another $600,000 in side bets. The two were tied after 18 holes and Mickelson made birdie on the 22nd hole of the day to clinch the match.
Tom Brady posted a hilarious image on Instagram of he and Mickelson standing tall over their opponents
In what is by far the most hilarious trash-talking post thus far, Tom Brady put up a picture on Instagram featuring himself and Phil Mickelson standing tall over Peyton Manning and Tiger Woods. And he didn't have any problem taking a shot at his former rival on the football field.
"Never had much of a hard time beating the colts or a tiger, don't see this time being much different…"

Tom Brady on Instagram
That is absolute gold. For one, he's got Tiger Woods in a "Tiger King" shirt in the doctored image, which is amazing. And then he's got Peyton Manning in a Hot Wheels shirt. I'm not going to pretend to know the gag there but he's also referencing his rivalry with Peyton Manning in the NFL. Brady's New England Patriots beat Manning's Indianapolis Colts eight times, including a stretch of six straight wins at one point. Brady holds an 11-6 advantage in head-to-head matchups with Manning and owns Super Bowl rings to Manning's two. As for that "tiger" reference, he seems to be referencing his 7-1 career record against the Cincinnati Bengals. So while that's not a direct shot at Tiger Woods, it's still pretty good.
Tiger Woods promises there's more trash-talk to come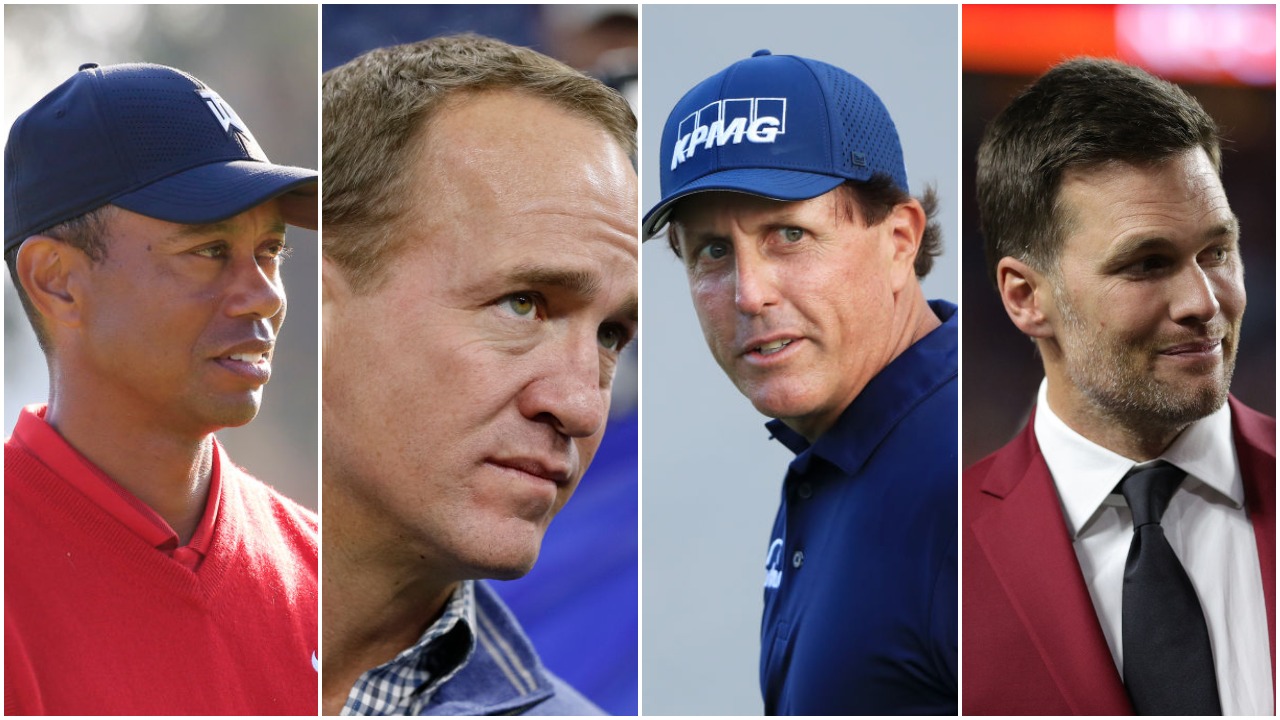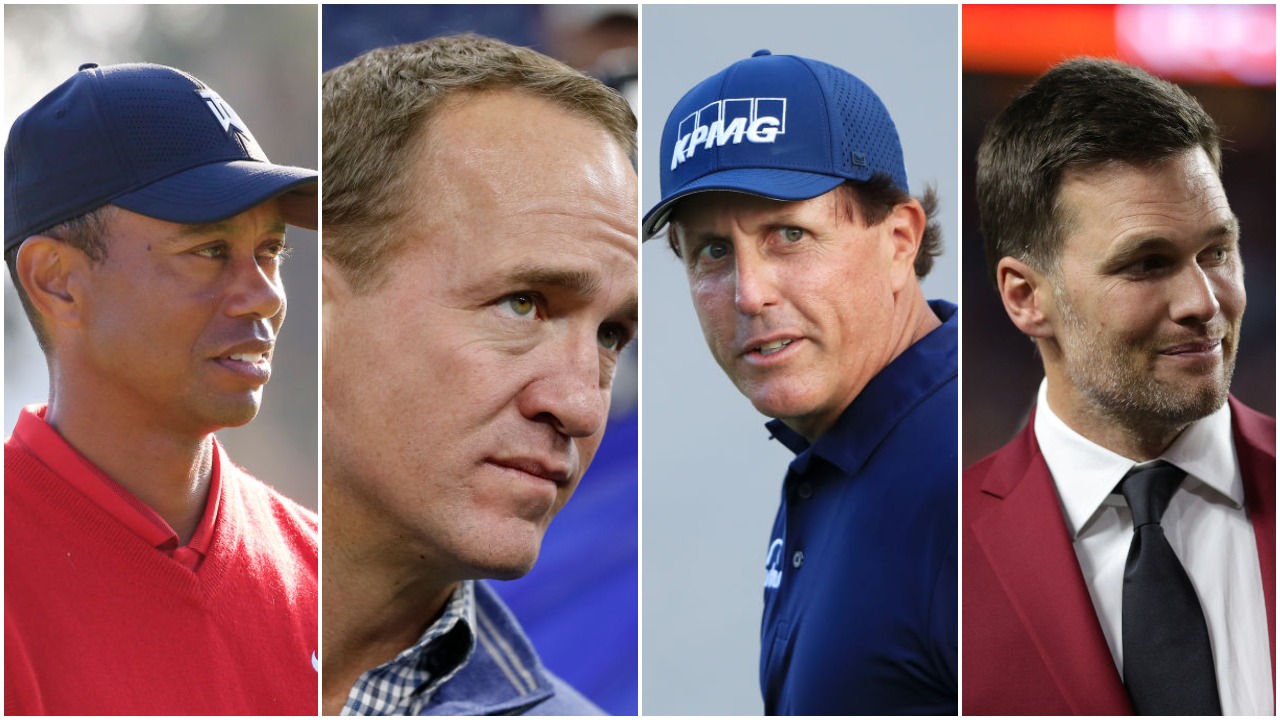 Never one to back down from a challenge, Tiger Woods told "Golf Digest" that there will be more trash talk on the way as the event gets closer, throwing in a quick jab of his own when talking about his 15 major championship wins to Mickelson's five.
"There has been a little bit of trash talk already, a little bit of banter back and forth. Whether it's 'I might need extra caddies to carry my Super Bowls,' because he has more Super Bowls than my partner. Or, 'I've got more majors than Phil, so I'm gonna have to have a truck come up to the first tee and U-Haul it out.

"We've had banter back and forth, and it's been fantastic. But it's typical us, it's what we do. We like to give out the needle, and to give out the needle you gotta be able to take it. It's been fun, and it'll be like that when we play, when we compete. There will be banter back and forth, but it won't be as rough as what we have in our text exchange."

Tiger Woods
Wait, so we won't even see the best stuff? It sounds like the best (or worst) exchanges might be coming in the texts between all of these great champions. But while the trash-talking will be there, nobody is losing sight of what this match is really about: raising money for COVID-19 relief.
"Yes, we're gonna have a great time. But at the end of the day, you have to understand why we're coming together. We're coming together to help other people.

"This is different than what Phil and I did two years ago, playing our match in Vegas. That was he and I just having a great time, trying to showcase golf in a different way. We're coming together to showcase golf in a different way, but it's about charity. That's the reason why we're all doing this."
This is going to be a lot of fun.