Ranking Tiger Woods' Victories at the U.S. Open
Of Tiger Woods' 15 major championship victories, three have come at the U.S. Open, two of which have to be considered among the greatest in the history of golf. It's not that the other wasn't great in its own right, but if you know the two we're talking about, you understand.
So let's not beat around the bush here. As you've clearly gathered from the headline, we're here to rank Tiger's three wins at the U.S. Open, so let's get right to it.
3. Tiger Woods beat Phil Mickelson by three strokes at Bethpage Black to win the 2002 U.S. Open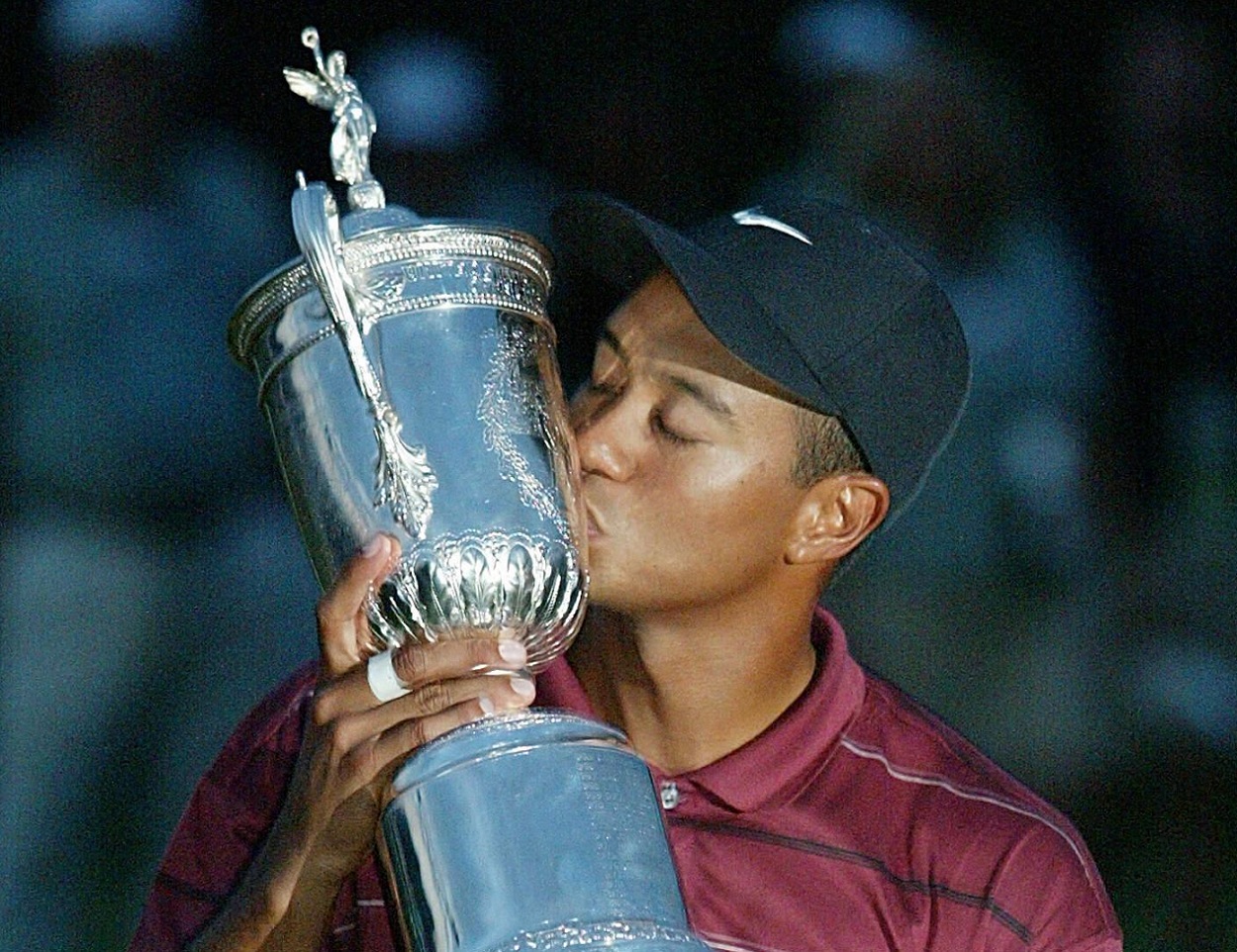 In 2002, Tiger became the first player in three decades to win The Masters and U.S. Open in the same year, the last being Jack Nicklaus in 1972. The 2002 U.S. Open took place at Bethpage Black, a brutal public course on Long Island, a track Woods would later call the narrowest U.S. Open course he ever played.
Woods was one of just six players to break par in the opening round, firing a 3-under round of 67, and took a three-shot lead into the weekend following a second-round 68. Tiger increased his lead to four with a third-round 70 and while he fired a 2-over round of 72 on Sunday, he cruised to victory and was the only player in red figures at 3-under, three shots clear of Phil Mickelson. This was the second of a record six runner-up finishes for Lefty at the U.S. Open.
Tiger's bid for the Grand Slam ended with a T-28 finish at The Open Championship at Muirfield.
2. Woods won the 2008 U.S. Open at Torrey Pines on a broken leg
Shortly after a runner-up finish at The Masters in 2008, Tiger underwent arthroscopic surgery to repair cartilage damage in his left knee. About six weeks later, it was discovered that he also had a pair of stress fractures in his left tibia. But coming into the U.S. Open at Torrey Pines, nobody really knew that second piece of information, which made his victory all the more remarkable.
Playing with those two stress fractures and a torn ACL, Woods opened the '08 U.S. Open with a 1-over round of 72, four shots back of the lead. One of just 19 players to shoot under par on Friday, Woods fired a 3-under 68 and climbed within one shot of leader Stuart Appleby. On another tough scoring day on Saturday, Tiger shot a 1-under 70 to get to 3-under for the tournament, one shot ahead of Lee Westwood and two shots better than Rocco Mediate, setting up an epic Sunday finish.
Woods struggled early in his final round with a double-bogey at the first and a bogey at the second, losing his lead. He got two shots back with birdies at the ninth and 11th, but then made bogeys at 13 and 15 to drop back to even for the tournament. Playing in the penultimate group, Mediate shot an even-par round of 71 to stay at 1-under and waited as Westwood and Woods, both of whom were even, came to the par-5 18th.
Both hit their tee shots into a fairway bunker and were forced to lay up. Both eventually found the green in three and had birdie putts to tie Mediate. Westwood had a 15-footer that broke severely to the right, which he missed, putting him out of the running. Tiger was left with a 12-footer and we all know what happened next.
In one of the most iconic moments of his career, Woods sank his putt, just sneaking it in on the right side as the gallery at Torrey Pines erupted. The following day, Tiger grinded his way through a 19-hole playoff to capture his third and final U.S. Open victory.
1. Tiger torching the field at Pebble Beach in 2000 is the most dominating performance in golf history
Honestly, Tiger Woods' performance at the 2008 U.S. Open at Torrey Pines was in serious consideration for this No. 1 spot. But after looking back at what he did at Pebble Beach in 2000, it was impossible not to put the most dominating performance in the history of major championship golf here. And I'd normally use the word "arguably" in the previous sentence, but there's really no arguing the point.
Woods came into the 2000 U.S. Open at Pebble on an absolute tear. In 11 starts to begin the year, Tiger finished outside the top five just once and recorded four victories and three runner-ups. He began his week at Pebble, where he'd won by two strokes just a few months earlier, with a 6-under round of 65 to take a one-stroke lead into Round 2.
And the route was on from there.
On Friday, following an incredible second shot from Woods at the par-5 sixth hole, Roger Maltbie made one of the great calls in golf history, saying, "It's not a fair fight," and it truly wasn't back then. Unable to finish his second round on Friday, Woods sank a 30-foot birdie in near darkness on the 12th, and came back on Saturday and extended his lead to six after finishing up a 2-under 69.
He extended his lead to 10 with an even-par round of 71 on an extremely difficult scoring day on Saturday, and finished things off on Sunday with a 4-under 67 to finish at 12-under for the tournament, 15 shots better than Ernie Els and Miguel Angel Jimenez, who tied for second at 3-over. The 15-shot margin of victory still stands as the biggest in major championship history.
Woods also became the first player in U.S. Open history to finish in double digits under par and also set records for the largest leads at a U.S. Open after 36 and 54 holes. He played the first 22 holes of the tournament without a bogey and played the final 26 the same way. Tiger one-putted 20 of his first 38 holes and didn't have a single three-putt all week. His only hiccup was a triple-bogey at the par-4 third hole during his third round. That's right. Tiger won by 15 with a triple.
Tiger went on to win five more times in 2000, including victories in The Open Championship and the PGA Championship, and capped off the "Tiger Slam" with a win at The Masters in 2001.
Stats courtesy of PGATour.com