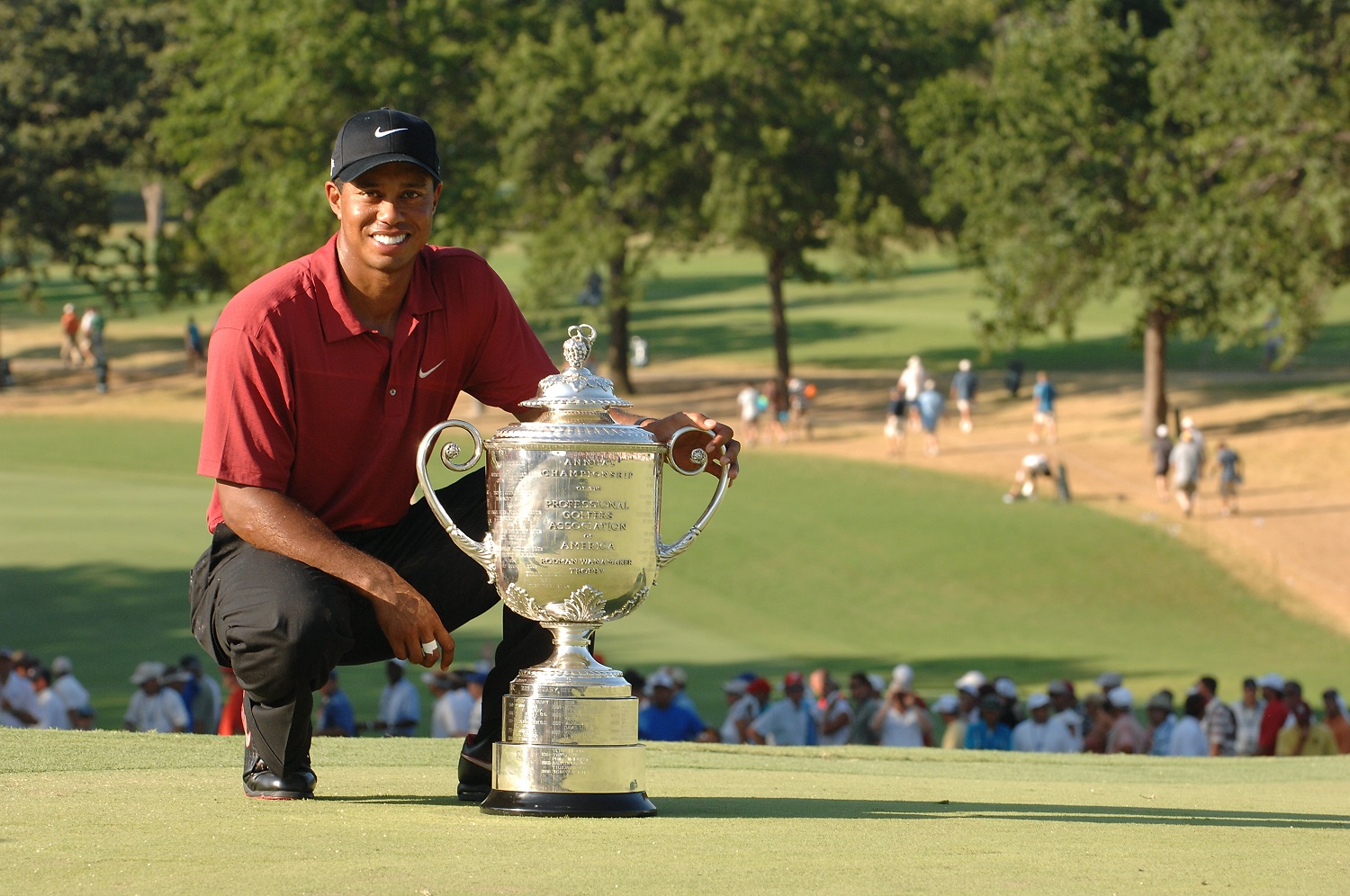 Ranking Tiger Woods' 4 PGA Championship Wins
Ranking the four PGA Championship victories of Tiger Woods.
It's been more than a year since golf fans have seen major championship golf but that streak ends this week with the 102nd PGA Championship from TPC Harding Park in San Francisco. Four-time champion Tiger Woods will be in the field when play begins Thursday in just his second appearance since the PGA Tour resumed the 2019-2020 season nearly two months ago.
The PGA Championship has obviously been very kind to Tiger Woods over the years. In 20 appearances, he's won four times and has five additional top-10 finishes, including three runner-ups, the most recent coming in 2018. With a win this week at Harding Park, Tiger would join Jack Nicklaus and Walter Hagen as the only players to win the PGA Championship five times. It will certainly be a challenge with just four competitive rounds under his belt since February but Woods has proven again and again to never count him out.
Ahead of the 2020 edition of the PGA Championship, let's have some fun and rank his four previous wins.
4. 2006-Tiger Woods proves to Luke Donald who the real No. 1 player in golf is
Ahead of the 2006 PGA Championship at Medinah, Luke Donald said that if he could compete and win major championships, he could be the No. 1 player in the world. At this time, Tiger Woods was in the midst of his record 281-week run atop the world ranking and wouldn't give up the top spot until more than four years later.
Donald found himself in the final pairing with Tiger on Sunday and found out just how difficult a situation that was when facing Woods in his prime. Tiger had shot a 65 on Saturday to tie Donald at 14-under and then went out and torched him in the final round, beating him by six strokes to claim his third PGA Championship. Tiger shot a 68 to Donald's 74 to finish at 18-under for the week.
Luke Donald would eventually go on to hold the No. 1 spot in the world ranking but it didn't happen until 2012 and he never did win a major championship.
3. He nearly shot 62 on his way to winning the 2007 PGA Championship
In the blistering heat at Southern Hills in 2007, Tiger Woods nearly made major championship history on his way to winning his fourth PGA Championship. Six strokes off the lead following a first-round 71, Tiger caught fire in the second round, shooting a 63 to tie what at the time was the lowest round in major championship history. He nearly shot a 62 but his putt on the 18th hole made a full circle around the cup but didn't fall. Branden Grace shot a 62 at The Open Championship in 2017 to break the long-standing record of 63 held by Tiger and more than 20 others.
With his second-round 63, Tiger Woods took a two-shot lead into the weekend and never looked back. Things got a little dicey on Sunday when Woody Austin pulled within a shot at the 14th but Woods calmly birdied the 15th and won by two.
2. 1999-The famous duel with Sergio Garcia
The 1999 PGA Championship at Medinah was an important win for Tiger Woods. After winning The Masters in 1997, he completely overhauled his swing, a process that took more than two years, and this was the week everything came together. It was also the week that the world was introduced to Sergio Garcia.
After firing a first-round 66 to lead the tournament, then-19-year-old Sergio found himself just two back of Tiger Woods and future Masters champ Mike Weir heading into the final round. Weir played himself out of the tournament by shooting 80 alongside Tiger in the final pairing but Sergio wouldn't quit. Playing right in front of Woods, Garcia put on a show on Sunday, which included his famous tree shot on the 16th, but came up just short.
Tiger won by a single stroke and it was clear that the new swing was in place, which led to what is easily the best year in golf history.
1. Tiger Woods' battle with Bob May in 2000 was incredible
Tiger Woods and Bob May engaged in one of the greatest battles in PGA Championship history in 2000. Tiger was in the midst of the best year the golf world has ever seen and had already won the U.S. Open and The Open Championship when he arrived at Valhalla. Bob May, on the other hand, had been a pro for nearly a decade and never won on the PGA Tour. But May certainly didn't back down from Tiger whatsoever.
Playing together in the final group, Woods and May were well clear of the field when they made the turn on Sunday and put on one hell of a show on the back nine. May took a one-shot lead into the 17th but Tiger birdied to tie, setting up a dramatic finish. May curled in a double-breaking birdie putt from 15 feet on the 18th but Tiger matched with a clutch birdie putt of his own to force a three-hole playoff.
On the first playoff hole, May missed the green with his approach but hit the chip shot of his life and nearly holed it, leaving himself a tap-in for par. But he then had to watch Tiger Woods do what Tiger Woods did in his prime. Woods had a 25-footer for birdie and dropped one of the most famous putts of his career, following the ball after he hit it and pointing at it as it fell into the cup. The two traded pars on the final two playoff holes to give Tiger a one-shot victory, his third consecutive major championship win.
Tiger Woods would complete the "Tiger Slam" the following April with a win at The Masters.