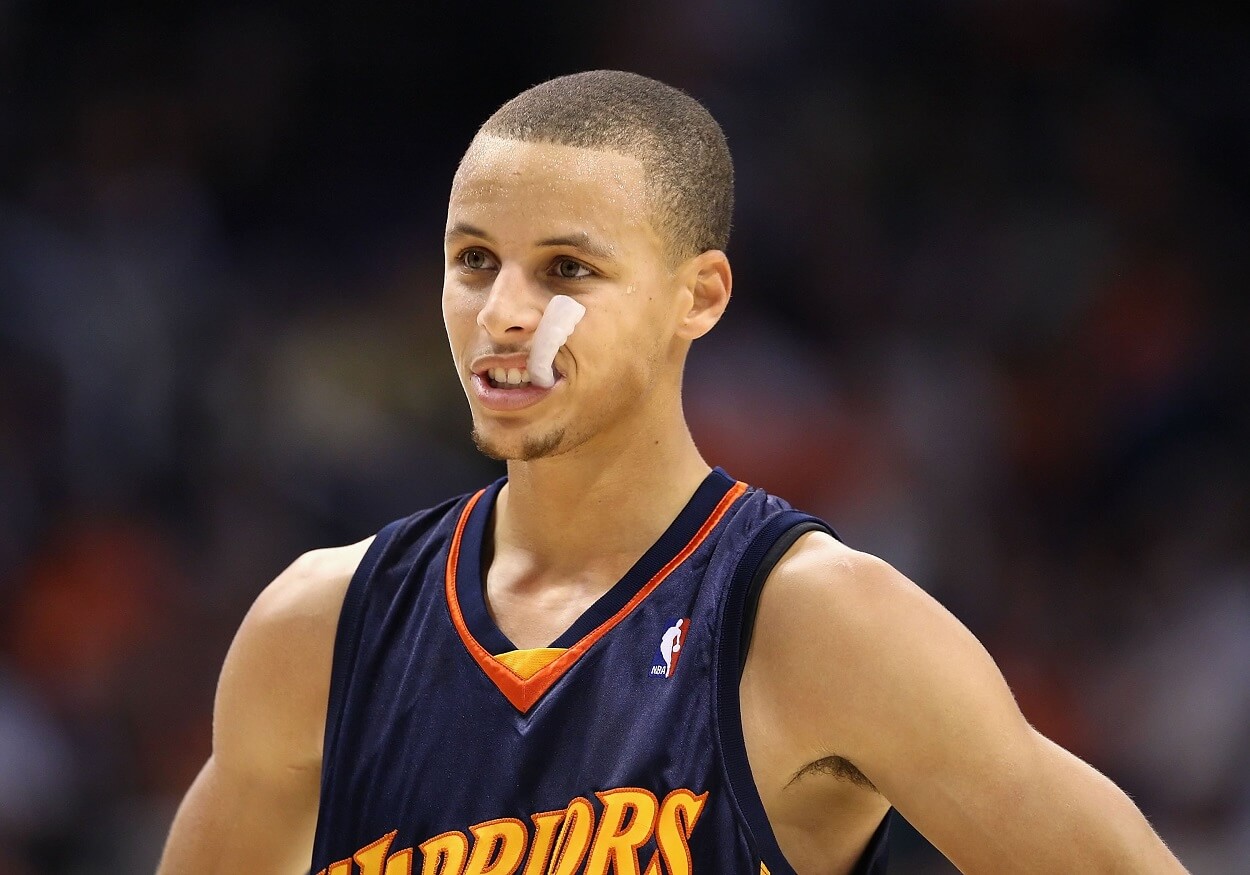 Former Timberwolves GM Twice Passed Over Stephen Curry in the 2009 NBA Draft and His Explanation Is Staggering
Former Minnesota Timberwolves GM David Kahn passed on Stephen Curry in the 2009 NBA Draft -- twice.
In the 2009 NBA Draft, five teams famously passed on a skinny kid out of Davidson named Stephen Curry, who's become the greatest three-point shooter in league history, a nine-time All-Star, a nine-time All-NBA selection, a two-time NBA MVP, and has led the Golden State Warriors to six NBA Finals appearances, winning four championships.
Now, you may be asking how only five teams overlooked Curry when he was the No. 7 overall pick in '09. Well, the answer to that question is that the Minnesota Timberwolves had back-to-back selections at No. 5 and No. 6. And the wild part about that whole scenario is that they took a point guard with each of those picks, which was apparently the plan of then-Wolves GM David Kahn all along.
Kahn, who spent 10 years as an executive with the Indiana Pacers from 1995-2004, was hired by Minnesota one month and three days prior to the 2009 draft and selected highly-touted Spanish prospect Ricky Rubio at No. 5 and Syracuse guard Jonny Flynn at No. 6.
Stephen Curry, of course, was then taken by the Warriors at No. 7, a selection that ultimately saved a struggling franchise that had been to the NBA Playoffs just once in the previous 15 years.
As for the Timberwolves, neither selection worked out as they had hoped, and Kahn was fired just four years later. But despite what turned out to be one of the biggest blunders in NBA Draft history, Kahn has never really admitted that he was wrong. And his explanation of why he opted for Rubio and Flynn over Curry is simply staggering.
Why Timberwolves GM chose Ricky Rubio and Jonny Flynn over Stephen Curry in the 2009 NBA Draft
So exactly why did Kahn choose to select Ricky Rubio and Jonny Flynn over Stephen Curry?
Per Sports Illustrated, it's because he thought the duo was "reminiscent of Walt Frazier and Earl Monroe," the pair of Hall of Fame guards who helped the New York Knicks to their most recent NBA title in 1973.
Spoiler alert: they weren't.
For starters, Rubio, still just 18 years of age when he was drafted, opted to stay in Spain for another two years and didn't join the Wolves until 2011. And while he was a solid-enough player (and still in the league), averaging 10.1 points, 8.1 assists, and two steals per game in seven seasons in Minnesota, he's not Curry.
As for Flynn, who left Syracuse following his sophomore season, the Niagara Falls native played well in his first year as a pro, averaging 13.5 points, 4.4 assists, and a steal to earn All-Rookie Second Team honors.
But after undergoing hip surgery in the summer of 2010, Flynn's production dipped in 2010-11 as he averaged just 5.3 points and 3.4 assists in 53 games. He was traded during the 2011 NBA Draft and was out of the league only a year later.
As mentioned, Kahn, who's now the president of Paris Basketball in France, was fired after four seasons, as the Wolves went just 89-223 on his watch. In his exit interview, he reportedly doubled down on his rationale for selecting Rubio and Flynn despite the fact that Curry was already on his way to becoming a superstar.
While Rubio and Flynn obviously didn't turn out to be Frazier and Monroe, Stephen Curry found a nice backcourt running mate in Golden State in Klay Thompson, who fell to the Warriors at No. 11 in the 2011 NBA Draft.
Kahn and the Wolves had the second pick that night and chose Arizona forward Derrick Williams, who averaged just over 10 points in 155 games with Minnesota before being traded just 11 games into his third season.