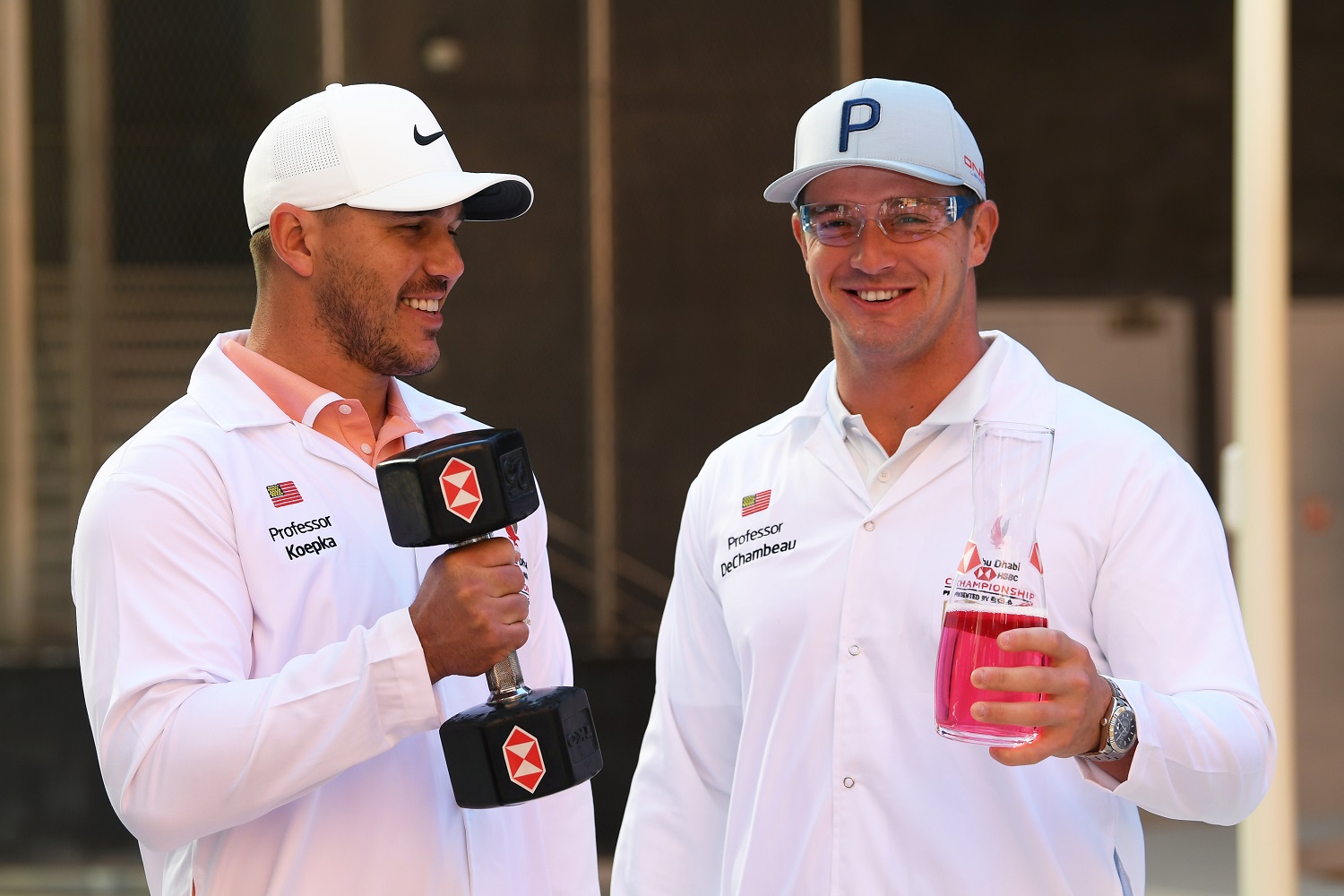 Brooks Koepka Double-Bogeyed an Interview Because He Can't Stand Bryson DeChambeau
The relationship between Brooks Koepka and Bryson DeChambeau started to fall apart a couple of years ago when Koepka began complaining about slow play.
Brooks Koepka and Bryson DeChambeau are so different that it's hard to believe they're both elite golfers. Koepka will tell you what time it is; DeChambeau will tell you how to build a watch. DeChambeau will stand over an approach shot long enough for leaves to change colors; Koepka will let a chip fly from the greenside rough after one practice swing.
They're oil and water in just about every respect. They're also almost certainly returning to the Ryder Cup together. Maybe, just maybe, that will bring an end to the bickering.
Let's hope not, though. Koepka and DeChambeau are obviously living rent-free inside each other's head, and golf is a heck of a lot more interesting because of it. If we can't have Tiger Woods vs. the field, then having these two go head-to-head is just fine.
Bryson DeChambeau can rattle Brooks Koepka just by walking by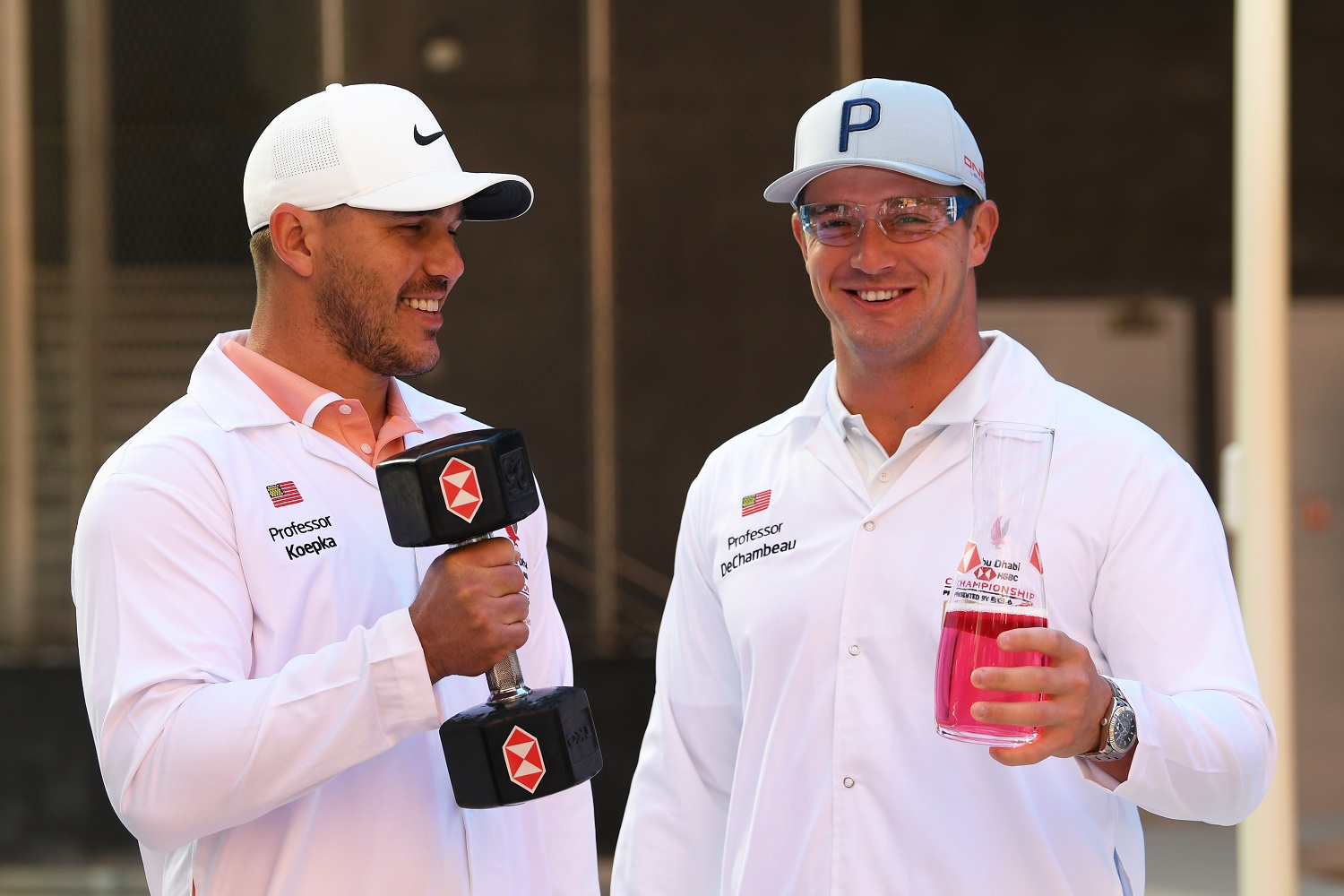 The 24 hours after the PGA Championship were all about 50-year-old Phil Mickelson winning the sixth major title of his career. Just about everything since has been about Koepka, who was the runner-up, and DeChambeau.
Late Monday, video of an interview that Golf Channel's Todd Lewis did with Koepka after his second round at Kiawah Island started making the rounds. It never aired in the telecast because things went off the rails in mid-sentence.
Koepka was responding to Lewis' question when the sight of DeChambeau and an inaudible comment distracted him. A split-second later, Koepka lost his train of thought, stopped, and uttered a couple of expletives.
Yup, it was just that easy for DeChambeau to mess with Koepka. Given their recent history, you just know DeChambeau walked away quite satisfied with winning that round.
It started with DeChambeau's slow play in 2019
The animosity between the two golfers appears to have started in January 2019 when Koepka went off on DeChambeau's slow play. (See the video above to get a sense of it.)
"I just don't understand how it takes a minute and 20 seconds, a minute and 15 to hit a golf ball; it's not that hard," Koepka said, according to The Sporting News. "It's always between two clubs; there's a miss short, there's a miss long. It really drives me nuts, especially when it's a long hitter because you know you've got two other guys or at least one guy that's hitting before you so you can do all your calculations; you should have your numbers. … Guys are already so slow it's kind of embarrassing. I just don't get why you enforce some things and don't enforce others."
Koepka wasn't alone in complaining, and the PGA Tour finally began to crack down.
Don't mess with the bull, or you'll get the horns
DeChambeau loves applying physics to golf. He might have been better off spending less time in the lab and more time hanging out with the guys on the debate team in school; he can fend for himself, but he doesn't have Koepka's quick wit.
DeChambeau is the reigning U.S. Open champion, but he owned no major titles at the time that the pandemic had shut down the 2020 season. Meanwhile, Koepka had already bagged two PGA Championships and two U.S. Opens.
Just before the pandemic, DeChambeau mocked Koepka's physique, saying, "Did you see the (ESPN) body issue? He didn't have any abs. I have abs," according to Yahoo! Sports.
Firing back was low-hanging fruit for Koepka.
He tweeted a photo of the trophies from his four majors and captioned it perfectly: "You were right @b_dechambeau. I am 2 short of a 6 pack."
Boom.
Like Sportscasting on Facebook. Follow us on Twitter @sportscasting19.