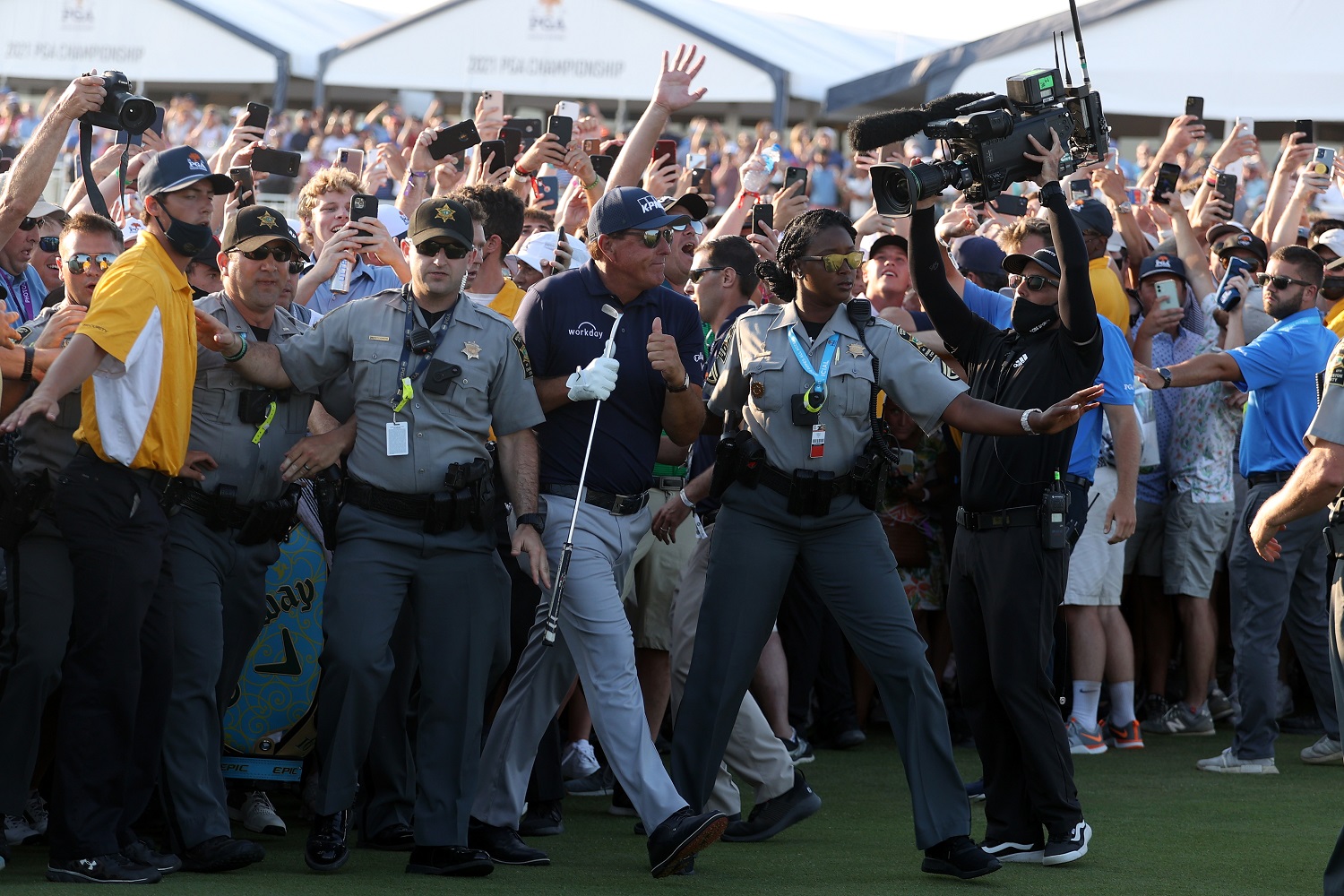 Brooks Koepka Has Every Right To Be Furious Over the PGA Championship Mob Scene That Too Many People Think Was Cool
Safety and security went out the window for Phil Mickelson and Brooks Koepka at the conclusion of the 2021 PGA Championship at Kiawah Island.
The 2021 PGA Championship was all but over. Brooks Koepka wasn't going to overcome a two-shot deficit to Phil Mickelson after both golfers landed approach shots safely onto the 18th green Sunday.
All that was left was for Koepka to survive a mob scene at Kiawah Island that potentially endangered the rest of his season and cast doubt on whether that course should ever be allowed to host a tournament again.
Pay no attention to talking heads raving about the excitement Sunday. As bad as the 1991 Ryder Cup was once spectators started rooting against players rather than cheering for them, this was worse.
Security at the PGA Championship was a joke
The final round of the PGA Championship was building up to this. Excitement about the 50-year-old Mickelson starting with a one-stroke lead evolved into rowdy enthusiasm as he expanded the margin. It morphed into complete chaos at the 18th hole.
At least 3,000 fans swarmed the day's final group, badly outnumbering law enforcement officers and course marshals. From the looks of it, few, if any, of those working other holes stepped in to help maintain order.
Koepka should have walked up the 18th fairway focused on a putt that might give him a one-in-a-million chance of forcing a playoff if Mickelson did the unthinkable. Instead, he and caddie Rickie Elliott fended for themselves, swallowed by a sea of fans.
Koepka had experienced a somewhat similar swarm at The Masters Tournament in 2019 as Tiger Woods marched to victory, but this was scary.
"It would have been cool if I didn't have a knee injury and got dinged a few times in the knee in that crowd because no one really gave a s***, personally," Koepka told reporters. "But if I was fine, yeah, it would have been cool. Yeah, it's cool for Phil. But getting dinged a few times isn't exactly my idea of fun."
PGA Championship officials did not immediately respond to a request for comment, the Associated Press reported.
Koepka's concerns on the 18th at Kiawah Island were real
A columnist writing on Barstool Sports under the nom de plume "Banks" argued reasonably that Kiawah Island is a championship-caliber layout worthy of hosting more majors.
Unfortunately, they wrapped up with this:
"Lastly, the fans were incredible. I'm sure that had a ton to do with COVID moving a bit into the rearview and an electric Phil narrative, but they added a ton to the event and I know for a fact that that area of the country is as golf-crazed as they come. I literally cannot think of one negative that came out of this PGA Championship venue. So much fun."
Yeah, that finish was so much fun for Koepka.
Koepka tied for second at a World Golf Championship in late February and then played just once more — missing the cut at The Masters — in the next 10 weeks. The New York Post reported he suffered a dislocated kneecap after slipping and falling while with his family in Florida after the WGC event.
"When you look down and your leg is kind of going that way and your knee's that way, you kind of go, 'Whoa, holy crap,'" Koepka said.
Doctors performed surgery on March 16. Playing The Masters three weeks later was foolish, but he tried anyway and missed the cut at 74-75–149. He also missed the cut at his next tournament, the Byron Nelson a week ahead of the PGA Championship.
Understandably, then, he remains protective of the knee, and he said the joint hurt badly after the chaotic walk up the 18th fairway. He told reporters afterward that he is not sure whether he re-injured the knee.
Kiawah Island was also a mob scene during the 1991 Ryder Cup
For what it's worth, Kiawah Island is where golf decorum of the past two decades or so pretty much went to hell in 1991. The fact that the Ryder Cup there three decades before the PGA Championship came to be known as "The War by the Shore" explains a lot.
The international competition took place just months after the conclusion of the Gulf War. Combined with the European team winning in 1985 and '87, then retaining the trophy via a tie in '89, it made for a rowdy atmosphere further fueled by accusations between the teams of gamesmanship and rules-bending.
Golf Digest presented the definitive oral history of the crazy weekend, and Hale Irwin, who was appearing in his fifth Ryder Cup, may have sized it up best.
"At Kiawah, you're in a part of the world with a lot of military installations, and the environment was just charged up," he explained. "The whole thing went too far. It went beyond a golf competition."
Said European captain Bernard Gallacher: "1991 was a turning point for the Ryder Cup. And not in a good way. Suddenly, there was hostility out there. And it was the first time the crowd actually participated in a match. The spectators affected the outcome of matches."
Like Sportscasting on Facebook. Follow us on Twitter @sportscasting19.