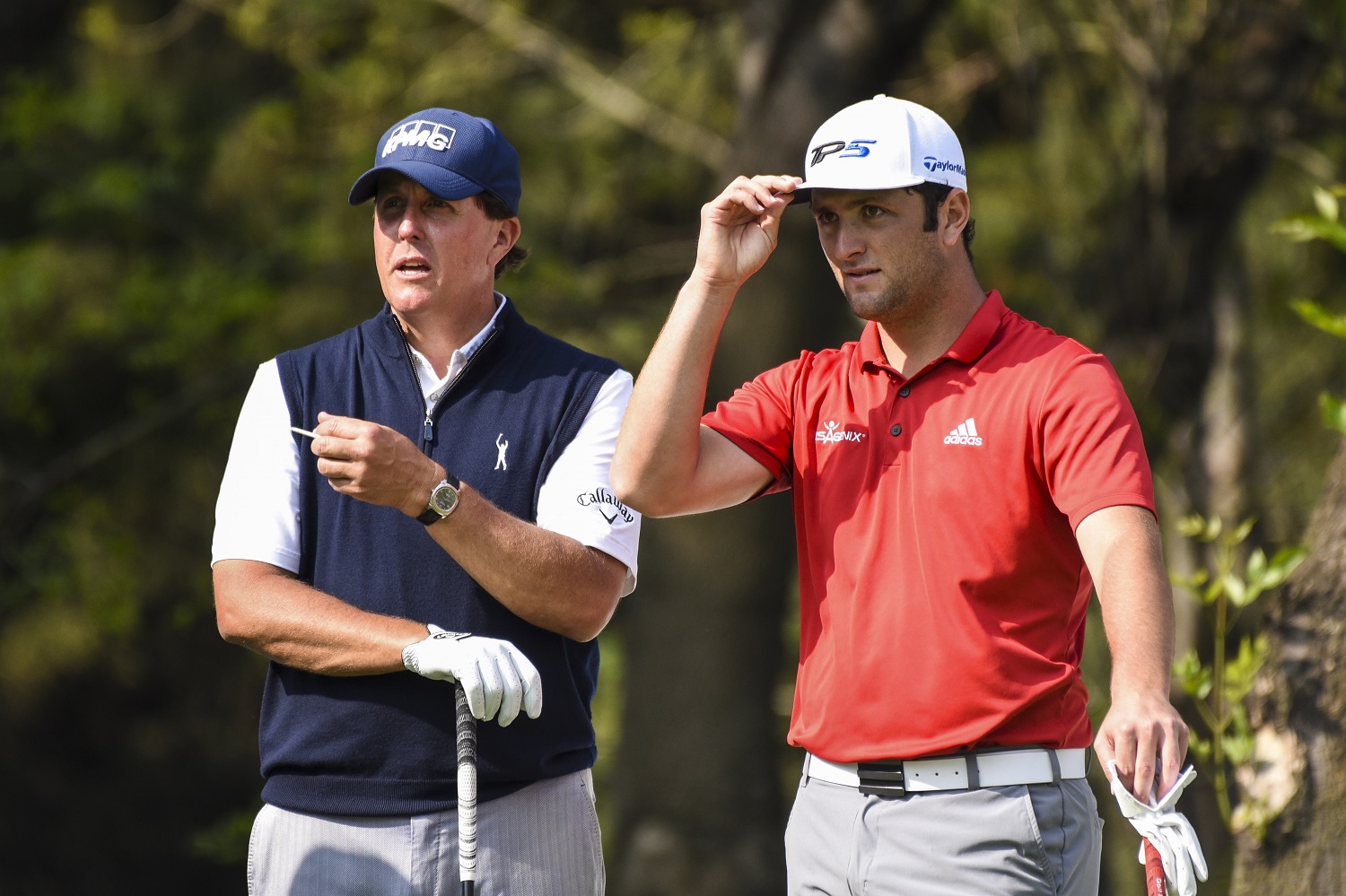 Phil Mickelson Won a Crazy Bet on Jon Rahm's Future Stardom
Phil Mickelson made a seemingly outlandish bet on then-amateur Jon Rahm's future as a pro in 2016 and turned out to be right.
There is no hotter name in professional golf these days than Jon Rahm, who became the top-ranked player in the world Sunday with a victory in the Memorial in Dublin, Ohio. The 25-year-old Spaniard's rise has been meteoric, but Phil Mickelson saw it coming long before just about anyone else.
Jon Rahm is now officially the world's No. 1 golfer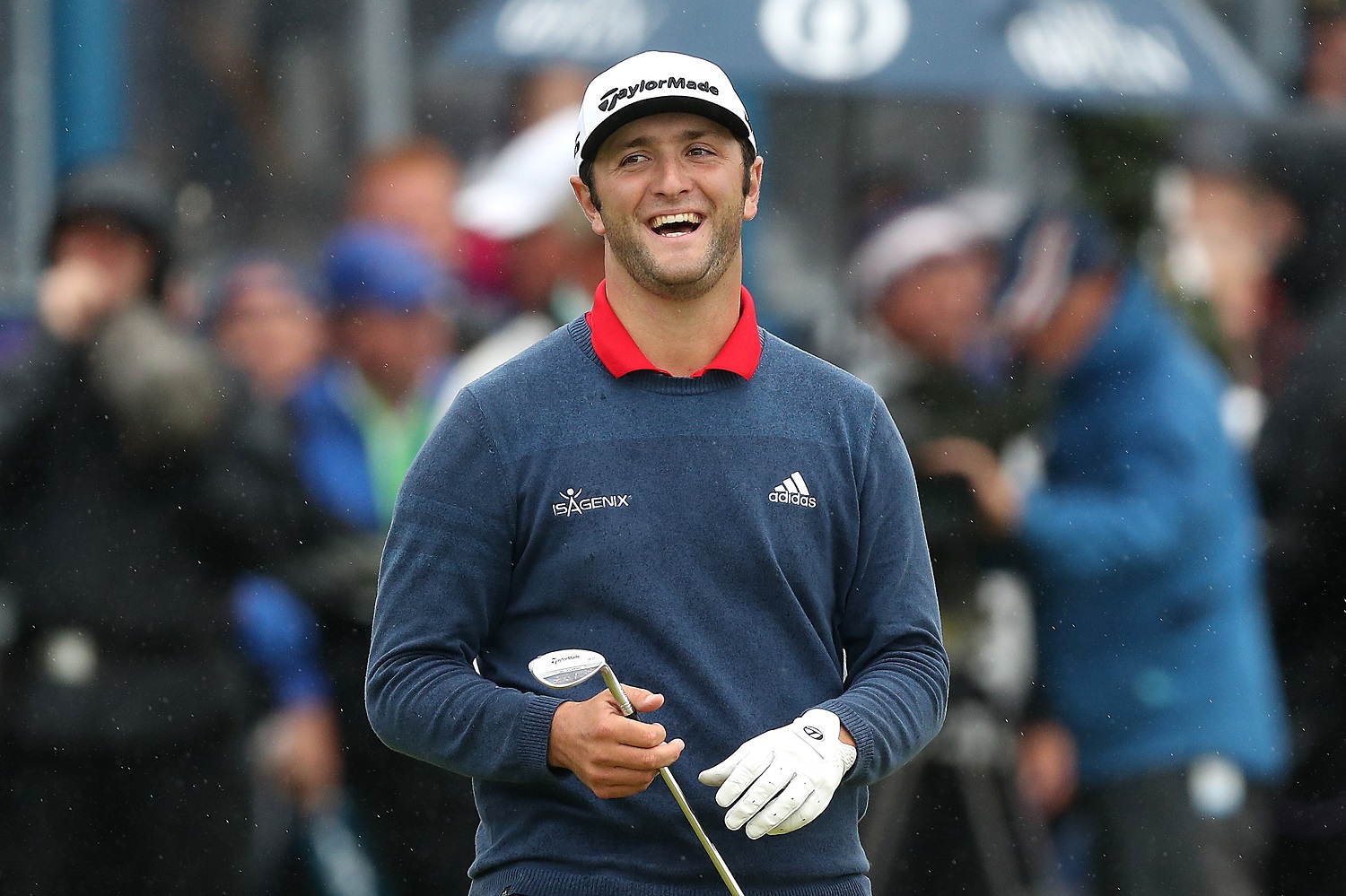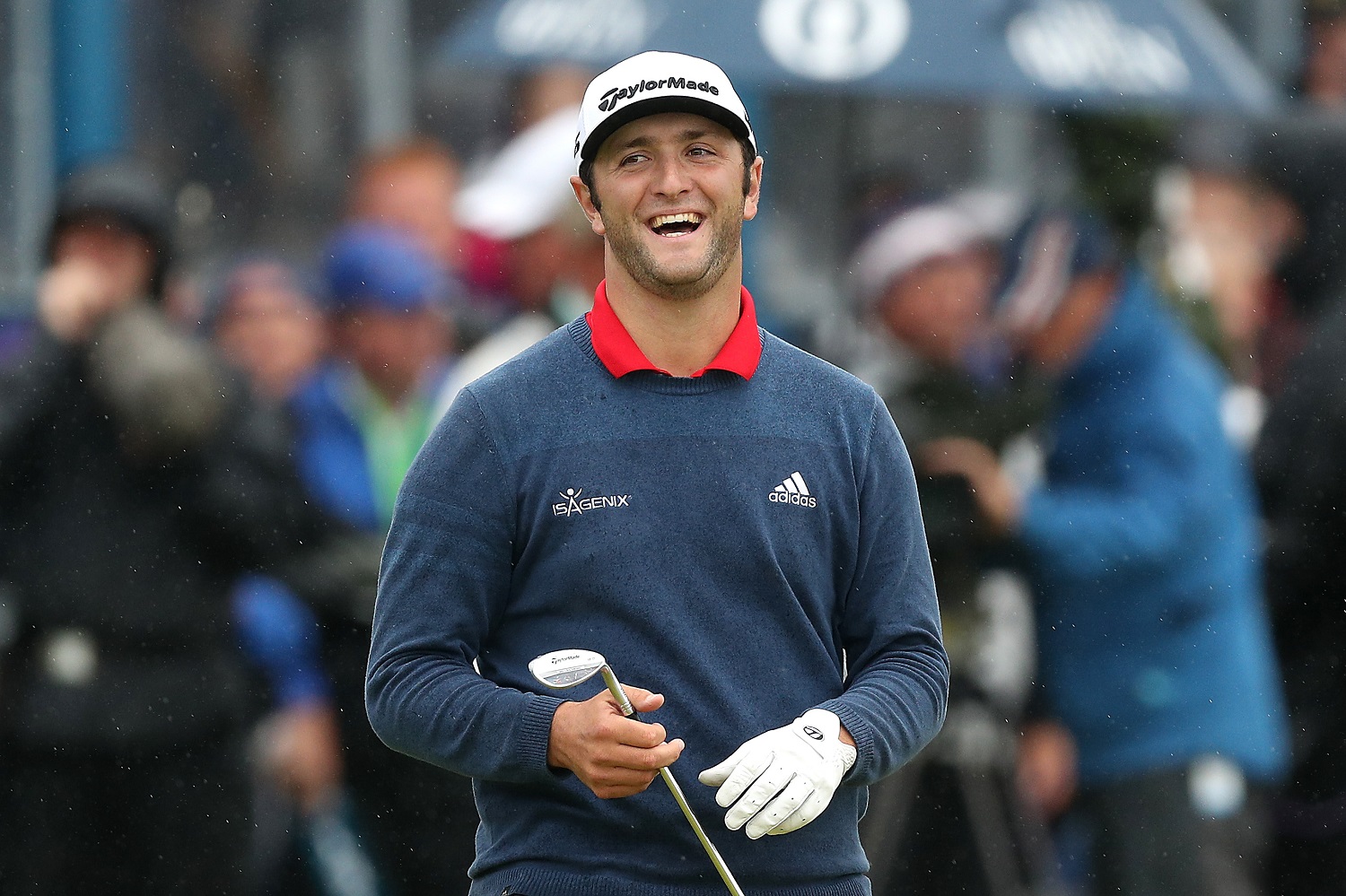 Jon Rahm's appearance at Muirfield Village in 2016 was to receive the Jack Nicklaus Award as the nation's top collegiate golfer. This past weekend's visit there officially established him as the No. 1 player in the world.
Rahm built an eight-stroke lead at the Memorial, the annual PGA Tour event hosted by Nicklaus, and coasted home to win by three shots over American Ryan Palmer. He did it despite incurring a two-stroke penalty when the ball moved ever so slightly as he was about to chip in from off the 16th green.
Rahm finished at 9-under-par 279 for his fourth PGA Tour tournament triumph and 10th victory overall since turning pro midway through the 2016 season. Before that, John Rahm was the world's top-ranked amateur for 60 weeks and finished as the low amateur at the 2016 U.S. Open, giving the golf world an inkling that he was on his way to becoming something special.
However, the speed with which he established himself as a star was unimaginable … except to Phil Mickelson, who had the timeline of Rahm's ascension to the No. 1 ranking nailed just about perfectly – and profited from it.
Phil Mickelson makes a bold prediction about Jon Rahm
Jon Rahm played college golf at Arizona State, where his 11 tournament titles rank second in school history to Phil Mickelson, the brother of Sun Devils coach Tim Mickelson. His status in 2015 as the world's top-ranked amateur qualified him for the 2016 U.S. Open, where he finished tied for 23rd as the low amateur. The performance clinched his decision to turn pro.
It was a week earlier, though, where professional golfers started tracking Jon Rahm closely because of a conversation resulting in an outlandish golf bet recounted four years later by The Action Network.
Passing time during a rain delay at the 2016 FedEx St, Jude Classic in Memphis, Tennessee, Phil Mickelson was talking with Colt Knost, the 2007 U.S. Amateur champ and a journeyman pro who announced his retirement from the PGA Tour this spring. Other players, including Dustin Johnson, were also present.
Mickelson was raving about what he'd been seeing from Rahm at Arizona State and hearing from his brother. "This kid is going to be top-10 in the world within a year," Mickelson predicted.
Knost was having none of that because it would take an incredible combination of great performances and plain luck for Rahm to even be able to play enough events to accumulate the points necessary to reach the top 100. "It took Dustin like five or six years to get to the top 10 – and he was winning every year," Knost pointed out.
Phil Mickelson wins a crazy bet
Phil Mickelson respected Colt Knost's point, but he wouldn't back off his projection of Jon Rahm's ascent to greatness. He challenged Knost to a bet and managed to get 2-to-1 odds on whether Rahm, still weeks away from his 21st birthday, could crack the top 10 within a year.
"I told a ton of people about this bet," Knost told the website, "and everyone was agreeing with me."
A week after finishing as the low amateur at the 2016 U.S. Open, Rahm was in contention at the Quicken Loan Nationals, where he finished in a tie for third to start accumulating points under the complicated formula. That was followed in July by a tie for second at the RBC Canadian Open, which bumped him up to 142nd and allowed him guaranteed entry into most of the season's remaining events as long as Rahm continued to play well.
Rahm ended 2016 ranked 125th and got off to a great start in 2017 by winning the Farmers Insurance Open by three strokes with the help of a 60-foot eagle putt on the 72nd hole; he was now in the top 50 in the world.
Rahm left The Players Championship in May ranked 12th. Two weeks later, he tied for second at the Dean & DeLuca Invitational. When the new rankings came out, Rahm was ninth in the world.
Mickelson had won the bet with time to spare.
Scheduling and injuries in the ensuing four months would keep Knost from seeing Mickelson. He paid off the bet at the agreed-upon 2-to-1 odds the next time they got together.
So, how much did Mickelson win from his fellow pro?
"There was a comma involved. Let's just say it hurt me more than it helped Phil."

Retired PGA pro Colt Knost