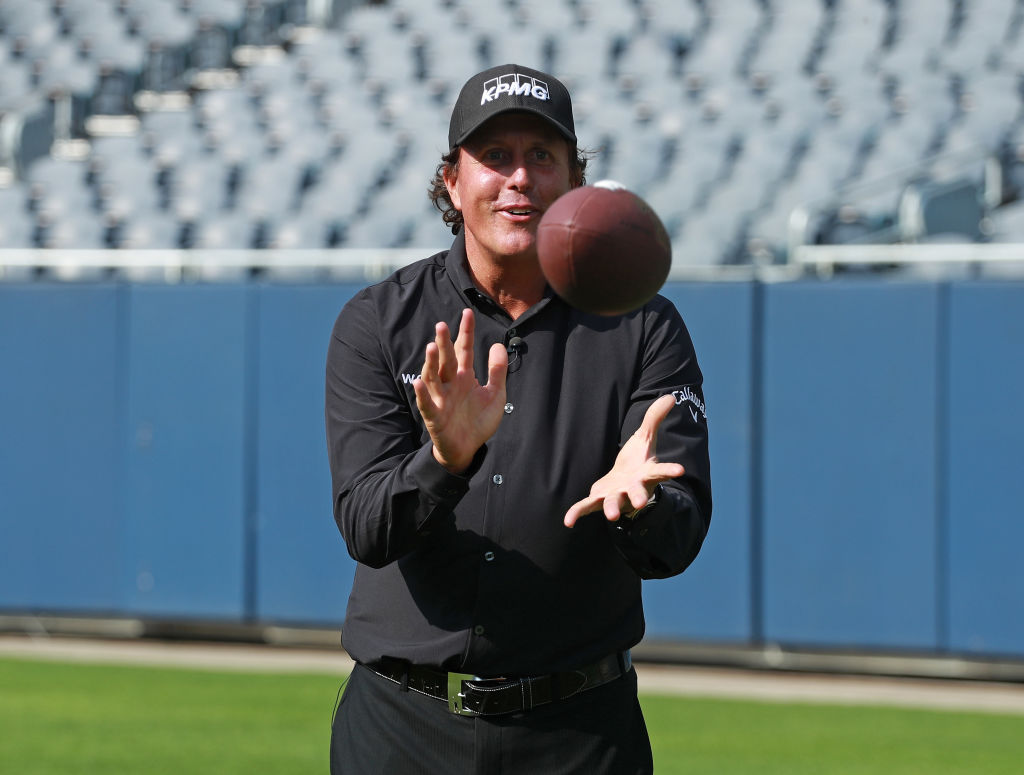 Phil Mickelson Once Moonlighted As One of Tom Brady's Wide Receivers
Long before they teamed up for 'The Match,' Phil Mickelson and Tom Brady had an existing relationship. Lefty even caught some passes from the legendary quarterback.
As an ancient philosopher once said, 'game recognizes game.' We'll see that principle in action on Sunday during The Match: Champions for Charity, when Phil Mickelson and Tom Brady will take on Tiger Woods and Peyton Manning at Medalist Golf Club in Florida. While all four men have spent plenty of time together on the links, that isn't the full extent of Mickelson and Brady's relationship.
Long before 'The Match,' Phil Mickelson and Tom Brady spent some time at Agusta National. While that bonding session included plenty of golf, Mickelson also ended up catching some passes from the famous quarterback.
Phil Mickelson and Tom Brady are stars of their respective sports
No matter the sport, there are always a select few athletes who are at the top of their respective games. In golf and football, Phil Mickelson and Tom Brady are household names for a reason.
If you're an NFL fan, Tom Brady's Cinderella story of a career needs no introduction. When the quarterback arrived in New England as a lowly sixth-round pick, no one expected much from the rookie; the rookie, however, had other plans. After Drew Bledsoe went down injured, Brady stepped into the starting role. He, of course, went on to win more than 200 games with the Patriots, taking home six Super Bowl titles and three MVP awards.
While Phil Mickelson hasn't quite reached the same heights, he's established himself as one of the world's top golfers. Since going pro in 1992, Lefty has won 51 total events and five Majors; while he hasn't been able to get over the hump in the U.S. Open, that shouldn't diminish his career. He's the PGA Tour's second all-time money winner, only trailing Tiger Woods.
Teaming up to face Tiger Woods and Peyton Manning in 'The Match'
In 2018, Tiger Woods and Phil Mickelson faced off in the first iteration of 'The Match.' While that competition didn't go according to plan, they're bringing the concept back with a new twist.
As mentioned above, Woods and Mickelson will be teaming up with Peyton Manning and Tom Brady, respectively, at Medalist Golf Club. The match will have some notable differences from a standard round—as spelled out by Golf Digest, the front nine will be Best Ball, and the back nine will be Modified Alternate shot—with plenty of money going to coronavirus-related charity.
While the two NFL quarterbacks are technically talented amateurs, they'll still be more than capable of holding their own on the course. Based on a Wes Welker interview with ESPN, it seems like Manning finishes most rounds in the high-70s or low-80s; Brady doesn't spend as much time on the links since he's still an active player, but he apparently has an 8.1 handicap.
Phil Mickelson once caught passes from Tom Brady
On Sunday, Tom Brady will be teaming up with Phil Mickelson on Lefty's home turf. In the past, however, the golfer has met the quarterback in his comfort zone.
As detailed by Mark Cannizzaro of the New York Post, Brady, Mickelson, and Jimmy Dunne were spending time together at Agusta National ahead of the 2017 Masters. One day, however, the quarterback approached Lefty asking for a favor.
"We all went and worked out in the morning and Brady said, 'Hey listen, I've got to go throw to [Patriots receiver Julian] Edelman next week, and I always like to throw a little bit and keep my arm sharp … do you mind catching a few passes?' Mickelson told the newspaper. "I was like, 'Hell yeah, let's do this." The two found a spot near the 10th hole and started tossing the pigskin.
While Mickelson was lightly concerned about getting hurt—"I've never seen a football come in this hard," he explained—it was still an incredible experience of the golfer. If the duo developed any chemistry during that session, we'll see if it pays dividends on Sunday.