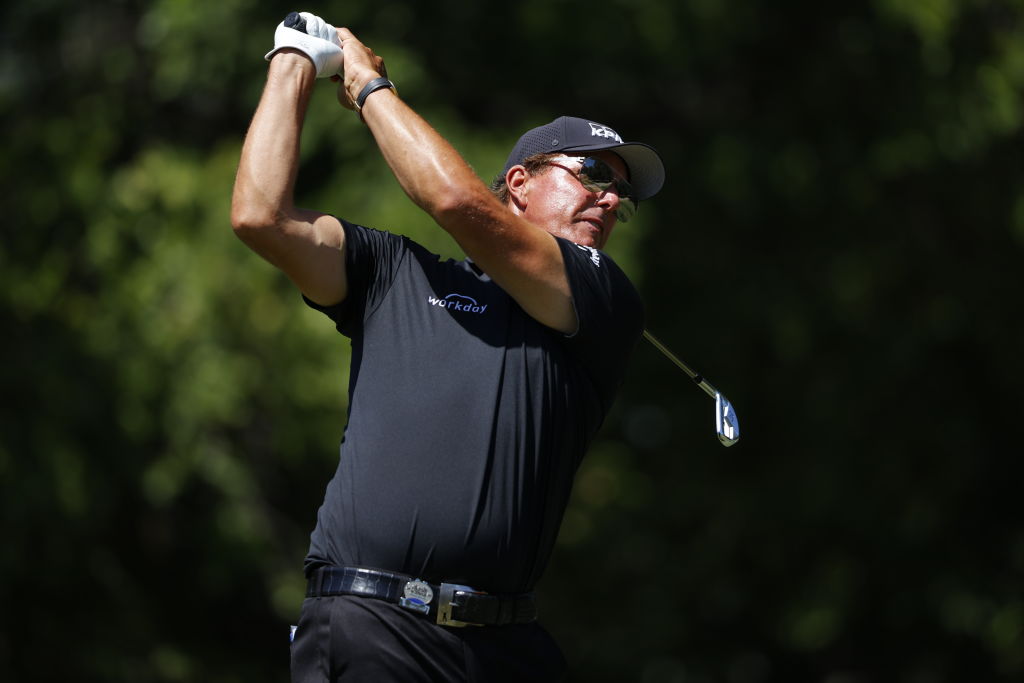 Will 50-Year-Old Phil Mickelson Now Play the Champions Tour?
Phil Mickelson turns 50 years old today and is eligible for the Champions Tour. When can golf fans expect to see Mickelson on the Champions Tour?
Today is a milestone birthday for Phil Mickelson as he turns 50. He's now eligible to play on the Champions Tour. For many PGA Tour golfers, that transition often proves to be lucrative as the newcomers are traditionally more successful simply because they're competing against older competition. When can golf fans expect to see Phil Mickelson competing on the Champions Tour?
Phil Mickelson's stellar PGA Tour career
After winning three NCAA individual championships and graduating from Arizona State, Phil Mickelson made his professional debut on the PGA Tour back in 1992. Before Lefty made his first swing as a pro, he already had one victory under his belt, the Northern Telecom Open, which he had won a year earlier as an amateur. That victory earned him a two-year exemption on the PGA Tour.
Phil Mickelson captured his first victory as a pro a year later in 1993 at the Buick Invitational. For the next decade, he racked up win after win, but the major titles remained elusive. In April 2004, with 21 professional wins under his belt, Mickelson won his first major golf tournament at the Masters by a stroke over Ernie Els.
That win took a lot of pressure off Mickelson, who then proceeded to earn two more majors the next two years, including the PGA Championship and his second green jacket. In his 28 years on the PGA Tour, he's won 44 tournaments, including five majors (3 Masters, 1 PGA, and 1 British Open).
His most recent win came in February 2019 at the AT&T Pebble Beach Pro-Am. 
Successful Champions Tour golfers
The Champions Tour has provided a career rebirth for many of the game's most successful players. In recent years golfers like Scott McCarron, Jerry Kelly, Steve Stricker, and Vijay Singh have all won multiple tournaments in a single season on the Champions Tour. Each one of those golfers had been years removed from winning on the PGA Tour. 
Bernhard Langer has been one of the most successful golfers on the senior circuit in recent years. After success in the 1980s and 1990s on the European and PGA Tours, which included a couple of Masters titles, Langer jumped to the Champions Tour in 2007. Since his arrival, he's won an impressive 41 times, including a record 11 senior major championships. Langer won a total of three times on the PGA Tour and 42 times on the European Tour.
While Langer is the record-holder for most senior majors, Hale Irwin remains the all-time wins leader. The three-time U.S. Open champion joined the Champions Tour in 1995 and has won 45 titles, including seven majors. He won 20 times on the PGA Tour.  
When will Phil Mickelson join the Champions Tour?
Phil Mickelson's ability hasn't diminished, but the results have. Since Mickelson won his last major, the 2013 Open Championship, he's won twice on the PGA Tour, once in 2018 and 2019. In 2019, for the first time in 26 years, Mickelson dropped out of the top 50 in the Official World Golf Ranking. He also watched the President's Cup, marking the first time he failed to make a U.S. team since 1993.
While recent results might not have lived up to what people expect from one of the game's greatest left-handed golfers, Phil Mickelson isn't deterred. In fact, he's quite confident in his ability to still find success on the PGA Tour.
"When I stop hitting bombs, I'll play the Champions Tour. But I'm hitting some crazy bombs right now," Mickelson told GolfWorld.com in January before the pandemic started. "I still have speed. There's no reason I couldn't play out here. I hit the ball every bit as far. Usually as guys get in their 40s they regress. I had a five-, six-miles an hour clubhead speed increase last year. A little bit of commitment in the gym, a little bit of work ethic, and all of a sudden there's no reason that physically I can't do today what I did 15, 20 years ago, in fact I'm doing more."
Although Lefty is optimistic about his future on the PGA Tour, he's also realistic and understands things can change. 
"So the realization about what the game of golf means to me and how competitive I am and how much I thrive on that challenge has hit me, and it's led to a greater work ethic, a greater commitment to physical health and well being and a greater quality of life. But I also enjoy this challenge. So I'm curious to see how the first six months go. And then I'll start to weigh some decisions. But there's a chance that if I do what I expect then I may end up competing for years out here. And there's a chance that maybe I am misguided in my thinking and that I should move over. But a lot will be decided or seen in the first six months, because I feel like I'm ready to play."

Phil Mickelson
In the months before the pandemic, Phil Mickelson played in nine events. He missed five cuts. His highest finish was a third-place tie at the AT&T Pebble Beach Pro-Am, where he last won in 2019. In the first event since the restart of golf, the Charles Schwab Challenge, Mickelson missed the cut.