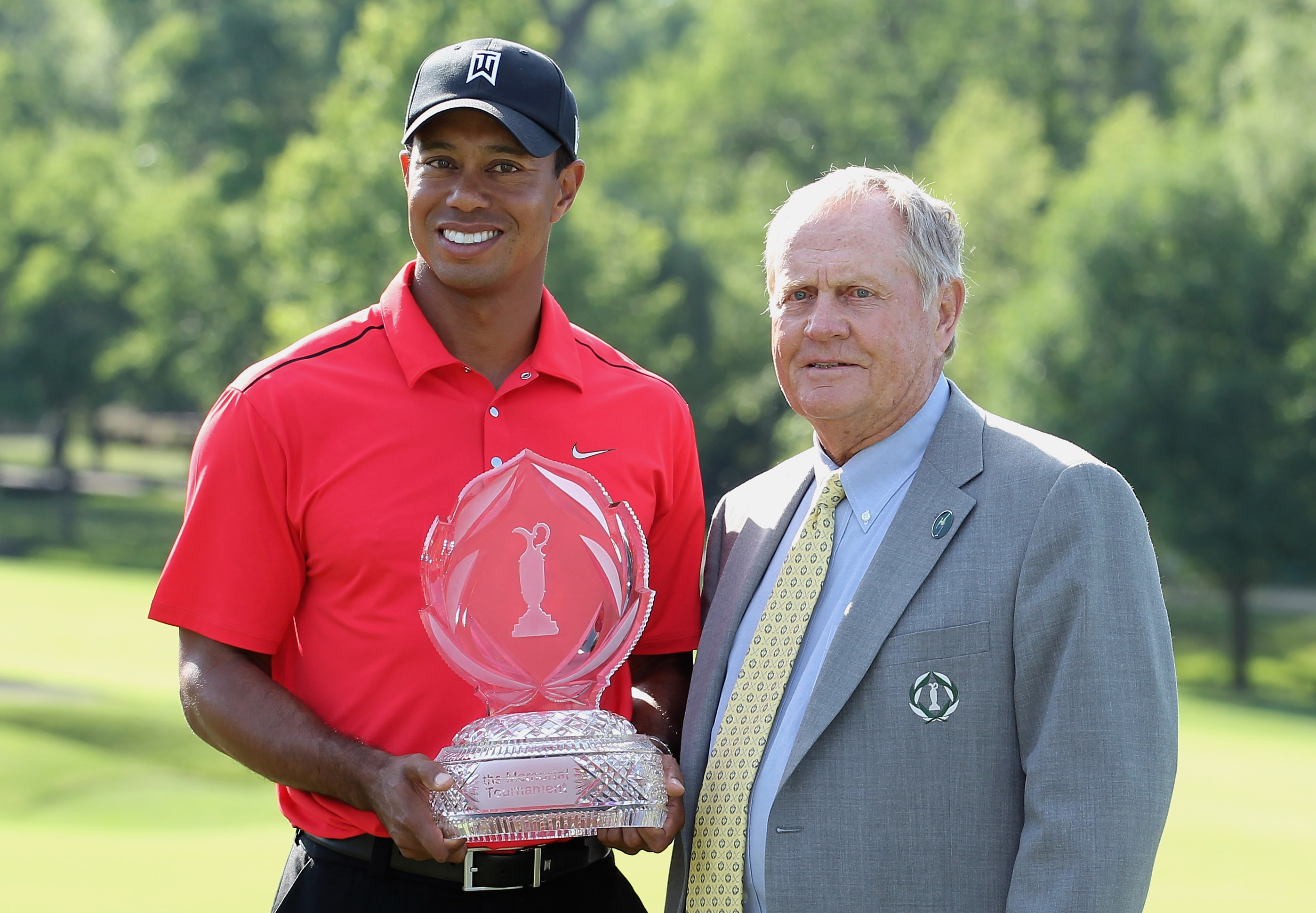 Is Tiger Woods or Jack Nicklaus the GOAT in Golf?
We've all heard the debate on Michael Jordan and LeBron James for GOAT in basketball. In golf, who is the GOAT—Tiger Woods or Jack Nicklaus?
Tom Brady is the GOAT as far as NFL quarterbacks. Michael Jordan and LeBron James are the subjects of debate when it comes to the GOAT in basketball. But what about golf? Jack Nicklaus is a legend, but like Jordan, his accomplishments were years ago and didn't receive the same amount of media coverage as Tiger Woods. Who is the GOAT in golf?
Jack Nicklaus has more major championship titles
When you think of Jack Nicklaus, the first thing that comes to mind is major championships. If the debate of GOAT is based solely on major titles, Nicklaus is the winner hands down. He captured 18 major titles in his career compared to Woods and his 15, up until now. 
One interesting fact is Woods has three more majors than any other player and five more than anyone who has played in the last 60 years. Even with those impressive numbers, he still can't compete with Nicklaus. However, Woods has the Tiger Slam, which was holding all four titles at once although not in a calendar year. 
Nicklaus never won four in a row but did win back-to-back-to-back majors from the 1971 PGA to the 1972 U.S. Open. In the end, major titles aren't given more weight because of their timing. Nicklaus has won more majors than Woods. If Woods wins three or more, then there's no need for a discussion and he would be the undisputed GOAT. Until that time, Nicklaus holds the advantage in that category. 
Tiger Woods has more total tournaments won 
While Jack Nicklaus has the most major titles, Tiger Woods has the most overall PGA Tour tournament wins in his career with 82, tied with Sam Snead. Nicklaus is in third at 73. 
The overall win total in tournaments reveals one interesting thing—Woods in his prime was better than prime Nicklaus. Here's why. Woods won 27 tournaments from 1999-2002 and added 25 tournament trophies to his collection from 2005-2008. In Nicklaus' best four-year stretch he won 22 from 1970-73 and added another 17 titles from 1964-67. 
Another impressive Woods number is cuts made. He made the weekend in a record 142-straight tournaments. Nicklaus's best streak was 105. When you look back over the duration of their careers, and the totality of their victories, the edge goes to Woods. 
Nicklaus faced higher level of competition
The last category to compare Tiger Woods and Jack Nicklaus is the level of competition each player faced on a weekly basis. And once again, major tournament winners are the barometer for characterizing that success. In the case of Woods, his unquestionable biggest rival was Phil Mickelson. Lefty won five major championships. Ernie Els and Vijay Singh are the only two other golfers to capture at least three majors. 
For Nicklaus, he battled against stiffer competition and four of the greatest golfers in the history of the game, including Arnold Palmer, Gary Player, Tom Watson, and Lee Trevino, each of whom won six or more majors. In other words, each time Nicklaus teed off in a major championship, there were four other legitimate contenders who were capable of taking home the trophy. That was never the case for Tiger.
Some might argue that no one else took home the trophies during Tiger's reign because he was winning all of them. But what changes that narrative is this—Nicklaus finished second in majors 19 times. Woods has, to this point, only finished second on six occasions. Woods has always been a front-runner finisher, winning 14 of his 15 majors while leading or co-leading entering the fourth round. He's never been challenged in the fourth round and he's never come from behind to challenge for a major title.
In the end, both men will go down as the two greatest golfers in the game's history, but Nicklaus has to be given the title of GOAT because when it mattered most, he was the more successful of the two.