Jon Rahm Can Become the No. 1 Ranked Golfer in the World if This Happens Sunday at The Memorial
Jon Rahm is 18 holes away from his fourth career PGA Tour victory. He enters Sunday's final round at The Memorial four strokes ahead of the field after a blistering 68 on a tough Saturday afternoon. Besides the trophy and a handshake with Jack Nicklaus after finishing 18, Rahm will be playing for much more than a win when he tees it up Sunday. He has a chance to overtake Rory McIlroy as the No. 1 player in the world if a few things go his way.
Jon Rahm is gunning for his fourth career win Sunday
Jon Rahm is no stranger to a Sunday lead. He has three victories in his young PGA Tour career, and he'll have a great opportunity to make it four when he tees off Sunday afternoon at The Memorial.
Rahm holds a commanding four-shot lead heading into the final round at Muirfield Village Golf Club. He currently sits at -12, while Tony Finau and Ryan Palmer are the closest to him at -8.
While most others faltered down the stretch Saturday afternoon, Rahm rose to the occasion. He birdied three straight holes on the back nine and finished with a 4-under 68. The firm, fast course was eating everyone else alive in the afternoon wave, but not Rahm.
He enters Sunday with a great chance to pick up what would be his best win on Tour by far.
Rahm rose from No. 1,548 in the world to No. 2
Rahm's ascent to the top of the PGA Tour has been a swift and impressive one. When he first arrived on the scene six years ago, Rahm was ranked No. 1,548 in the Official World Golf Rankings. Heading into Sunday's final round, he sits at No. 2.
Rahm didn't turn pro until 2016, and he finished the season ranked No. 137 in the world. Four years later, Rahm has three PGA Tour wins and six European Tour wins to his name and a No. 2 world ranking.
Only Rory McIlroy is ranked ahead of Rahm in the OWGR. Well, maybe not for long.
Jon Rahm can become the No. 1 golfer in the world Sunday at Memorial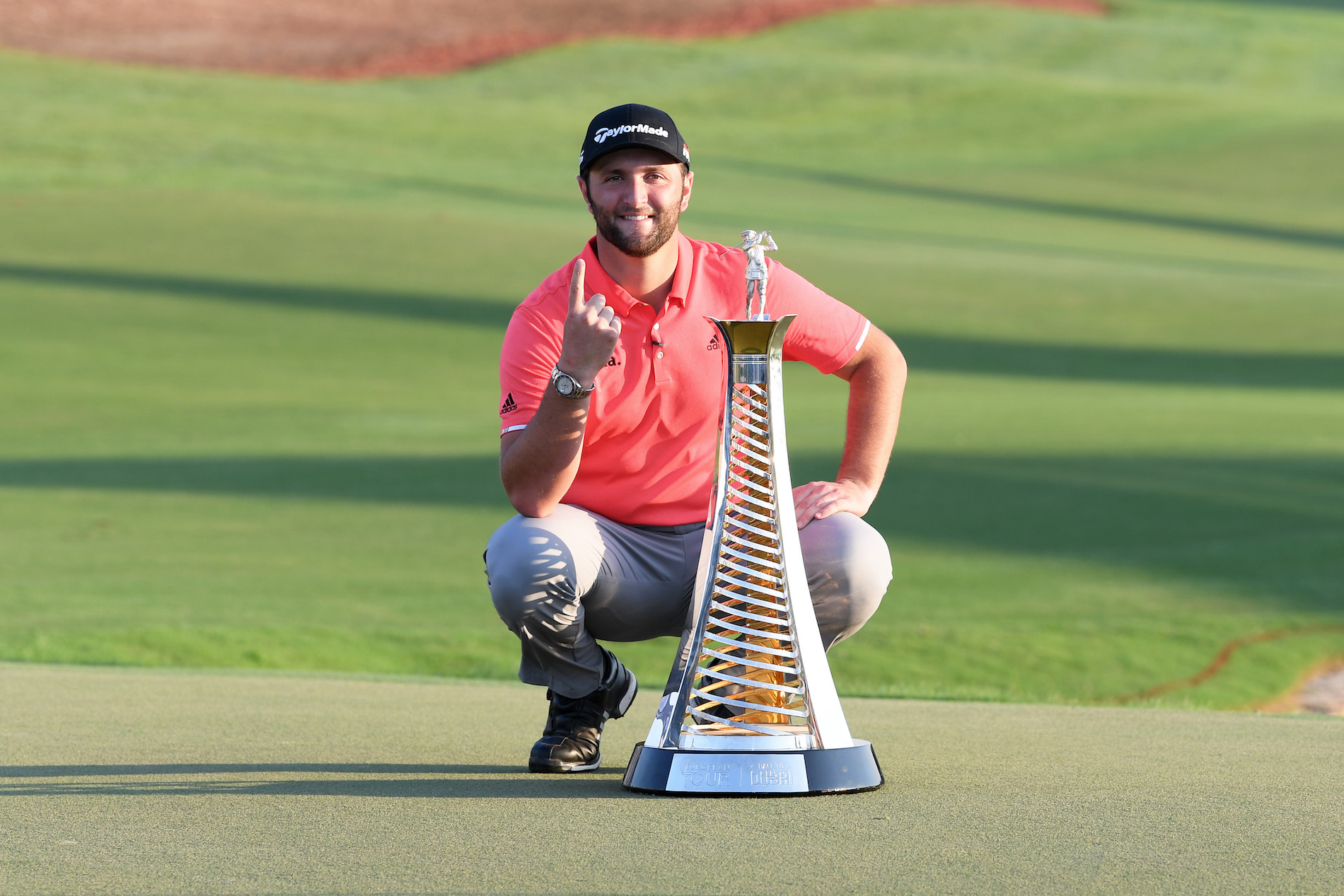 Jon Rahm has been a consensus top-10 player in the world for nearly three years now. The 25-year-old is staring down his fourth career win, but he can also achieve something greater at Muirfield Village.
Rahm can become the No. 1 ranked golfer in the world on Sunday. There are two scenarios that would make it possible, and they're both incredibly feasible.
The easiest way Rahm can overtake the No. 1 spot is with a win and McIlroy finishing worse than a tie for second. McIlroy currently sits tied for 12th and 10 shots back of the lead, so he would need a special round to catch second place.
Rahm can also become world No. 1 if he comes in solo second and McIlroy falls outside the top 30. With a four-shot lead entering Sunday, the No. 1 ranking is fully in reach for the young superstar.
"It's obviously a big deal," Rahm said. "I can't sit here and try to diminish it and avoid it because it would just be lying to myself because it's a big deal. But it's a consequence of me winning (Sunday). What's important to me tomorrow is to hit good shots, be committed and get the job done. Everything else will be taken care of afterwards."
Rahm tees off at 2:35 p.m. ET Sunday afternoon.
All rankings courtesy of Official World Golf Rankings