How Tiger Woods Inspired Tony Finau to Become One of the Best Players on the PGA Tour
The 1997 edition of The Masters was truly one of the most special events in this history of sports. Over the course of four days at famed Augusta National Golf Club, Tiger Woods decimated an elite field of players to win by a record 12 strokes, breaking Jack Nicklaus' scoring record in the process. Countless youngsters became instant golf fans that week, including then-seven-year-old Tony Finau, who had never watched a single round of golf in his life to that point.
Finau was hooked. Like so many current golfers on the PGA Tour, he wanted to be Tiger Woods and began his journey to become one of the greatest golfers on the planet.
Tony Finau was inspired by Tiger Woods to become a pro golfer
Tony Finau was simply mesmerized by Tiger Woods. Yes, there's obviously the talent, which has helped him to 15 major championships and 82 PGA Tour victories. But then there's the even more obvious thing. Tiger Woods looked different than just about everyone in the sport at the time. Born to a black father and a Thai mother, Woods was the first person of color to win a major championship and young Finau was fascinated by that, as he once told Deseret News.
"I saw this kid who was the same color as me. I saw him fist pumping, I saw him wearing the green jacket; he made the game look so cool. I looked at it and I'm like, man, maybe I can do that someday, maybe I can play in the Masters."

Tony Finau on Tiger Woods
Tony Finau is of Samoan and Tongan descent and golf usually isn't the sport of choice for someone with his heritage, which is why he's the only player in PGA Tour history with that lineage. But he was determined to make it. With the support of his parents, who certainly didn't have much money, Finau put in the work. Without the money to play on an actual course all the time, he set up a mattress in his garage and hit balls into that.
Finau's father was his coach, even though he had no idea what he was doing as he barely knew anything about the sport except that his two sons loved it. Tony's younger brother, Gipper, was quite the player himself.
There was a par-3 course a few blocks from their home where they would often practice and they became such fixtures there that the course pro finally start letting Gipper and Tony Finau play for free. When Tony entered high school, he was widely regarded as one of the state's top amateurs but his school didn't even have a golf team.
That quickly changed with his arrival and West High later won a state title. At 16, Tony Finau won the Utah State Amateur and, despite numerous offers to play collegiate golf, he turned pro the day he graduated high school at the age of 17.
Tony Finau has somehow won just a single PGA Tour event
Once turning pro in 2007, Tony Finau began his quest to join his idol, Tiger Woods, on the PGA Tour. From 2007 to 2011, he attempted to get his card by way of the extremely tough qualifying school but never made it out of the second round. He continued to play in tournaments on low-level tours but finally got his big break on the PGA Tour Canada in 2013. He made seven cuts in eight starts and later that year tied for third at the Web.com Tour (now Korn Ferry Tour) qualifying school, earning his card for the 2014 season.
He won the Stonebrae Classic in August 2014 and finished 12th in the Web.com Tour Finals to earn his PGA Tour card for the 2014-2015 season. He'd achieved his dream and won his first PGA Tour event in 2016 at the Puerto Rico Open, a victory that vaulted him to the No. 72 spot in the world rankings.
Surprisingly, Tony Finau hasn't yet won a second PGA Tour title despite being one of the best golfers in the world. Over the last four years, he's racked up 35 top-10 finishes, including two third-place finishes and six runner-ups. One of those top-10 finishes came at The Masters in 2019, where he played in the final group alongside none other than the man that inspired him to become a golfer in the first place, Tiger Woods.
As he had 22 years earlier, Finau watched as Tiger won at Augusta National, only this time he was right in the thick of the action himself. Finau tied for fifth that day but it only seems like a matter of time before he slips on a green jacket of his own. At the very least, that second win is right around the corner and could very well happen this weekend at the Memorial.
He's been in the top 20 in the world for almost two straight years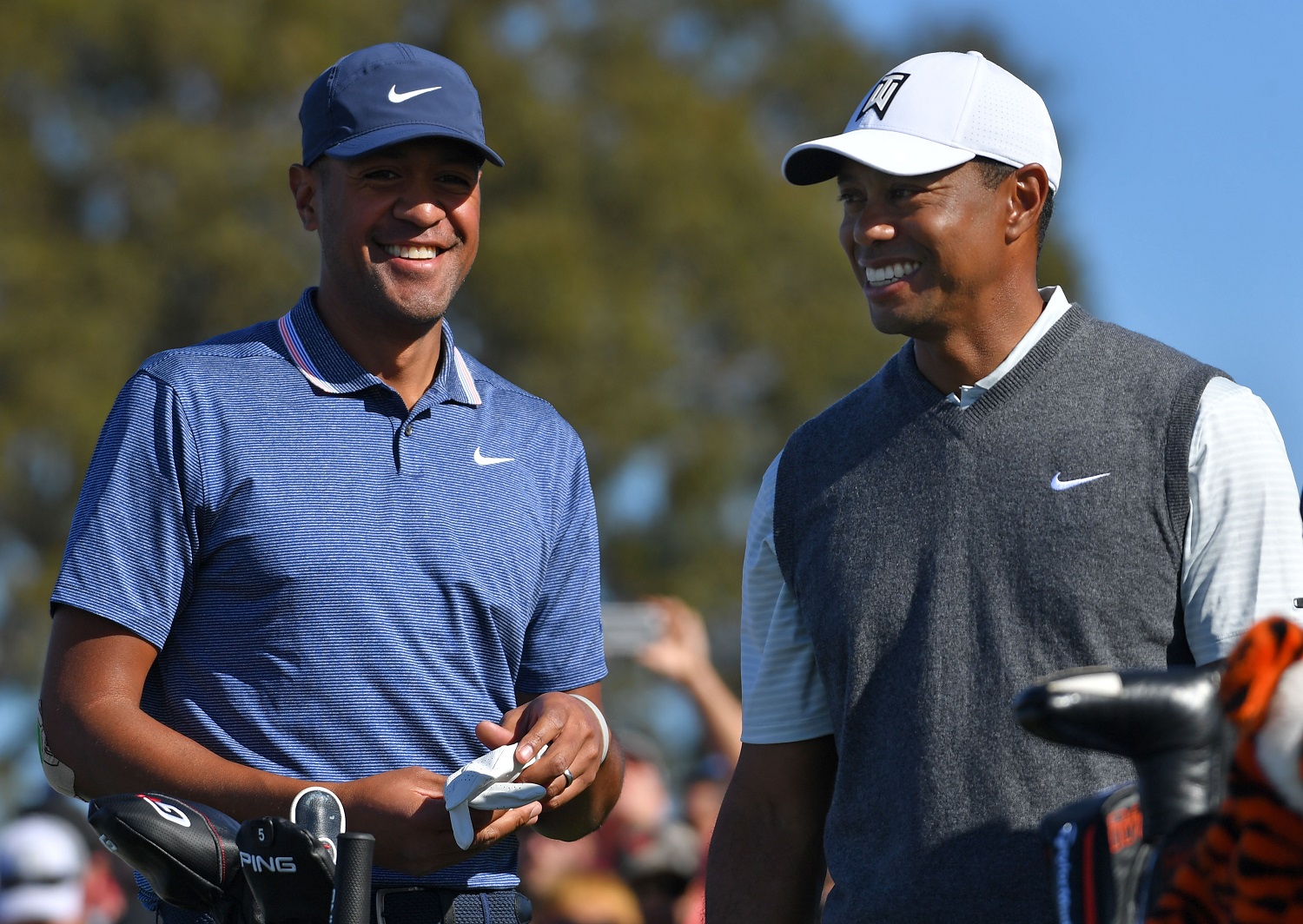 In the first event of the 2018 FedEx Cup Playoffs, Tony Finau finished second at the Northern Trust, which vaulted him into the top 20 of the Official World Golf Ranking for the first time at No. 18. He hasn't left the top 20 since. Finau hit the top 10 later that year with a runner-up finish at Tiger Woods' Hero World Challenge, which put him at No. 9, his highest ranking to date.
Tony Finau entered this week's Memorial Tournament ranked No. 19 in the world, a ranking that would considerably improve with a win. It's likely he wouldn't be bothered by winning a tournament that Tiger Woods has won five times.