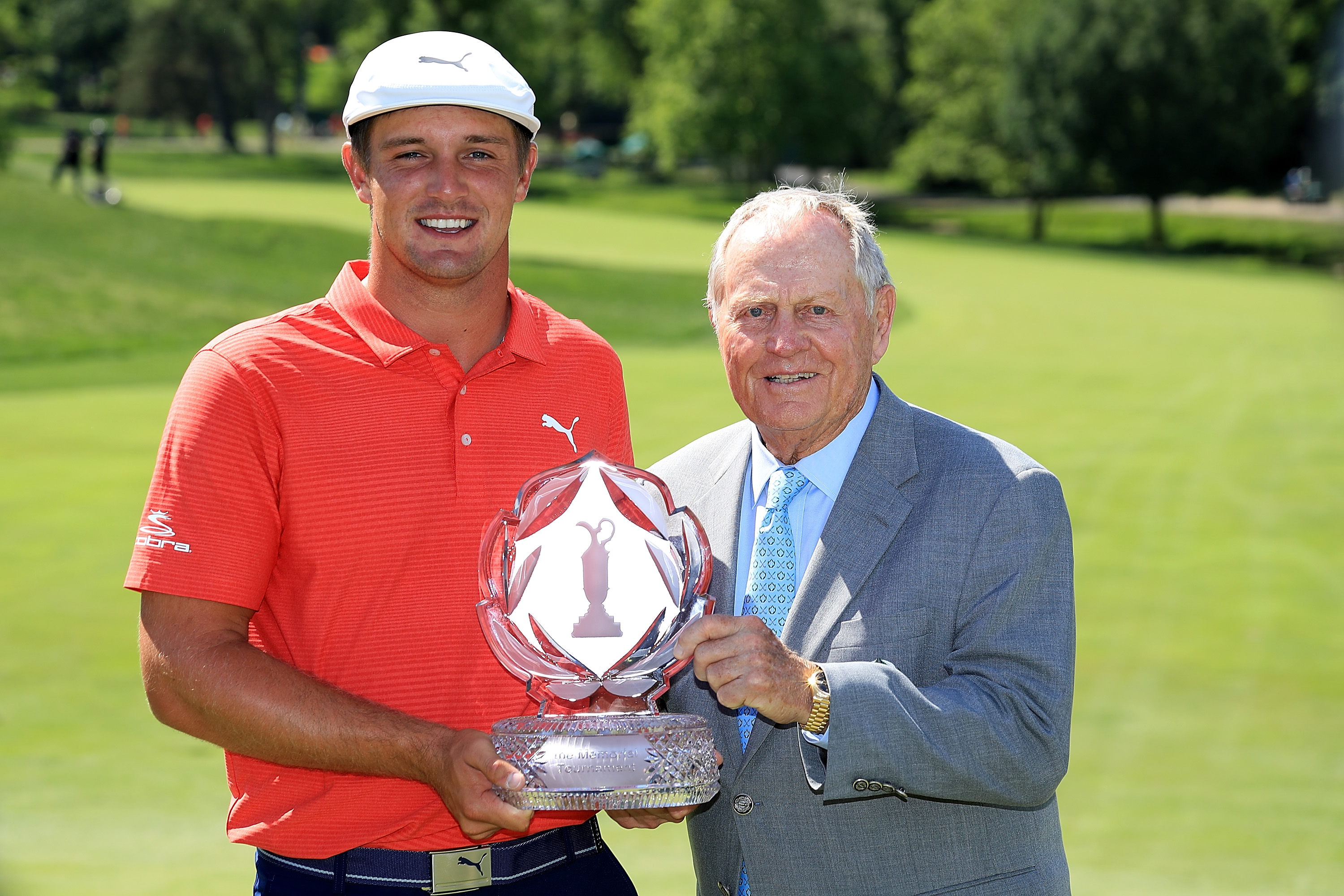 Jack Nicklaus Surprises With His Comments on Long-Hitting Bryson DeChambeau
Jack Nicklaus has spoken out for years that the USGA needs to act on golf technology. Despite his position, Nicklaus has some surprising thoughts on Bryson DeChambeau.
Jack Nicklaus has been vocal for years on golf technology overtaking the courses. He's pleaded with the USGA to make adjustments. Now, with the golfing machine known as Bryson DeChambeau blasting drives in excess of 400 yards with regularity, Nicklaus said it's important now more than ever to act. The legendary golfer also had some surprising comments regarding the 26-year-old DeChambeau. 
Jack Nicklaus and his position on golf technology
Jack Nicklaus is arguably the greatest golfer in the game's history. Nicklaus achieved his greatness at a time when there were limited advances in technology. That all began to transform in the 1980s with the introduction of metal clubheads, and the dramatic changes in golf ball technology that followed in the 1990s.  
In 2008, Nicklaus wrote a lengthy column for Golf Digest, where he wondered aloud when the USGA and R&A would address the situation and offered, in his mind, a simple solution.
"I like the old game of moving the ball both ways and using strategy with angles, and hitting all the clubs in the bag. My greatest concern, because I believe it has the most effect on the most parts of the game, is the golf ball," Nicklaus wrote. "I'd very much like to see the U.S. Golf Association and the R&A institute at least a 10-percent rollback in the distance the golf ball travels.
"I know the ruling bodies are looking at limits on equipment, including possibly reducing the size of driver clubheads and eliminating square grooves, but that's treating an effect more than a cause. The desired results from such moves could be taken care of by a rollback in the ball. In fact, there would be much less need to limit equipment innovations that help amateurs play if the ball were rolled back."
Nicklaus questions when golf's governing bodies will act
A dozen years later, and Jack Nicklaus' perspective hasn't changed. He said as much during the Golf Channel broadcast on the first day of his golf tournament, The Memorial, held in Ohio. 
"The USGA has got to wake up sooner or later, the R&A. They can't keep burying their heads to this. They see it. They watch television. They see where these guys hit the golf ball. It isn't about how far they hit it. You just can't keep making golf courses longer. You just don't have enough land. You don't have enough money to do it. 
"And the golf ball is a very, very simple thing to fix. And I've been preaching about it, good gracious, I've been preaching about it now – 43 years I first went to the USGA. I mean, that's a long time to be saying, 'Well, we're studying it.' Guys, stop studying. Do something, will you please?"
Earlier this year, both of golf's governing bodies jointly released the Distance Insights Report, a summary of the perceived causes of golf's distance problem. It confirmed Nicklaus' position that increased hitting distances are indeed hurting the game. While it didn't provide specific solutions, the report did mention the potential for new conformance tests for clubs and balls, and a local rule that would allow courses to require limited-flight equipment, as general areas to pursue in the future. 
Jack Nicklaus surprising thoughts on Bryson Dechambeau
During Friday's telecast of The Memorial, Jack Nicklaus watched in amazement as Bryson DeChambeau stepped up to the tee box of the 340-yard Par-4 14th hole with a three-wood in his hand. Up until that point, eight players in the field had attempted to drive the green, but none of them with a three-wood. 
"I'm not sure what his thought pattern was there. What, was he in between clubs?" Nicklaus half-joked. "The driver was too much, and he had to hit the three wood? I don't know."
After DeChambeau's shot came up short of the green and bounced in the creek, Nicklaus, despite his staunch position against bombs off the tee, admitted he was impressed.
"He's doing things that I've never seen done before. You've got to give him credit. He's worked hard to get his body to where he can do it. I don't like seeing the golf ball going that far, but if a guy is doing it, he's hitting the ball straight and putting; more power to him."
Nicklaus has been unequivocally clear on where he stands when it comes to technology in the game. Like the rest of the golf world, the legendary golfer is a fan of the game and is impressed by DeChambeau's ability to drive the ball such a long way. His last words, however, reveal what he is impressed with most about DeChambeau's game. If you can hit the ball straight and putt, that's the sign of a true golfer, and that's something Nicklaus can truly appreciate.