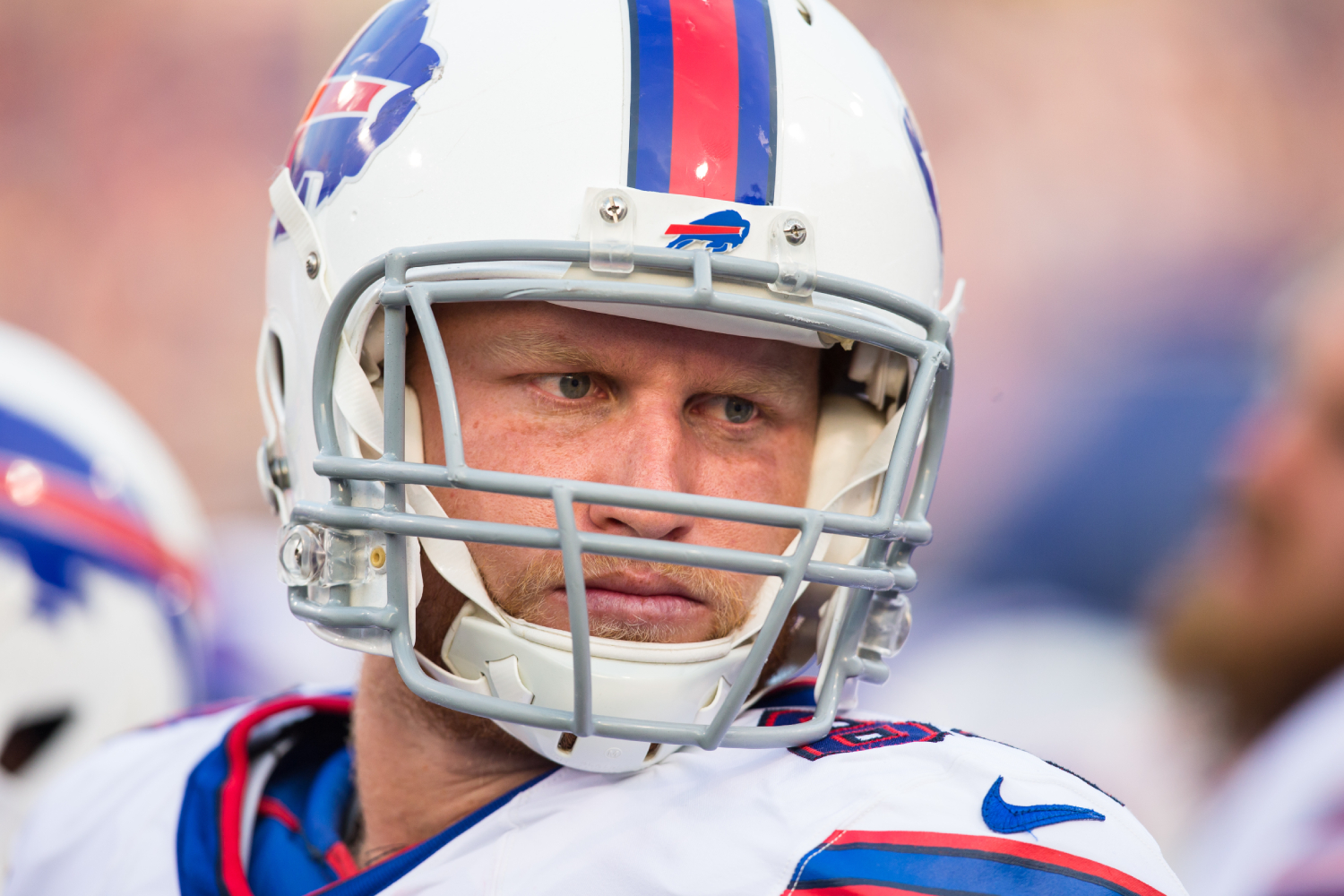 Jack Nicklaus' Grandson, Raiders TE Nick O'Leary, Recovering After Heart Attack
Hall-of-Fame golfer Jack Nicklaus' grandson, Oakland Raiders tight end Nick O'Leary, has football on hold after a heart attack.
Jack Nicklaus is widely considered the greatest golfer of all time. Nicklaus, however, isn't the only member of the family to reach the professional level in sports. Nicklaus' grandson, Nick O'Leary, is a 6-foot-3 NFL tight end who was drafted by the Buffalo Bills in 2015. Now with the Oakland Raiders, his football career has been put on hold after suffering a heart attack at the age of 27.
Jack Nicklaus' golf career
Jack Nicklaus is to golf what Michael Jordan is to basketball, but only better. Nicklaus has won 117 tournaments in his professional career, including 18 major championships. Nicklaus has won the Masters Tournament six times and was the first to win consecutive Masters Tournaments in 1965 and 1966. He won his final Masters when he was 46 years old.
Nicklaus was simply dominant. He was the youngest golfer ever to win all four majors. He accomplished the feat when he was 26 years old. Nicklaus captured five PGA Championships and he also won four U.S. Open titles. He was named the PGA Player of the Year five times.
Like the Michael Jordan/LeBron James debate, Nicklaus and Tiger Woods have been compared. Former golfer Gary Player said there is no comparison between the two. "How can you compare Tiger Woods to Jack Nicklaus?" Player said to The Palm Beach Post. "It's not fair. (Nicklaus) finished second in 19 major championships. 19! This is what people forget when they want to make a comparison."
Nick O'Leary's football career
Nick O'Leary is a 6-foot-3, 250-pound tight end who played his college football at Florida State. The grandson of PGA Hall of Famer Jack Nicklaus, O'Leary was a sixth-round draft selection of the Buffalo Bills in the 2015 NFL draft. O'Leary played in just four games his rookie season, making one reception, but his production quickly picked up.
In his second season with Buffalo, O'Leary, primarily used as a blocking tight end, played in all 16 games, starting seven of them. He had his best season during this third and final season with the Bills in 2017 when he caught 22 passes for 322 yards and a pair of touchdowns. He was cut by the Bills, but quickly picked up by the Miami Dolphins and added to their practice squad.
O'Leary was activated from the practice squad in October of 2018 and played the rest of the season, catching eight passes in 12 games. He finished with 86 yards and a touchdown. In 2019, he split time between the Dolphins and Jacksonville Jaguars. After the season, he hooked on with the Oakland Raiders.
O'Leary recovering after a heart attack
According to the Palm Beach Post, O'Leary felt some pain in his left arm while working out and then had another episode while playing pickleball with his brother. "I said sarcastically to my brother there's something wrong with my heart, I don't know what it is," O'Leary said. "I happened to go to the hospital, and they told me it was a heart attack."
In May, he had surgery to clear up a 100 percent blockage to his heart. Doctors have told him there was no damage done to his heart. He is expected to have a full recovery and would love ato some point to return to the football field. "I feel good," O'Leary, 27, said. "I feel better than I did before and I've got to be on blood thinners for six months to a year. That's really the only reason now why I can't play football. If I (got cut), they said that would be the biggest problem, wouldn't be able to stop the bleeding."
He said if he's given the opportunity to play next year, he'd love to. "I got all these friends, I'm in better shape than they're in, I'm working out, I feel like I'm in good shape," he said. "For it to happen to me, I was in shock. I didn't think that's what it would be. For that to happen and me ending up being in the hospital for three days and having a heart issue is pretty weird."