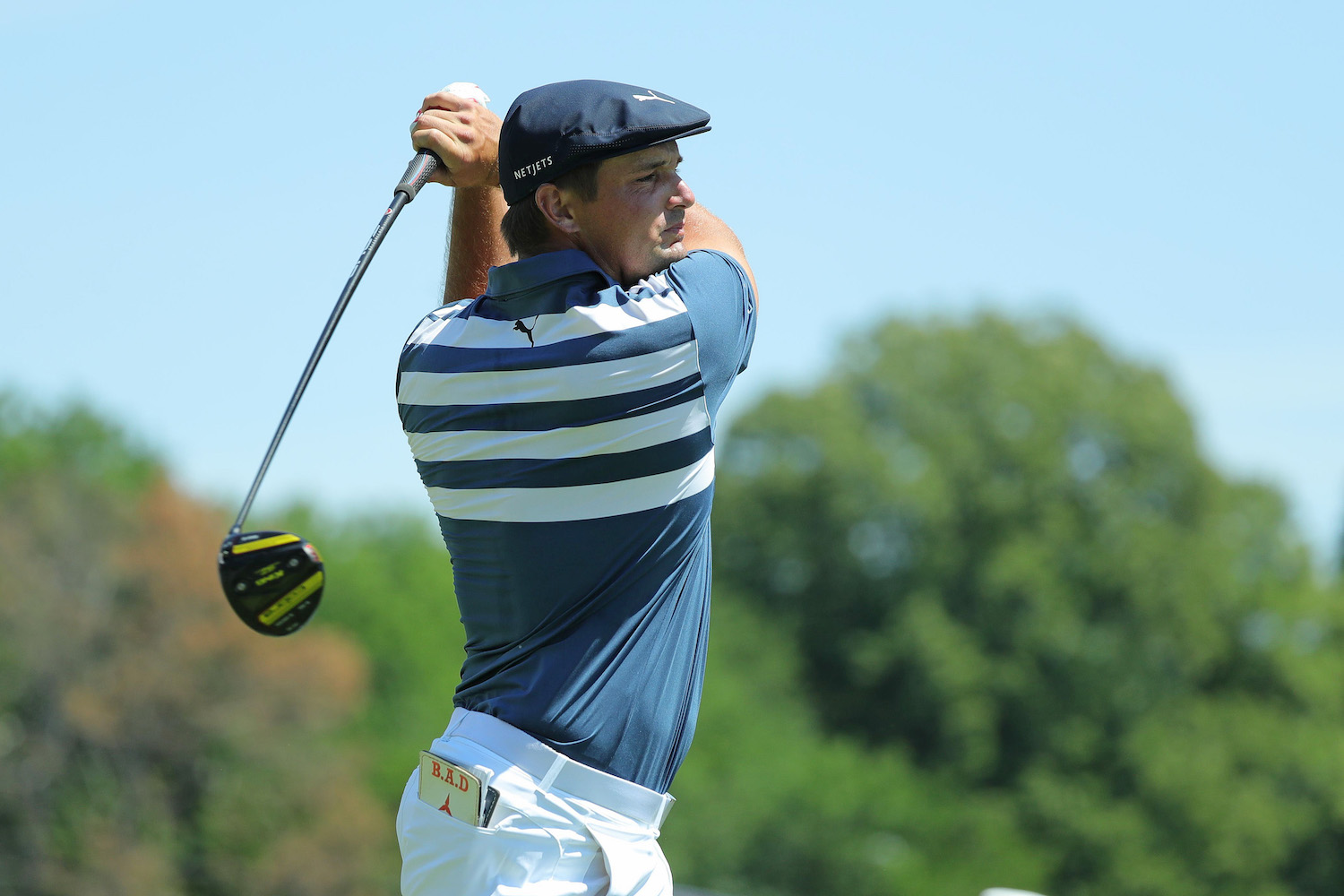 What Is Bryson DeChambeau's Net Worth?
Bryson DeChambeau has won six times on the PGA Tour including his most recent win at the Rocket Mortgage Classic. What is Bryson DeChambeau's net worth?
At just 26 years old, Bryson DeChambeau has established himself as one of the top PGA Tour players on the planet and is ranked No. 10 in the world. His victory at the Rocket Mortgage Classic was his sixth on the PGA Tour and earned him a nice paycheck of $1.35 million. With all of his success so early in his career, DeChambeau has earned a large amount of money. What is Bryson DeChambeau's net worth?
Bryson DeChambeau's young career
Bryson DeChambeau has always had his own unique approach to golf. Unlike other players, his irons are all the same length. DeChambeau is notorious for his obsession with analytics. While no one will argue DeChambeau has more than his share of quirks in his game, it's also hard to argue with the results. 
After DeChambeau won both the NCAA individual championship and the U.S. Amateur tournaments in 2015, he turned professional in 2016. During his first official PGA Tour event as a pro, he tied for fourth at the RBC Heritage and earned $259,000. 
Since his arrival as a full-time player on the PGA Tour, DeChambeau has earned six victories, including his first win at the 2017 John Deere Classic. DeChambeau had his best season in 2018 when he won four times including Jack Nicklaus's Memorial Tournament. 
Last year, DeChambeau had somewhat of a down year. He won just one PGA Tour event, the season-opening Shriners Hospital for Children Open in November. In 21 total events, he made 17 cuts but only managed five top-10 finishes. 
DeChambeau on record-setting pace in 2020
In the 2020 calendar year, Bryson DeChambeau hadn't produced any victories until the Rocket Mortgage Classic, but his game has been nothing short of spectacular. In his seven events since January 1, DeChambeau hasn't just made all cuts, he's finished in the top-10 in each event.
While his game has caught the attention of his fellow competitors, it's his enormous body size that has stolen the headlines since DeChambeau and his fellow PGA Tour players returned to action on June 11 in Dallas. DeChambeau has gone up two sizes from a medium to an extra-large and his weight exploded from 195 to 240 pounds. 
That weight combined with DeChambeau's analytical mind has translated into a game off the tee that is, up until this point, the longest ever in PGA Tour history, where he is averaging an astonishing 323.8 yards off the tee. That's a couple of yards ahead of the all-time best of 321.4 set by Hank Kuehne in 2003 and a staggering 21 yards ahead of DeChambeau's 302.5 average last season. 
What is Bryson DeChambeau's net worth?
In less than four full seasons on the PGA Tour and with six victories, DeChambeau has earned more than $17 million. With 2018 his most successful season thus far, DeChambeau earned an impressive $8 million for the year.
DeChambeau's 2018 total earnings were more than 2017 and 2019 combined, where he brought home just more than $5 million. All of his earnings and sponsorships combined, DeChambeau has a reported net worth of $10 million.
With DeChambeau's game in its current state, which has resulted in him racking up more than $5 million in earnings already in 2020, look for DeChambeau to add to those numbers in a big way this season and beyond.