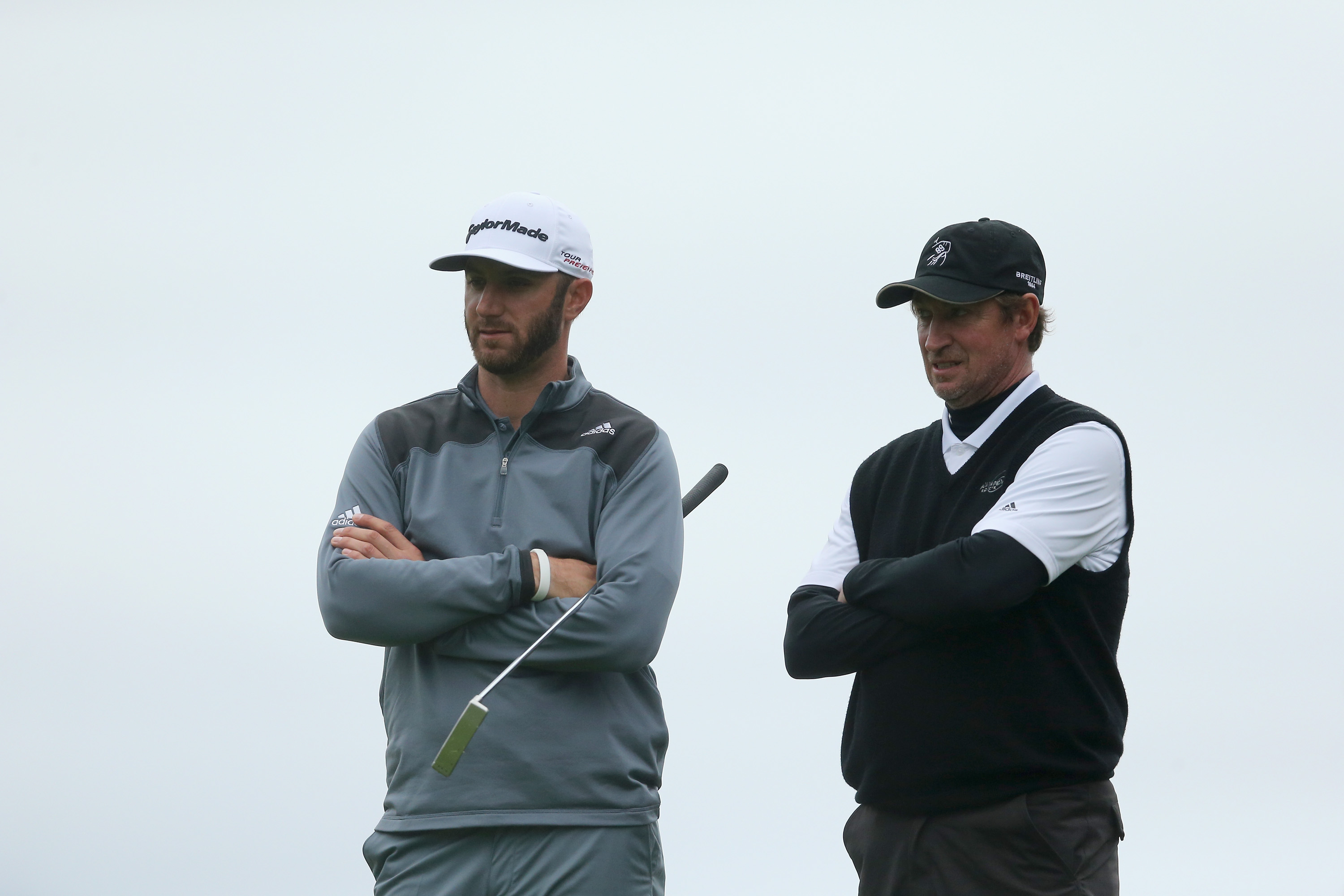 Dustin Johnson Owes His PGA Tour Success to a Wayne Gretzky Assist
While Dustin Johnson always had plenty of talent on the golf course, an assist from Wayne Gretzky helped him take things to the next level.
During his time in the NHL, Wayne Gretzky dished out plenty of assists. One of his biggest helpers, however, came on the golf course rather than the ice. The main beneficiary was none other than his son-in-law, Dustin Johnson.
During his early PGA career, Johnson had established himself as a talented, if inconsistent player. The golfer's career, however, took off after scoring some advice from the Great One.
Dustin Johnson didn't have the easiest road to stardom
These days, Dustin Johnson is one of the biggest names on the PGA Tour. His rise to stardom, however, didn't always seem like a sure thing.
As a young golfer, Johnson showed talent. During his teenage years, however, hitting a little white ball into a tiny cup fell behind other, more youthful concerns. "He was missing school enough to be tossed from the golf team, and at 16, he was one of five boys recruited by the older brother of a friend to burglarize a home," Ian O'Connor recounted in an ESPN feature. "Johnson didn't enter the home, but he was in a waiting car when a .38-caliber gun was stolen by the group."
The next day, he was "strong-armed" into buying bullets for the gun, which was later used by Steven Gillian, a friend's older brother, in a murder. "Johnson pleaded guilty to second-degree burglary, testified against Gillian, and was forced to pay restitution for the theft."
Eventually, though, Dustin returned to his first love. He hit balls in his grandfather's backyard and eventually enrolled in Dutch Fork High School, where he dominated the competition. After taking a couple of community college classes, he headed to Coastal Carolina University. There, coach Allen Terrell helped the young golfer grow up.
"Dustin needed some direction," Terrell O'Connor. " He needed a future. After graduation, that future seemed to be on the PGA Tour.
A tough start to life on the tour
In 2008, Dustin Johnson joined the PGA Tour. While he would secure his first win by the end of the season, things weren't rosy away from the course.
"In 2008, Johnson's first year on tour, Carole Jones, his paternal grandmother who had moved to Myrtle Beach to watch over Dustin at Coastal Carolina, suddenly died from complications from elective back surgery, breaking her grandson's heart," O'Connor recounted. "The following year, Johnson was arrested for DUI."
While it's never easy to draw a straight line between someone's personal life and their professional struggles, Johnson struggled to put everything together. He was capable of winning one tournament every year and blasting drives down the fairway, the finer details—whether they were his short game or round management—were always a bit lacking.
Dustin Johnson scored an important assist from Wayne Gretzky
In 2012, Dustin Johnson and Paulina Gretzky started dating. As you might assume, Paulina's dad is NHL legend Wayne Gretzky; he was able to give the golfer an invaluable assist on the course.
While there were several other factors at play—Johnson changed coaches, took some time away from the game, had children, and generally matured—the Great One seems to have helped him turn a corner.
"Johnson has credited Gretzky's guidance and advice for his ascension up the world rankings," Steve DiMeglio wrote in USA Today. "Johnson often picked the NHL icon's brain and said Gretzky's support and belief did wonders for his confidence. The two quickly became regular golf partners and talked for hours about how to handle sports fame, pressure, and expectations, with Gretzky, in his mentoring ways, always stressing to never settle."
Gretzky confirmed that message in 2016, telling Golf.com that he wanted his son-in-law to keep pushing himself on the course. "If I scored 50 goals in a season, I wanted 70 the next year. If I got 70, I wanted 90. Never, ever settle," the Great One explained. "Dustin just won three tournaments and a major. That's a great year. Now go win five tournaments and two majors. I want him to see that only he can put limits on himself."