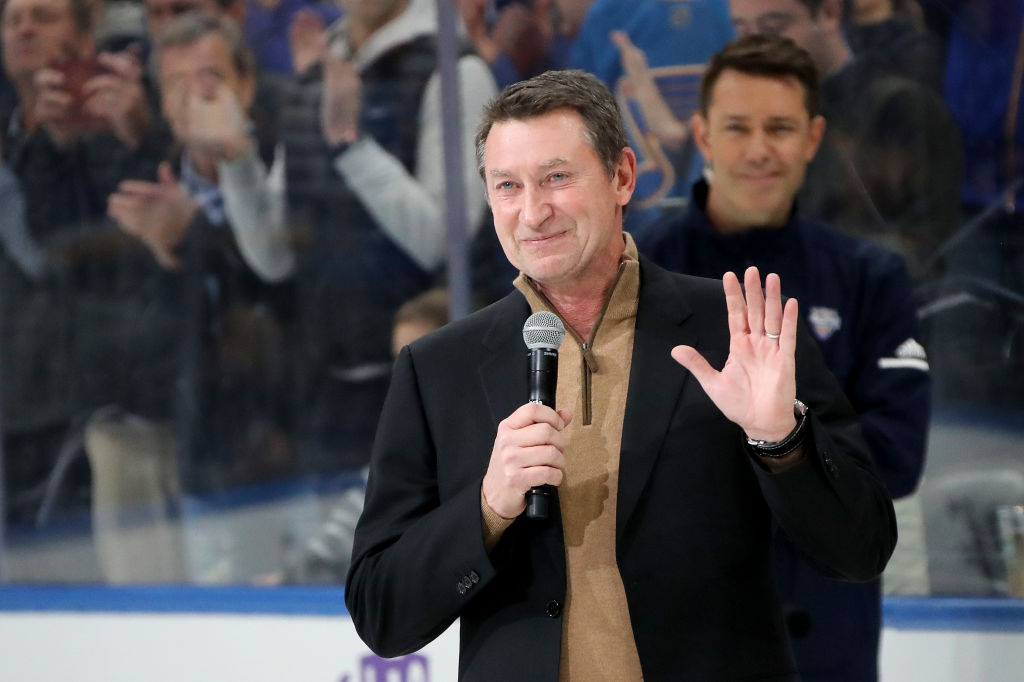 Wayne Gretzky Used His Impressive NHL Earnings to Build a Business Empire
Wayne Gretzky is one of the greatest hockey players of all time. Since retiring from the sport, Gretzky has been busy building a business empire.
No one would have blamed Wayne Gretzky if he had spent his post-retirement life doing nothing. He certainly earned it — he left the NHL as probably its greatest player of all-time, winning multiple championships and MVP awards following a legendary career. But a competitor such as Gretzky couldn't stand pat for long — he's had an active, successful career after hanging up his skates.
Gretzky's success extends well beyond the ice, however. While he's been active in hockey, he's also had plenty of profitable business ventures as well. Here's how Wayne Gretzky used his impressive NHL earnings to build a business empire. 
The great career of Wayne Gretzky
There's a reason they call Wayne Gretzky "The Great One." A 15-time NHL All-Star, Gretzky's professional career began at the age of 17 with the Indianapolis Racers of the WHA. Gretzky only spent 25 games there — the team soon ended operations and his contract was sold to the Edmonton Oilers. 
That's where he made history. Gretzky and the Oilers went on one of the most dominant runs in hockey history. He led the Oilers to four Stanley Cup victories alongside fellow superstars Mark Messier and Grant Fuhr.
Gretzky set multiple scoring records in Edmonton before being traded to the Los Angeles Kings in 1988. In a town of many stars, Gretzky's star shined as bright as any. It was during his time in LA that he'd pass Gordie Howe's all-time point and goal-scoring records. 
Gretzky had a brief tenure with the St. Louis Blues before closing his career out with the New York Rangers in 1999. Gretzky received the honor of being the only NHL player who had his number retired by every team — no one will ever again wear his signature 99. 
Wayne Gretzky's post-NHL life
The website CelebrityNetWorth.com estimates Gretzky's net worth at $250 million. Gretzky scored some large contracts during his playing days — certainly not a small number, but only a fraction of what he'd make had he played in this era of even larger contracts. Following his 1999 retirement, Gretzky stayed active in hockey. 
Gretzky moved from the ice to the office with a role as the executive director of the Canadian national men's hockey team prior to the 2002 Winter Olympics. He also bought a 10% stake in the Phoenix Coyotes in 2000. He coached the team from 2005-2009. In 2016, he re-joined his former team in Edmonton as a vice-chairman and partner of the Oilers Entertainment Group. 
So how else has Gretzky amassed his considerable fortune? 
Other business ventures
Throughout his NHL career and after it, Gretzky has been a major investor in sports teams. Along with being a minority owner of the Coyotes, Gretzky purchased a Quebec Major Junior Hockey League team the Hull Olympiques in 1985, selling them in 1992 for a nearly $400,000 profit.
Gretzky also became a minority owner of the Toronto Argonauts in 1980 alongside legendary Canadian comedian and actor John Candy. Gretzky is also a partner with First Team Sports, a sports equipment manufacturer. 
It should come as no shock that Gretzky landed plenty of endorsements throughout his career. He was sponsored by top brands such as Domino's Pizza and Coca-Cola. More recently, Gretzky opened a winery called Wayne Gretzky Estates in Ontario. He also owns multiple restaurants. 
There's no question that Gretzky's on-ice intelligence is a part of what made him one of the game's legends. But it's clear from his shrewd business moves, both during and after his hockey career, that Gretzky has far more than his hockey ability to fall back on.