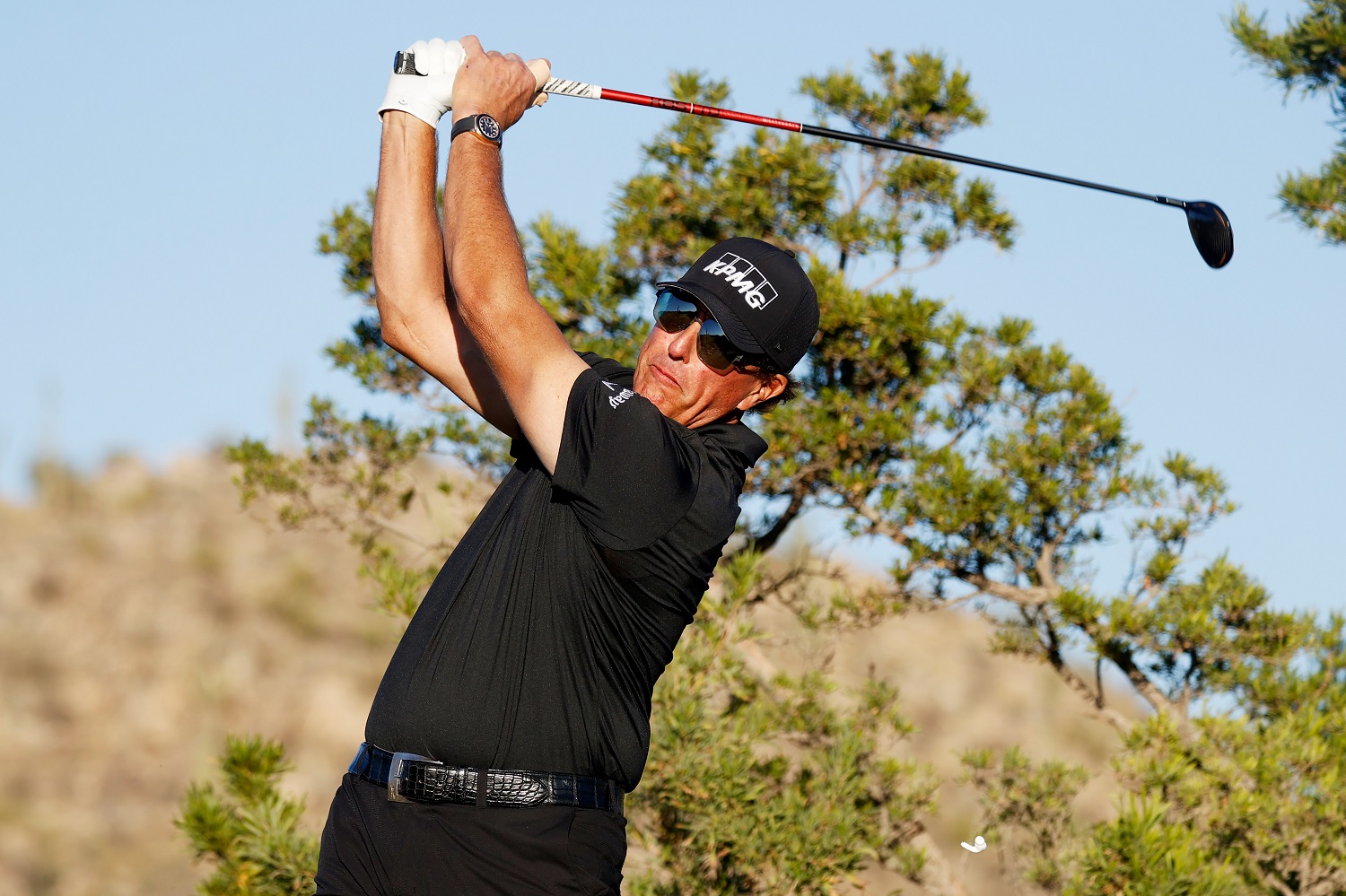 Phil Mickelson's Latest Plan Could Leave Ryder Cup Fans Rooting Against Him
Phil Mickelson is talking about making another run at playing in the Ryder Cup, but his record in the international team competition is not impressive.
Star power is what drives television ratings for golf tournaments, so the networks love it when Dustin Johnson, Tiger Woods, and Rory McIlroy tee it up in PGA Tour events that they are broadcasting. Unfortunately, the big names gravitate toward golf's majors and the tournaments that best prepare them for those championships. So, when Phil Mickelson spoke of his plans for 2021, network executives liked what they heard. Golf fans might feel that way now, too. But, come September, it could be a different story.
Phil Mickelson is slipping down the rankings
At 50 years old, Phil Mickelson's best golf is behind him. Although he has five victories in majors, Mickelson's most recent legitimate run at one of the grand-slam titles came at the 2016 British Open. Digging deeper, he hasn't finished in the top 10 on the PGA Tour money list since 2013, and he has won a total of two regular tour stops in seven years.
Mickelson has slid to 67th in the Official World Golf Ranking, and he is 38th in the current cycle for Ryder Cup points. Mickelson has been playing about the same number of PGA Tour events as he did a decade ago, so the issue is one of quality rather than quantity. Other than finishing 32nd in sand-save percentage, he did not break the top 50 in any major statistical categories last season.
What Mickelson did do well last year was play the 54-hole events on the seniors tour. Mickelson entered the Charles Schwab Series in August and the Dominion Energy Charity Classic in October and won both, pocketing a combined $750,000.
Phil Mickelson is thinking about picking up the pace
Phil Mickelson hadn't competed in a regular event since The Masters Tournament late last fall until entering The American Express in La Quinta, California, this weekend. Before teeing it up in the first round on Jan. 21, 2021, Mickelson talked about his game and his plans.
"I feel like I've made a few good strides, and I'm excited to start the year and see if I'm able to continue playing at the highest level," Mickelson said, according to CBS Sports. "If I am, I'm going to really try to play more events on the PGA Tour and make a push hopefully for the Ryder Cup.
"But if I don't play well early on, I'll start to re-evaluate things and maybe play a few more events on the Champions Tour because what's fun for me is competing, getting in contention, and trying to win tournaments."
Mickelson fired rounds of 74 and 72 to finish 2-over-par and miss The American Express cut by six strokes. Thirty-six holes of golf after two months between competitive rounds is hardly a fair assessment of where Mickelson's game is. So, it will be interesting to see how quickly he rounds into form – if at all.
The Ryder Cup could be awkward
Phil Mickelson is a longshot to play often enough and perform well enough to accumulate the points he will need to lock down an automatic berth on the U.S. Ryder Cup team that will compete against the Europeans next September at Whistling Straits in Kohler, Wisconsin.
Mickelson clearly wants to be part of the Ryder Cup team for the 13th time in his illustrious career, but his only path to making it seemingly is as a captain's pick. To do that, he'll need several top-10 finishes, perhaps cracking the top 20 on the U.S. list to merit consideration.
But that poses an issue for the Americans because Mickelson has not shown himself to be a great Ryder Cup player. He is just 5-6-1 in Sunday singles action, and Mickelson also isn't above .500 in foursomes or fourballs. His cumulative record in 12 appearances is 18-22-7.
For what it's worth, Tiger Woods is only 13-21-3 in his Ryder Cup appearances and Dustin Johnson, who is a lock for the team, is 7-9-0.
Provided he's healthy, Woods has good golf left in him and will likely be a captain's pick even if he doesn't qualify automatically. Harsh as it is to say, U.S. captain Steve Stricker's decision on the makeup of the team will be a lot easier if Mickelson doesn't round into form before the fall.
Like Sportscasting on Facebook. Follow us on Twitter @sportscasting19.