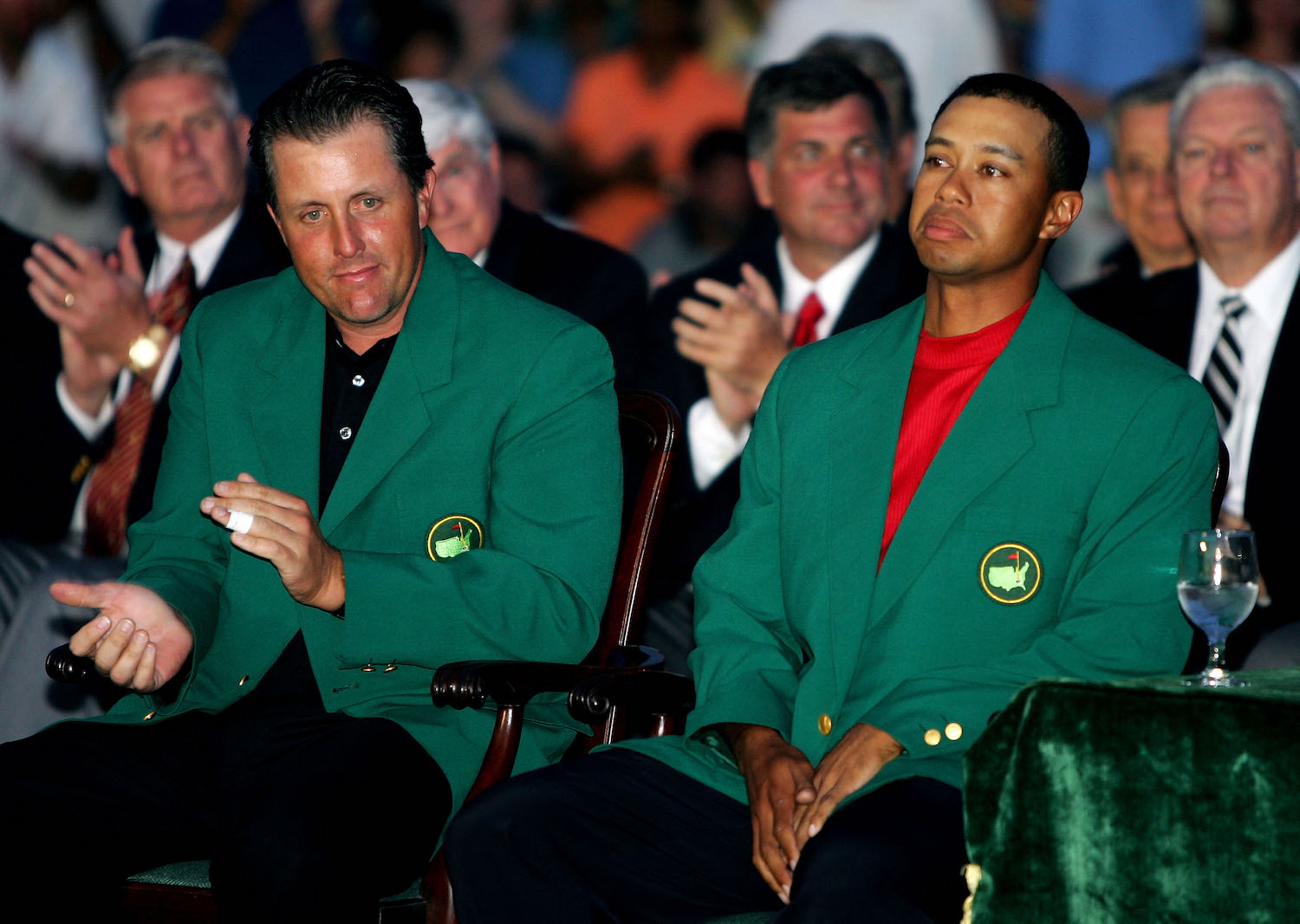 Tiger Woods Destroyed Phil Mickelson's Confidence With 1 Shot at the Masters
Tiger Woods dominated Phil Mickelson through the years with his physical and mental game, including the time Woods destroyed Mickelson's confidence at the Masters with just one shot.
Tiger Woods and Phil Mickelson have had one of the best rivalries in golf since the younger Woods arrived on the PGA Tour in 1996. Woods undoubtedly has been the better of the two with 82 wins and 15 majors compared to Mickelson's 44 wins and five majors.
Early on in the rivalry, Woods established his dominance over Mickelson using the mental side of the game as much as the physical. In Tiger, the two-part HBO documentary on Woods' life, it revealed how Tiger played mind games with Mickelson in the 2001 Masters and destroyed his confidence with just one shot.
Tiger Woods becomes one of the greatest golfers ever
After making his professional debut in August 1996, a 20-year-old Tiger Woods won his first PGA Tour event six weeks later at the Las Vegas Invitational. It was the first of his record-tying 82 PGA Tour titles, equal with Sam Snead. 
Six months later, Woods captured his first major championship, winning the 1997 Masters. That was his first of 15, which includes five Masters, four PGA Championships, three U.S. Opens and three Open Championships.
Tiger Woods shocked the much younger field and won his last major at the 2019 Masters. He sits in second all-time behind Jack Nicklaus and his 18. 
Phil Mickelson had an excellent career in the Tiger Era
While Phil Mickelson made his professional debut in 1992, he won his first PGA Tour event a year earlier at the Northern Telecom Open in Tucson. His win remains the last PGA event won by an amateur. 
Mickelson continued to win after he turned professional. By the time Woods joined the Tour in 1996, Lefty already had eight wins to his credit. For his career, he's won 44 PGA Tour events, good enough for the ninth-best all-time. 
Despite amassing wins, Phil Mickelson struggled when it came to majors, often finishing runner-up, including the 2002 U.S. Open to Woods. Mickelson didn't win his first major title until the 2004 Masters. After breaking through, he won four more, his last at the 2013 Open Championship.  
Tigers Woods destroyed Mickelson's confidence in 2001 Masters
During Tiger, a two-part HBO documentary on Woods' life, among one of the most interesting revelations is how a younger Tiger Woods established his dominance early on in the rivalry with Mickelson. It happened during the final round of the 2001 Masters. 
Phil Mickelson and Tiger Woods stood on the par-5 13th tee, with Woods and David Duval leading by two shots. Mickelson used his driver and hit a nice fade that cleared the corner and landed in the middle of the dogleg fairway. Woods calmly stepped up and blasted a perfect draw with his 3-wood, ending 30 yards past Mickelson.
"I could sort of sense that Mickelson was feeling a bit dejected," Woods' caddie at the time Steve Williams said in the documentary. "He's just hit the best drive that he can, and then Tiger's hit a 3-wood and whipped it by him. And then Phil says to Tiger, 'Do you always hit your 3-wood that long?'
"And Tiger says, 'Further. Normally further than that.' It's amazing the little games within the game Tiger would play. That shot just deflated Phil's ego, and he couldn't bounce back."
Tiger Woods went on to win that Masters and two more majors before Mickelson won his first. Woods has always received credit for his length, iron play and putting—the physical side of golf. But at this level of competition, the mental side is critical for success and Woods proved to be the master on one Sunday in Augusta. 
Like Sportscasting on Facebook. Follow us on Twitter @sportscasting19.