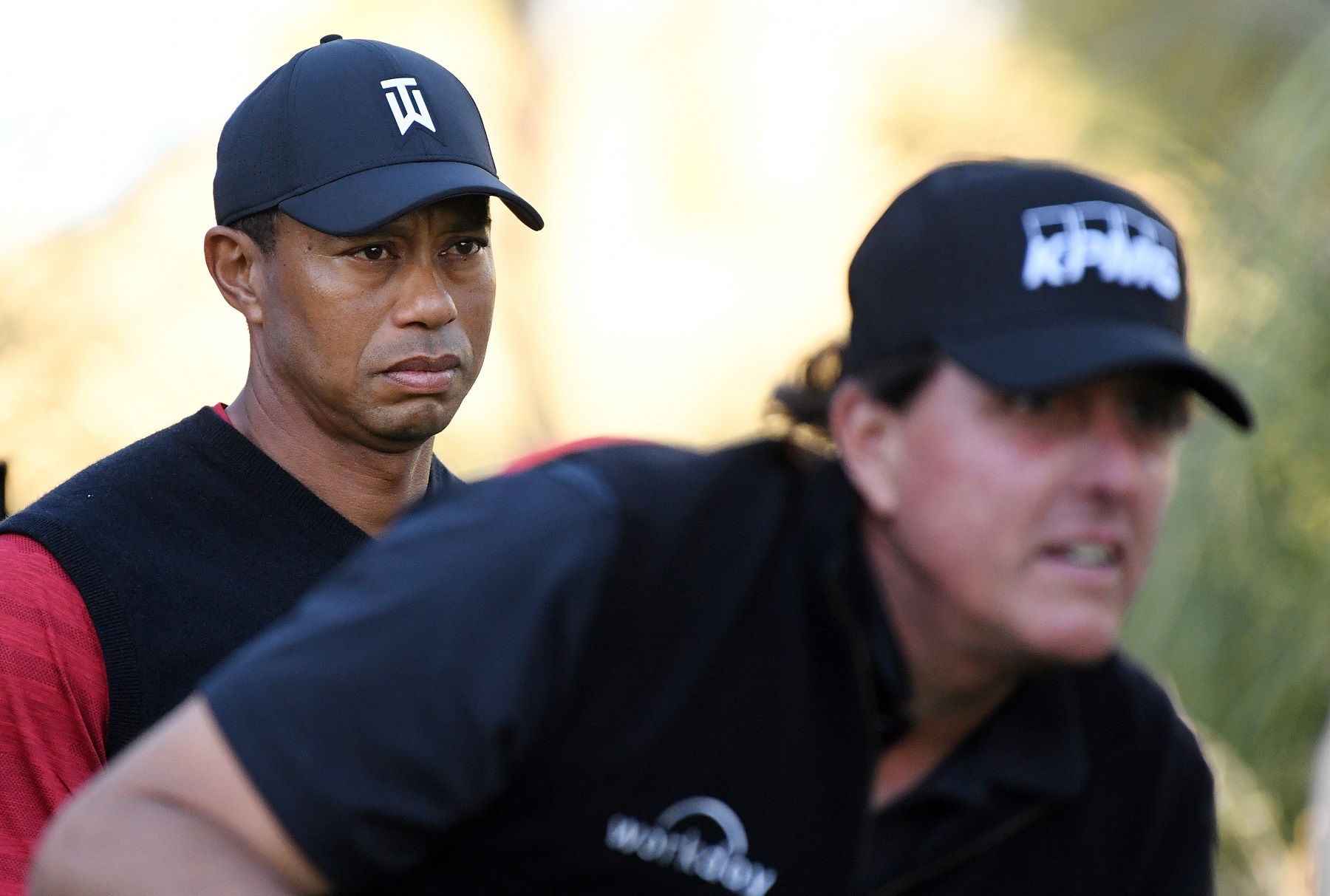 Tiger Woods Believed Phil Mickelson Was Wasting His Talent, HBO Reveals; Lefty's Response Is Unexpectedly Blunt
Tiger Woods viewed Phil Mickelson with disdain because he didn't think his rival worked hard enough.
Although it made for good copy in newspapers and lured television viewers to watch tournaments on the weekend, the truth is that there wasn't as much of a rivalry between Tiger Woods and Phil Mickelson as was often portrayed. Woods was miles ahead of everyone on the PGA Tour, including "Lefty," by the time he won three of golf's four majors in 2000.
In Woods' mind, however, Mickelson squandered a chance to make the leap from exceptionally good to earning a place on the Mount Rushmore of golf.
Tiger Woods and Phil Mickelson have impressive resumes
Tiger, the HBO documentary on golf superstar Tiger Woods, premieres at 9 p.m. ET on Jan. 10. Drawing heavily from the biography of the same name by Jeff Benedict and Armen Keteyian, the two-part documentary examines the golfer's relationships with his parents, ex-wife Elin Nordegren, mistress Rachel Uchitel, and some major figures in the sport.
That would include Phil Mickelson, the winner of The Masters Tournament three times as well as two other majors. Mickelson's credentials beyond the majors are  superb, including 44 victories on the PGA Tour and 10 more on the European Tour. His 11-5 record in playoffs speaks to Mickelson's steely nerves.
Tiger Woods' body of work measures up to or exceeds that of all-time great Jack Nicklaus in every respect except in terms of majors won. Since joining the PGA Tour full-time in 1996, he has won 82 times on the PGA Tour and 18 World Golf Championships events.
The Masters championship in 2019 was his fifth, and Woods' 15 victories in majors also include four PGA Championships. At $120.7 million, his prize money haul easily outdistances every golfer ever, and Woods has pulled down far more than that in endorsements.
Tiger Woods viewed Phil Mickelson with 'disdain'
Phil Mickelson, 50, had a head start in his career over Tiger Woods, 45. Both came up through the junior ranks in California and assembled impressive resumes ahead of joining the PGA Tour. Mickelson had already captured eight PGA Tour titles by the time Woods broke through with his first at the 1996 Las Vegas Invitational.
Woods took a 15-12 lead – including a Masters and a PGA Tournament — by the end of the 1999 season and never looked back. Even when Mickelson was matching his own personal high with four wins in 2000, Woods was winning nine times and piecing together the first 75% of the so-called Tiger Slam.
So much for a rivalry.
Interviewed for the HBO documentary, Sports Illustrated golf writer Alan Shipnuck said Woods viewed Mickelson with "disdain." In Woods' mind, Mickelson was his equal in raw ability but didn't work as hard on his game or his conditioning.
"Tiger knew that Phil was the most naturally gifted player ever to hold a golf club," Shipnuck said, according to Insider.com "But Tiger looked at him with disdain. He couldn't fathom having that much ability but not putting in the time to be great."
Shipnuck said Woods' feelings even rubbed off on his mother, who referred to Mickelson as "Hefty" instead of "Lefty," his well-known nickname.
Interestingly, 'Lefty' doesn't disagree
If there was any sort of tension between Tiger Woods and Phil Mickelson over "Lefty's" work ethic or anything else from their early days competing head-to-head, it dissipated over the years. They've played practice rounds together as well as charity events, and there is no hint of malice when they trash-talk.
Last fall, Mickelson went so far as to credit Woods with pushing him to success that he might not otherwise have attained.
"Looking back, I wish I had been a little bit more committed fitness‑wise in the height of my career… (but) Tiger pushed me to start training a little bit more, which has helped me elongate my career," Mickelson said, according to PGATour.com.
Like Sportscasting on Facebook. Follow us on Twitter @sportscasting19.