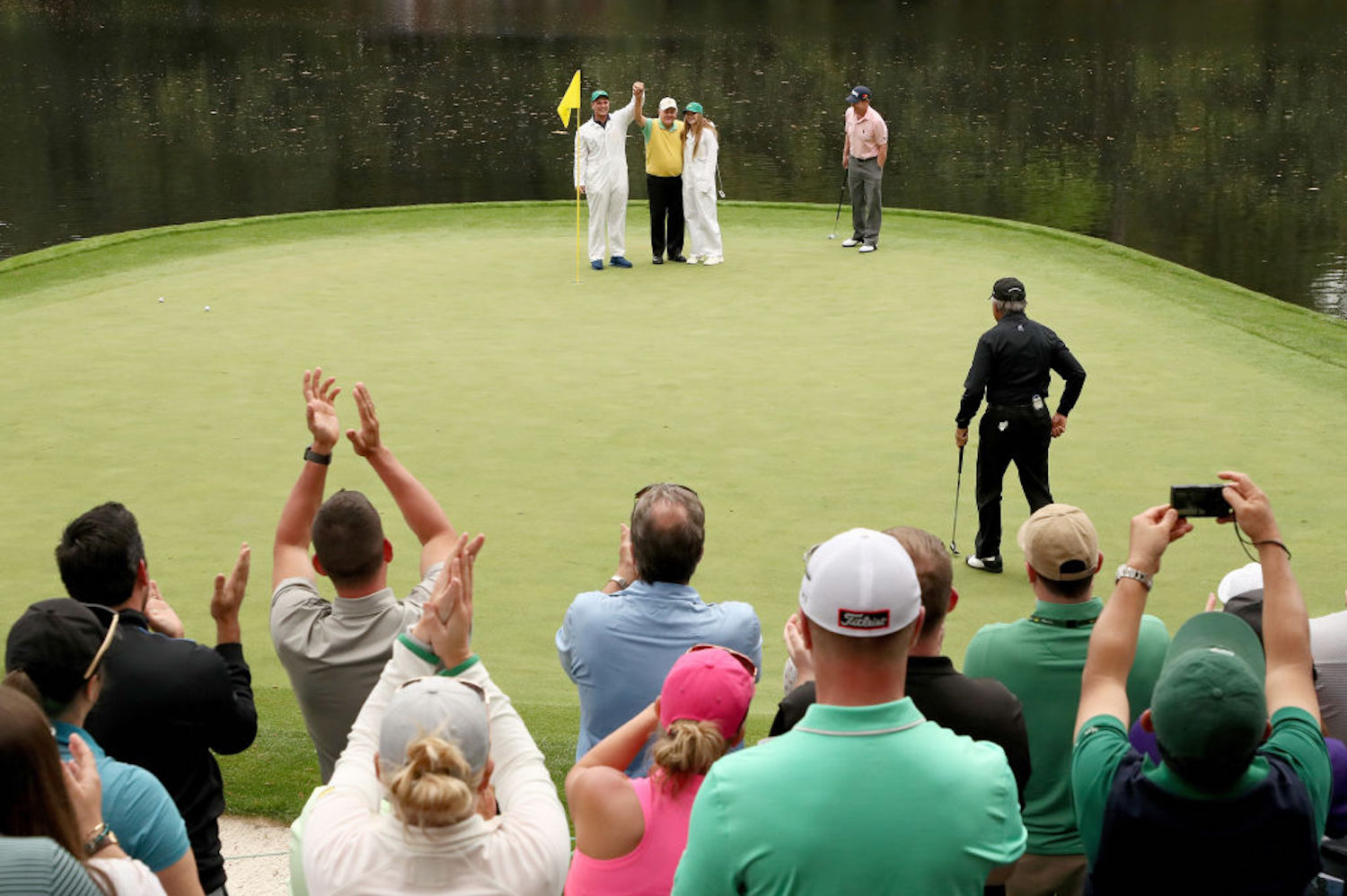 Jack Nicklaus Has 6 Green Jackets, but His Favorite Masters Memory Is of a Shot He Didn't Even Hit
Jack Nicklaus has a plethora of fond memories at The Masters, but his favorite actually occurred during the par-3 contest with his grandson.
Jack Nicklaus has more fond memories at Augusta National Golf Club than anyone who's ever played on the PGA Tour. The Hall-of-Famer has a record six green jackets to his name, but none of them made the cut for his favorite memory at The Masters.
In fact, Nicklaus' favorite memory at Augusta is of a shot he didn't even hit.
Jack Nicklaus won The Masters six times
Jack Nicklaus is arguably the greatest golfer of all time, but it's impossible to argue anyone in PGA Tour history has played The Masters as well as 'The Golden Bear'. Nicklaus won The Masters six times during his iconic career, which is the most of any player in golf history.
Nicklaus won his first-ever green jacket at the 1963 Masters. He was just 23 years old at the time. Two years later, he won his second Masters title at the age of 25. He repeated as the champion a year after that.
Nicklaus added to his total by winning the Masters again in 1972 and 1975. Then, he went 10 years without securing another green jacket. No one believed he could find his sixth Masters title that late in his career.
But they were wrong. Nicklaus put on his finest performance at Augusta in 1986, where he shot 7-under in the final round and 6-under on the back nine to win his sixth green jacket at age 46. It remains today Nicklaus' most impressive and most emotional major championship of his career, but it actually isn't his fondest Masters memory.
Nicklaus' grandson made a hole-in-one at the 2018 Masters
In the week leading up to The Masters, players and family members compete in a light-hearted par-3 contest at Augusta National. The event was canceled this year in light of COVID-19, but the tradition has been alive for 60 years.
In 2018, Nicklaus played the par-3 contest alongside Gary Player, Tom Watson, and a few of their grandchildren. On the final hole of the contest, Nicklaus let his grandson, Gary Nicklaus Jr., try his hand at a tee shot.
And what do you know? He drained it! Gary Jr. jumped in the air in celebration as Nicklaus walked over to give him a 'Golden Bear' hug.
Nicklaus was so thrilled with the emotional moment that he shed a few tears walking to the green to retrieve the hole-in-one.
Nicklaus calls his grandson's ace his favorite memory at The Masters
Nicklaus has a plethora of fond memories to chose from over his Masters career, but he said watching his grandson make an ace at Augusta National will always be his favorite.
"What I did doesn't make any difference to me," Nicklaus said after the hole-in-one. "Watching your grandson do something, it's really special. I got a few tears. Curtis [Strange] asked me going by where that ranks. I said, 'That's No. 1.' My wins, that's OK, but to have your grandson make a hole-in-one and watch him do it, man, that's amazing."