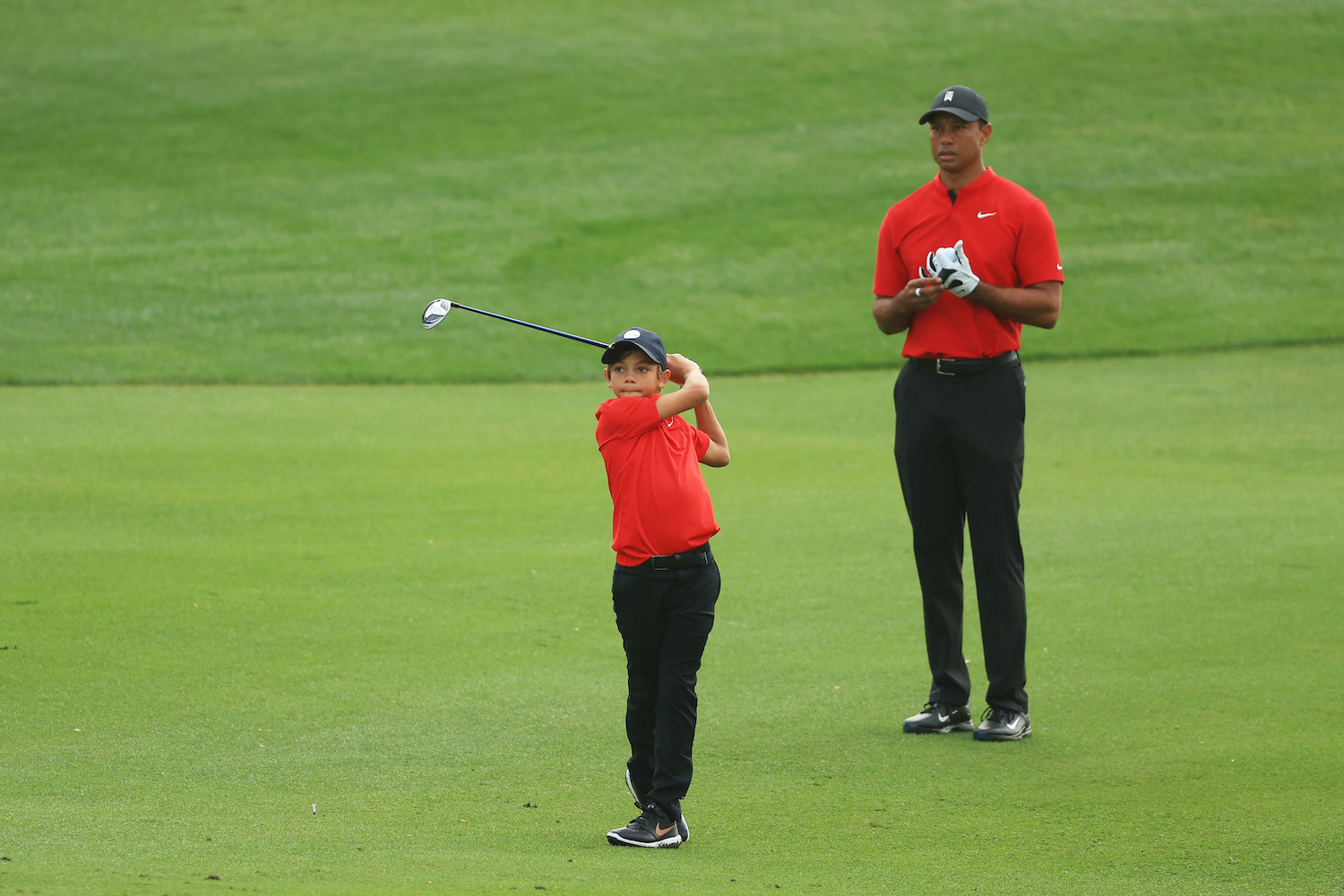 Tiger Woods' Son Charlie Confirms Golf and Trash Talk Game Are Next Level
Tiger Woods' son Charlie made his television debut on Saturday at the PNC Championship and proved that his golf and trash talking game are next level.
Tiger Woods has been waiting for this moment. Like any proud father, he was eager to show off his son Charlie Woods and his golfing skills to the world. On Saturday, the youngster made his television debut and displayed not only does he have game with a silky smooth swing, but it comes with a side of trash talking as Justin Thomas and his father hilariously found out. 
Tiger and Charlie Woods hit links during pandemic
At 11 years old, Charlie Woods is at a point in his life where he's just as likely to play golf as he is basketball or baseball. However, this year with the pandemic and everything shut down, including the PGA Tour, the father and son duo decided now was as good a time as any to hit the links.
"Because everything was shut down, the only thing that was available to us was golf," the elder Woods told Golf Digest. "He started to pick up golf, but this pandemic allowed us to play more golf and be with one another. And we just started playing a lot, and he started getting the bug for it. And so did I. It kept me competitive, kept me in it when we didn't have any tournaments. But I had a tournament every day with him, and that was the fun part. Was just like me growing up with my dad."
Naturally, Charlie's game improved. So much so he had multiple strong performances in junior tournaments around Florida this summer, shooting under par and winning a couple of events.  
Charlie Woods is star at PNC
On Saturday, when Charlie Woods made his television debut, he became the youngest competitor in the 23-year history of the PNC Championship, formerly known as the Father-Son Challenge. However, age is just a number, and the younger Woods proved it over and over again in the foursome that included Tiger along with competitor and friend Justin Thomas and his dad Mike.
Charlie, whose tee box was a considerable distance in front of the pro tees, put on a display off the tee, including three separate occasions when his father opted to not even hit a drive of his own.
The highlight of the day came early in the round at the par-5 third hole. After deciding to use Charlie's drive, the youngster stepped up to his second shot and striped a 3-wood, the ball featuring a slight draw. Once it landed, it bounced and rolled, stopping just three feet away from the hole.
Tiger Woods watched with great pride as Charlie calmly drained the three-foot eagle putt. 
"I've seen this," Woods said after the round. "A lot of the shots he's hit. I've seen it this entire year, this entire pandemic. He hit these shots. The few events he's played in, he's hit a lot of these shots." 
The youngster hilariously trash talks Justin Thomas' father
In addition to proving his golfing ability is well beyond his years, which you would expect considering his genes, Charlie Woods also revealed another side to his game that he learned from his father — the ability to trash talk. 
Hilariously, the Thomases found out just how good a trash talker he is on the 13th hole. After Mike hit a poor tee shot on the short par-4, a dogleg left that requires an accurate draw, the 2020 PGA Tour Player of the Year entered the sand trap and discovered a handwritten note left by the 11-year old competition.
"DRAW HOLE!" the note read.  
After the round, Thomas explained the meaning of the note, and how his father had the left the same note for Charlie the day before. 
"Charlie drove one through the fairway and my dad was playing in front of them, and he'd hit it through the fairway and into the trees," Thomas told the Golf Channel. "My dad wrote on a piece of paper' draw hole' on it and put it under his ball. In typical Woods fashion, he kept the piece of paper, and when my dad hit it in the bunker he put the exact same piece of paper behind his ball."
Charlie Woods is a chip off the old block.