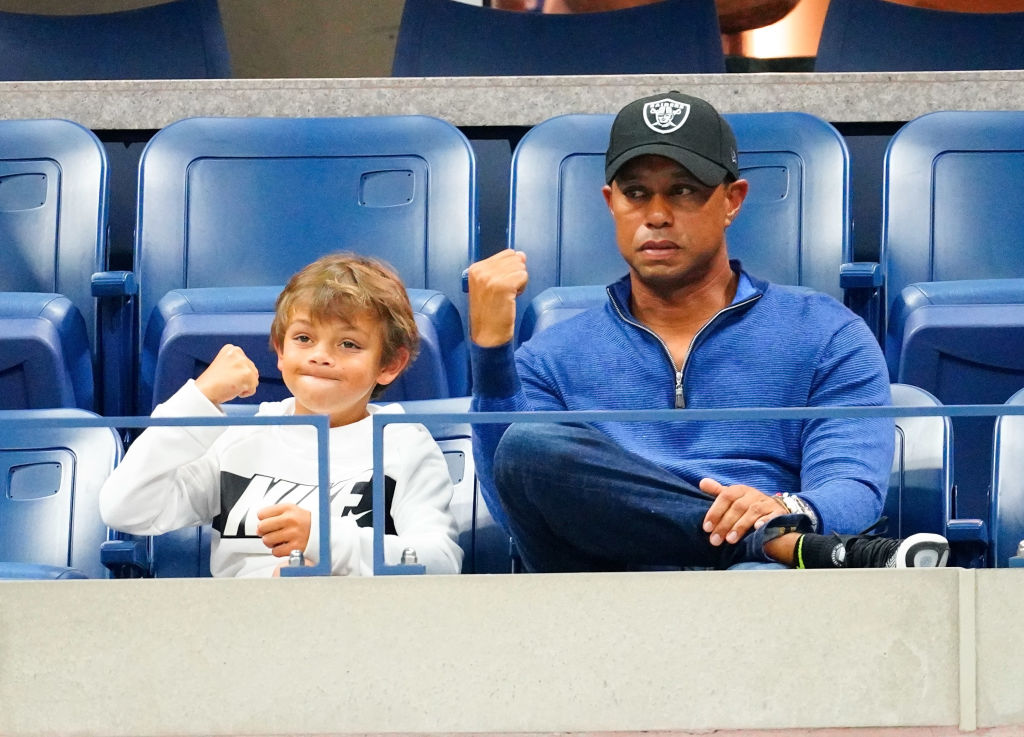 Tiger Woods' Son Charlie Is Already Dominating Golf Tournaments at 11 Years Old
Tiger Woods' son Charlie is already following in his father's footsteps, winning a golf tournament by five strokes at the age of 11.
Tiger Woods was considered a golf prodigy at an extremely young age. He made his first hole in one when he was just eight years old, and he's since grown into one of the greatest professional golfers to ever live. Now, his 11-year-old son Charlie is following in his footsteps.
Woods has been working with Charlie on his golf game for years, and it's already paying off. On Aug. 9, Charlie won a nine-hole kids tournament by a whopping five strokes. Be careful, Tiger. Charlie might be coming for your throne.
Tiger Woods' son Charlie is already an impressive golfer at 11
Woods' son is only 11 years old, but he's already showing the promise his father did when he was young. With the time he's been able to take away from his own game in recent years, Woods has focused most of it on his family. He's been coaching and caddying for young Charlie ever since he could swing a club.
It's hard to find a better coach than Tiger Woods, and he's already proving to be a world-class instructor to his son. Just look at that swing! Charlie's only in middle school, and he already has better form than most college players.
Charlie has been getting more and more into golf every year. He's recently started to play in tournaments, and he just dominated one in impressive fashion.
Charlie Woods just won a kids golf tournament by five strokes
Just like his father did back in the day, Charlie Woods is already dominating golf tournaments at the age of 11. Last weekend, he crushed the field in a nine-hole event at Hammock Creek Golf Club in Palm City, Fla. en route to a five-stroke win.
Charlie shot a blistering 3-under 33 in the tournament, with three birdies and no bogeys on the scorecard. And who was there to carry his bag? None other than Tiger Woods himself.
If last weekend's result is any indication, we'll be seeing Charlie Woods on the PGA Tour circuit in no time.
Tiger Woods thinks Charlie can go pro
Charlie Woods clearly has a special talent for golf. It doesn't hurt to have Tiger Woods' genes, either. Woods loves teaching his son the game of golf and watching him improve each day. He recently told GolfTV all about the ongoing experience.
He's starting to get into it, He's starting to understand how to play. He's asking me the right questions. I've kept it competitive with his par, so it's been just an absolute blast to go out there and just, you know, be with him. It reminds me so much of me and my dad growing up.

Tiger Woods
Woods even said he's jealous of his son's smooth swing.
I wish I had his move, I analyze his swing all the time. I wish I could rotate like that and turn my head like that and do some of those positions, but those days are long gone, and I have to relive them through him.

Tiger Woods
He might be a tad biased, but Woods obviously knows a promising talent when he sees one. If Charlie has the competitive drive his father showed as a child, the sky's the limit for golf's most famous middle schooler.