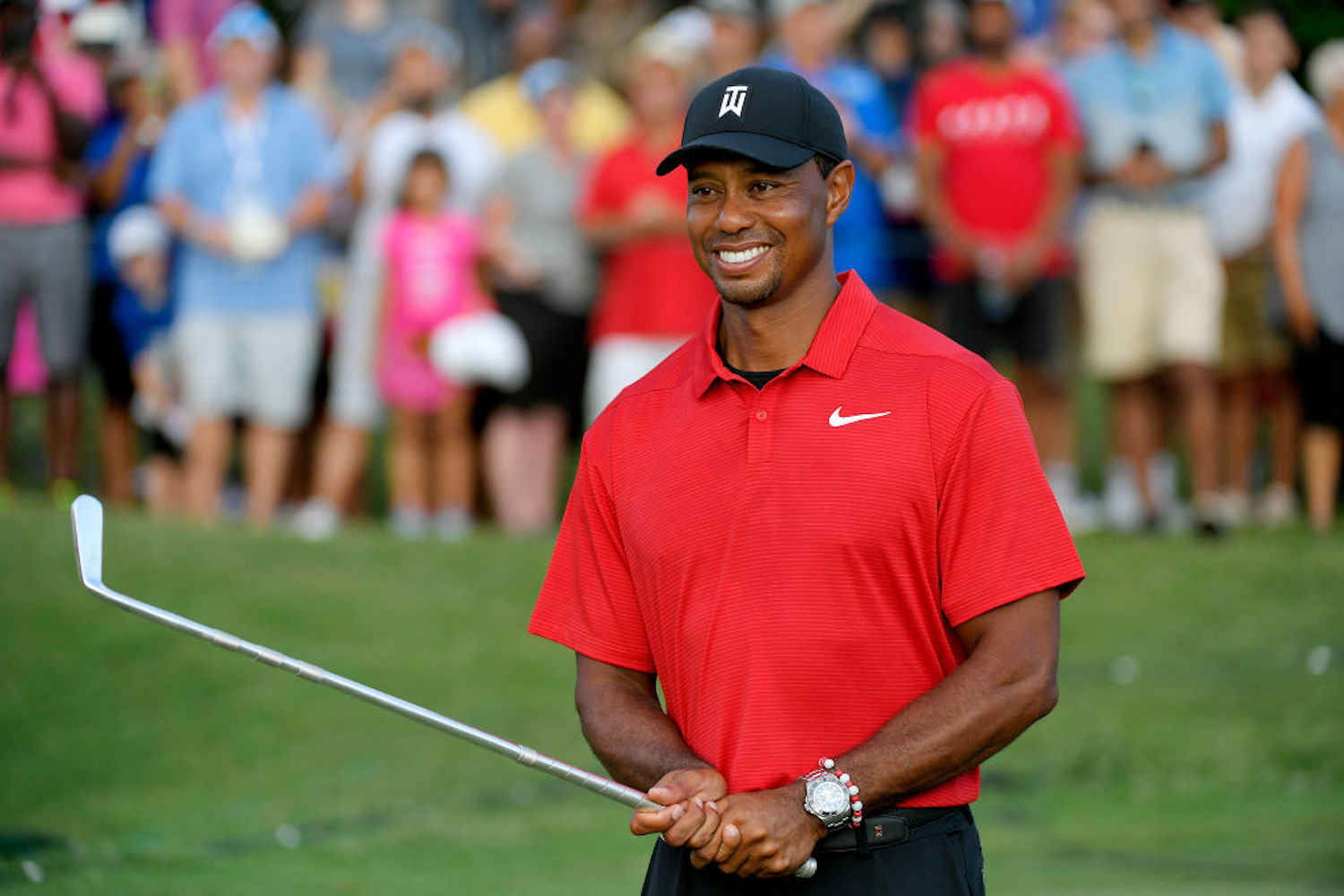 What Is Tiger Woods' Real Name?
Tiger Woods is the most recognizable golfer in the world, and his iconic nickname is a big reason why. But what is Tiger's real first name?
There's just a handful of athletes who have become such legends that they're referred to solely by their first names. LeBron. Kobe. Magic. Jack.
Tiger Woods is one of the most famous names not just in golf, but in the history of professional sports. He's become so attached to his iconic nickname, that most fans forget it's even a nickname at all. As cool as it would be, Woods' first name isn't actually Tiger. So, what is it and how did he get his famous nickname?
Tiger Woods' legendary golf career
Tiger Woods is synonymous with the sport of golf. When young golfers grow up, they want to become Tiger. Players on Tour get starstruck when paired with Woods in a tournament. Television coverage is tailored strictly around the man in the red shirt and black pants.
Woods is the most popular golfer of all time, and he just be the greatest ever. The 44 year old has 82 victories on the PGA Tour, which is tied for the most of all time. He has 15 major championships to his name, just three behind Jack Nicklaus for the most ever.
During his prime, Woods might've been the most dominant athlete not just in golf, but in the history of sports. Between 1998-2005, Woods didn't miss a single cut in 142 events. That's by far the longest streak in Tour history.
Woods completed the "Tiger Slam" in 2000-01, when he won four consecutive major championships. He also set the record for lowest scoring average for a season (68.17) in 2000.
During the "Tiger Slam," Woods went 65-under par in the four majors. The next best cumulative score was just 20-under.
What is Tiger Woods' real name?
Woods is mostly known around the world by his iconic nickname, Tiger. As epic as it would be, that's not actually his birth name. Tiger has become such a worldwide phenomenon that his nickname just stuck as his only name.
Tiger's birth name is actually Eldrick Tont Woods. Sure, it may not be as cool as Tiger, but Eldrick is a unique name certainly fitting for a unique athlete.
How did Tiger Woods get his iconic nickname?
Eldrick is Woods' legal first name, but no one in the golf world knows him by anything other than Tiger. So, how did he earn his iconic nickname?
It all stems from his father, Earl. When Earl Woods served in the Vietnam War for the U.S Army, he met a soldier named Vuong Dang Phong, but he was commonly known as Tiger. The two became the best of friends, so when Earl returned home from the war, he wanted a way to remember his buddy.
So, Earl started calling Eldrick by Phong's nickname, Tiger. The name stuck right away.
Tiger. Eldrick. Tont. Call him whatever you want, as long as you call him the GOAT.
All stats courtesy of TigerWoods.com