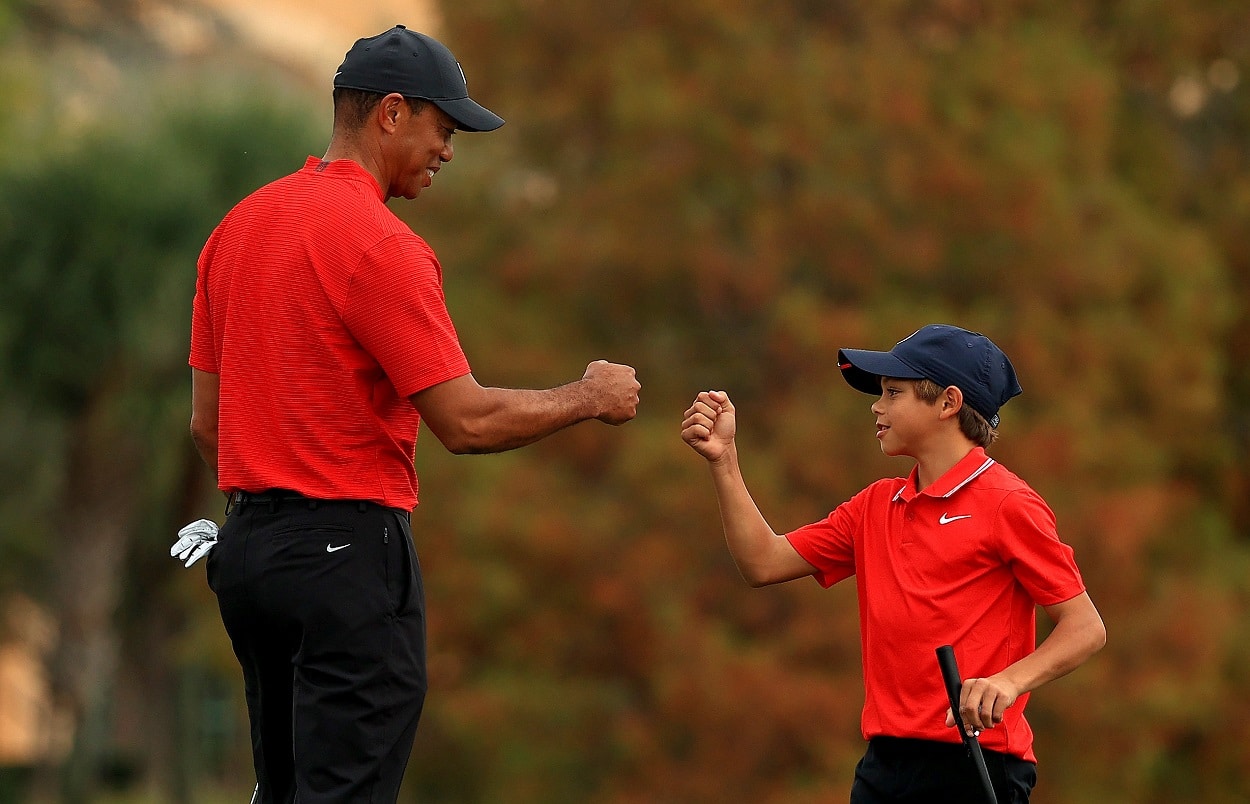 Tiger Woods Shut Down a Reporter Who Asked an Inappropriate Question About His Son Ahead of the PNC Championship
Ahead of the PNC Father-Son Challenge, Tiger Woods refused to answer an inappropriate question about his 11-year-old son, Charlie Woods.
Eighty-two-time PGA Tour winner Tiger Woods has long been a guarded individual. Thrust into the spotlight at a young age, Woods made his first television appearance at the age of 2 on The Mike Douglas Show, showing off his golf skills while entertainment legends Bob Hope and Jimmy Stewart looked on and has essentially been a star ever since.
Tiger made numerous television appearances like that as his father and first golf teacher, Earl Woods, wanted to show the world that his son would be something special. And Tiger Woods certainly became something special.
He won three consecutive U.S. Junior Amateur titles and then won three straight U.S. Amateur championships. Tiger turned pro in 1996 and has won 82 PGA Tour titles, tied for the most in history, and has 15 major championships to his credit, second only to Jack Nicklaus' 18.
But throughout his historic career, Tiger Woods seemingly has never really enjoyed the spotlight and has been very guarded. He only really does interviews when he has to and has always been very careful when choosing his words. Sure, fame has allowed him to amass an insane fortune, but he's certainly a man that enjoys his privacy, so much so that "Privacy" is even the name of his 155-foot yacht.
So you can imagine how guarded Tiger was at a press conference earlier this week when he had to sit and answer questions for 10 minutes about his 11-year-old son, Charlie, who will tee it up alongside his famous father for the first time in an official capacity at this weekend's PNC Championship in Orlando.
Woods is very protective of his children, Charlie and 13-year-old daughter Sam, and quickly shut down a reporter who asked an inappropriate question about his son's bedroom.
It was long believed Tiger Woods had a poster of Jack Nicklaus' 18 majors on his bedroom wall
As Tiger Woods became a star in the 1990s, one of the stories constantly thrown around was that he had a poster of Jack Nicklaus' 18 major championship wins on his bedroom wall growing up to serve as a motivator.
That story is actually still told to this day, but it's simply not true, as Tiger once told Time Magazine. He clarified that he did have some Nicklaus stats on his wall to use as motivation, but it wasn't The Golden Bear's majors.
"O.K., here's the major misconception that people have all gotten wrong. It's what was posted on my wall, about Jack's records. It was not the majors, O.K.. There was one on there. It was the first time he broke 40, the first time he broke 80, the first golf tournament he ever won, first time he ever won the state amateur, first time he won the U.S. Amateur, and the first time he won the U.S. Open. That was it. That was the list. It was all age-related. To me, that was important. This guy's the best out there and the best of all time. If I can beat each age that he did it, then I have a chance at being the best."

Tiger Woods
So that clears that up. So why did we need to tell the story of Tiger Woods' bedroom growing up? Well, it's because Woods was asked a question about his son's bedroom ahead of the PNC Father-Son Challenge and wasn't too happy about it.
Tiger Woods shut down a reporter who asked about his 11-year-old son's bedroom
Tiger Woods is extremely excited to be playing alongside his son this weekend at the PNC Championship. Young Charlie Woods already has a phenomenal swing and has played well in junior tournaments, sometimes with his famous father on the bag.
But this is the first time that Charlie will be playing on national television, although Tiger says he's ready for it given the world we live in today where people are recording him with their phones at these junior tournaments, which he says Charlie has fun with.
As long as Charlie is having fun, Tiger is okay with him being in the spotlight. And young Woods certainly wouldn't have a better teacher on how to handle the media if he chooses to follow in his father's footsteps down the line. But right now, he's an 11-year-old boy, and Tiger Woods is obviously very protective of him, which is why he shut down a reporter who asked the inappropriate question about Charlie's bedroom.
In a 10-minute press conference on Thursday, the majority of the questions Tiger Woods was asked were about Charlie, and he answered them exactly how he should have. Yes, he was a little guarded, which he should be, but things got a little awkward when this exchange went down.
How did that reporter really think that was going to go? Yeah, let's ask the guy who has a boat named "Privacy" about his 11-year-old son's bedroom. Tiger wisely and rightfully shut it down quickly and can now just focus on having a fun weekend with his boy.
How to watch the PNC Championship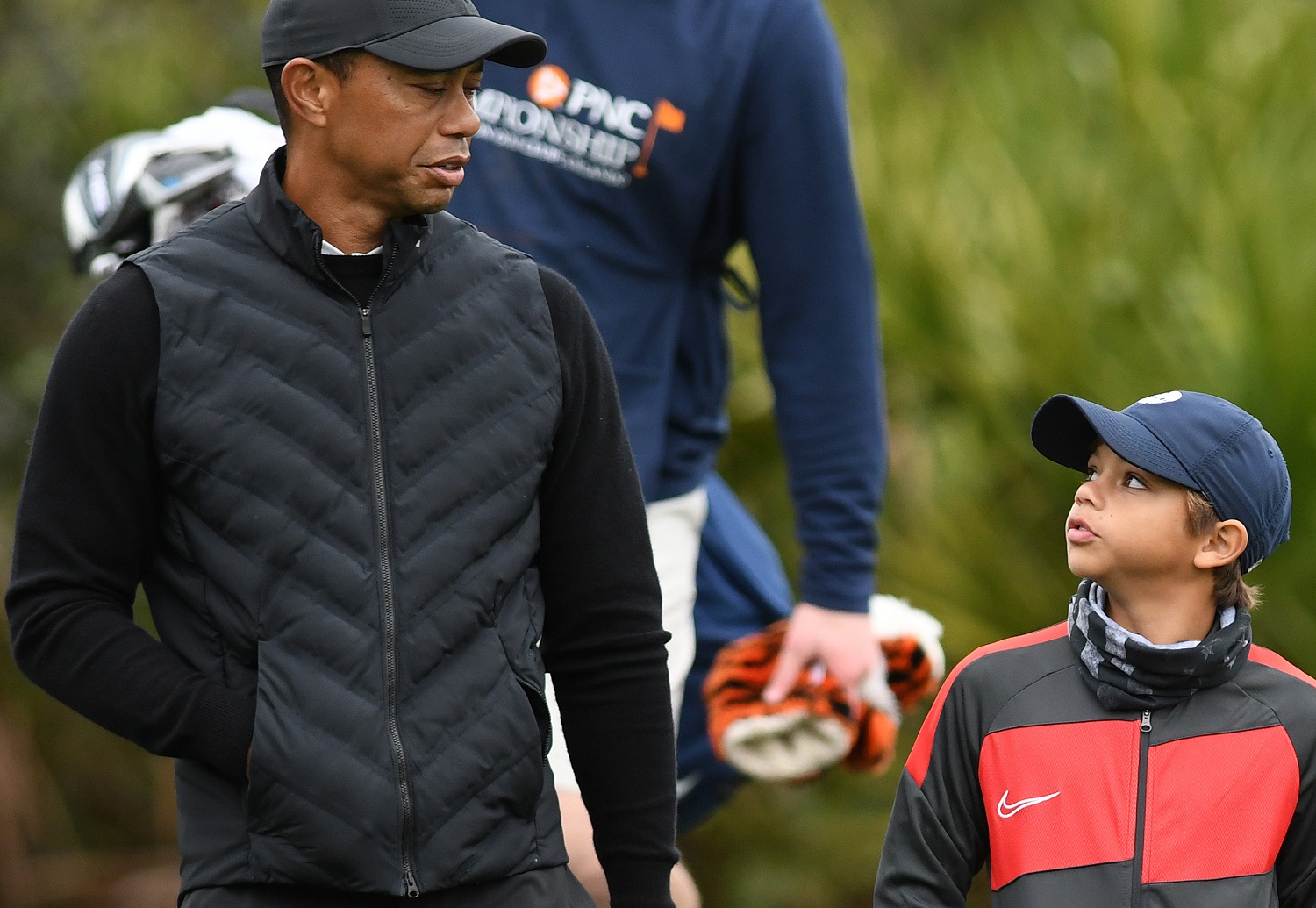 For those interested in seeing Charlie and Tiger Woods take on 19 other family pairings at the PNC Championship, you can stream Saturday's coverage on Peacock from 1:00 to 2:30 p.m. Eastern before coverage moves to NBC from 2:30 to 5:00. On Sunday, coverage begins on the Golf Channel at 2:00 p.m. Eastern and switches to NBC an hour later.
Have thoughts on this topic? Keep the conversation rolling in our comments section below.