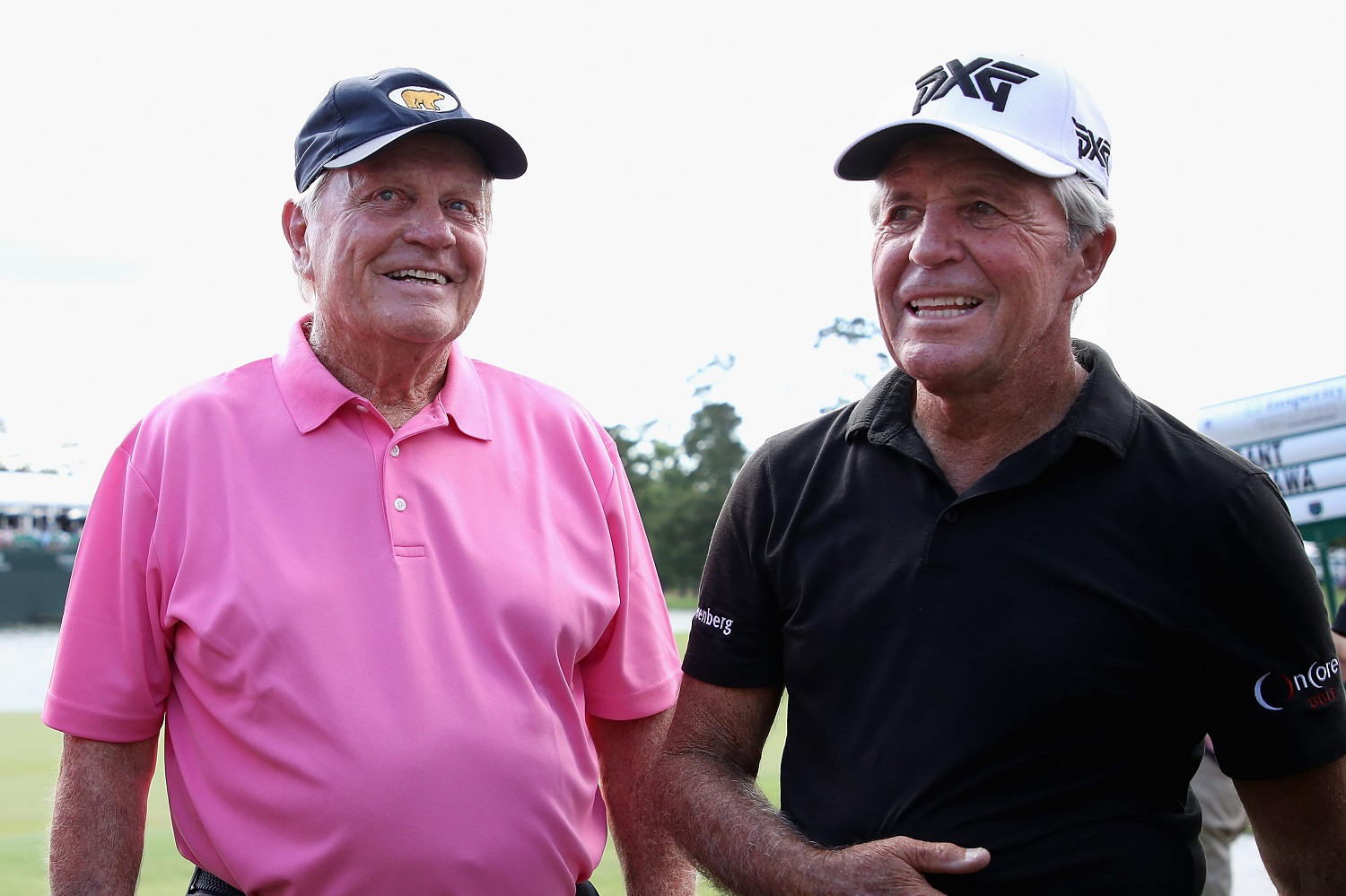 Jack Nicklaus Paid Gary Player the Ultimate Compliment
18-time major champion Jack Nicklaus recently paid fellow "Big Three" member Gary Player the ultimate compliment.
Jack Nicklaus and Gary Player are easily two of the greatest and most influential golfers in history. With 27 major championships and 97 PGA Tour wins between them, the duo was part of golf's "Big Three," which also included the late, great Arnold Palmer, that helped the sport reach new heights in terms of popularity in the 1960s and 1970s.
Many consider Nicklaus to be the greatest golfer in history but the "Golden Bear" recently made a statement in which he thinks Player might deserve that title.
Jack Nicklaus won 18 majors and finished second 19 times
The easiest defense for those who believe that Jack Nicklaus is the greatest golfer of all time is the fact that he won 18 major championships, three more than anyone else in history (Tiger Woods is second with 15). But nearly just as impressive is the fact that Nicklaus also finished second a record 19 times. He was the runner-up at The Open Championship seven times and recorded four such finishes at each of the other three majors.
Jack Nicklaus won his first major at the age of 22 at the 1962 U.S. Open, defeating Arnold Palmer by two strokes at Oakmont, and his 18th at The Masters in 1986 at the age of 46. Nicklaus notched 73 PGA Tour wins in his career, good for third on the all-time list behind only Sam Snead and Tiger Woods, who are tied at the top with 82 wins apiece.
Gary Player won nine majors in his career
Easily one of South Africa's most accomplished athletes, Gary Player racked up 24 PGA Tour wins (25th on the all-time list) over the course of his career, including nine major championships. Player actually owns more professional wins than Nicklaus (160 to 117) due to his success on the Sunshine Tour in his home country (60 wins) and the PGA Tour Champions (22 wins to Nicklaus' eight).
Player, who stands 5'7″ at best and weighed 155 pounds in his prime, has long been considered one of the fittest golfers in history. He won his first major championship in 1959 at The Open Championship at Muirfield and his last at The Masters in 1978. "The Black Knight" is one of just five players in history to win the career Grand Slam. Only Nicklaus, Tiger, Ben Hogan, and Gene Sarazen have accomplished the feat as well.
Jack Nicklaus says Gary Player may be the best 'pound for pound' golfer in history
This past week, Jack Nicklaus, now 80 years old, posted an incredible video on Twitter (which you can view above) of 85-year-old Gary Player practicing with his driver. Nicklaus says that his good friend still plays five times a week (again, Player has long been seen as one of the fittest golfers of all time) and is always wanting to learn something, which the video clearly shows. But it was the caption that maybe stood out more:
"Gary Player might be, pound for pound, the finest golfer in history. And closing in on 85, he's still tough to beat! He plays 5 days a week, and as you can see, he's still trying to learn and always trying to get better."

Jack Nicklaus on Gary Player
Wow, that's high praise from anyone. But when Jack Nicklaus calls someone the "finest golfer in history," that truly speaks to just how great Gary Player was and continues to be.
All stats courtesy of PGATour.com