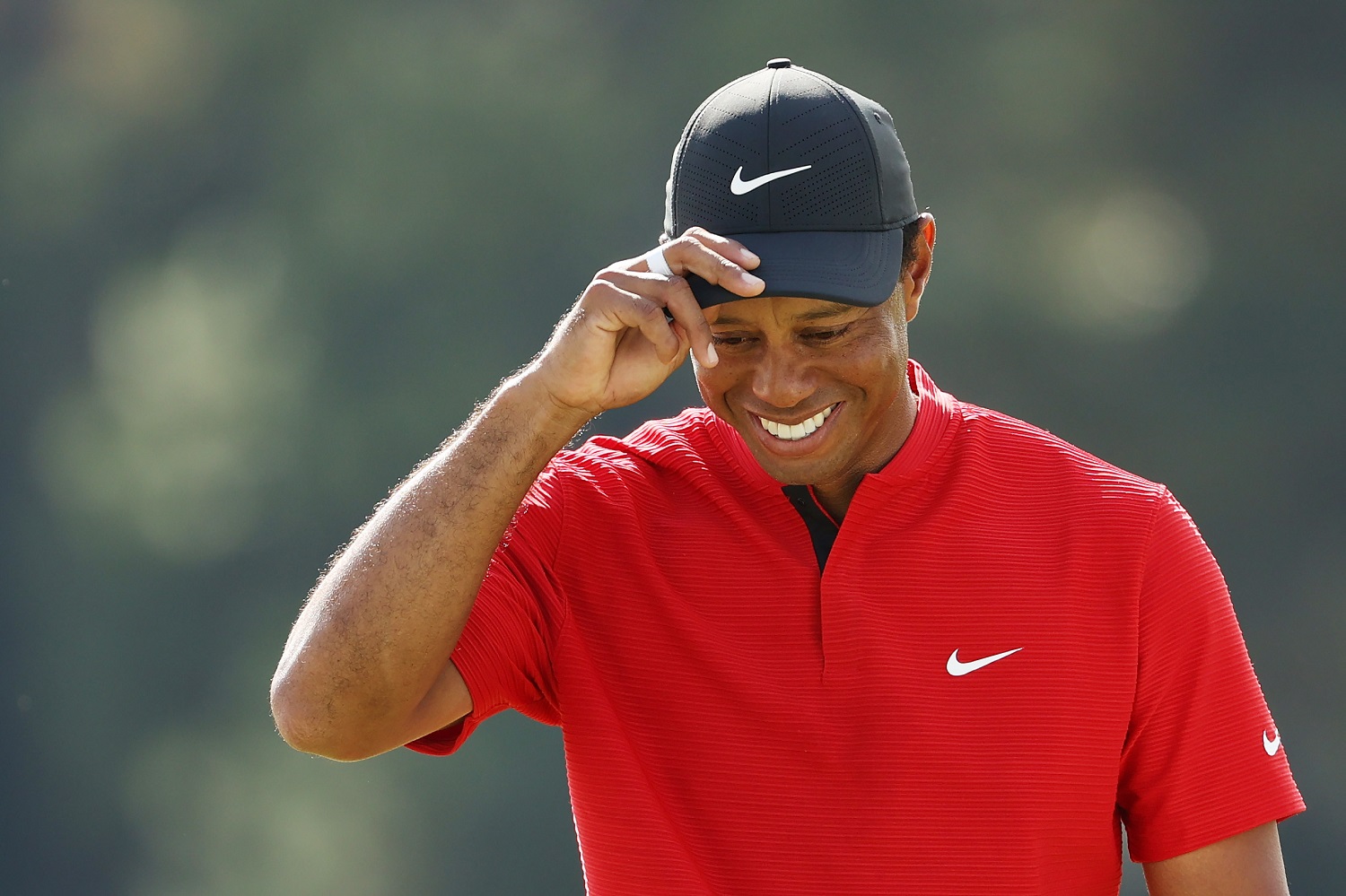 More Than a Decade Removed From His Infamous Scandal, Tiger Woods Is Showing a Side of Himself We Always Wanted To See
11 years removed from the scandal that rocked the sports world, Tiger Woods is showing a side of his personality that fans always wanted to see.
It's been 11 years to the day since 82-time PGA Tour winner Tiger Woods slammed his Escalade into a fire hydrant near his mansion in Florida, an accident that occurred just two days after it was reported that he'd had an extramarital affair with the manager of a New York City nightclub. Rumors swirled that his wife (now ex-wife) and the mother of his two children, Elin Nordegren, had assaulted him with one of his own golf clubs, and the months that followed were an absolute whirlwind of accusations and apologies.
More than a dozen women claimed to have had affairs with Tiger over the years, leading to a series of apologies from Woods, who admitted to being unfaithful. He took an indefinite leave from the game of golf and checked himself into a rehab facility, although that wasn't enough to save him from losing multiple sponsors. Woods and Nordegren divorced in August 2010.
It took Tiger Woods a long time to bounce back from the scandal and he also had to deal with a number of injuries. He underwent multiple back surgeries, which cost him years of his career, but through it all, he kept fighting to rehabilitate not only his golf game but his image as well. The sponsors came back and his game did as well. He won the Tour Championship in 2018, his first win in more than five years, won The Masters in 2019, his first major title in more than a decade, and tied Sam Snead atop the all-time PGA Tour wins list last fall with victory No. 82.
Tiger Woods didn't have the greatest 2020 season on the golf course as he again had to battle injuries (and a shaky putter at times) but this past year was about so much more than golf, at least in the eyes of this writer. We're never going to see another run from Tiger like we saw in the 2000s. He's in his mid-40s now and this new generation of players is just so damn talented.
But you know what? It's okay. Because what we get to see from Tiger Woods now is something we've always wanted to see. We're seeing the 15-time major champion. We're seeing Tiger open up and act human. He was a robot for so many years, just saying the things he was supposed to say and do the things he was supposed to do. But that famous smile isn't just reserved for winning tournaments anymore.
We see it when he's interacting with other players, something we rarely saw from Woods in his prime. We see it with his children and in interviews and it's absolutely glorious to watch. He seems to be embracing his place as an elder statesman in the game and is more willing than ever to pass on knowledge to younger players. I mean, he's even friends with Phil Mickelson now so you know things have changed. He even laughed when talking about making a 10 at the 12th hole on Sunday at The Masters this year. Do you think we would've seen that 10 or 15 years ago? No way.
But seriously, Tiger Woods has dropped his guard and it's so great to see.
Tiger Woods gave a 'moving' speech at The Masters' Champions Dinner
For the fifth time in his life, Tiger Woods was able to select the menu and essentially host the Champions Dinner at The Masters this year, one of the great annual traditions of the tournament. And his opening remarks to kick things off were apparently very special to the group of green jacket-wearing champions at Augusta National, at least according to two-time Masters champ Ben Crenshaw (h/t Golf.com).
"Tiger was more emotional. He talked about how playing and practicing with his young son has rekindled his love for the game. He talked about coming full circle, from his first win when he hugged his dad to this one, when he got to hug his own kids. It was very moving."

Ben Crenshaw on Tiger Woods
But that speech wasn't the only great thing we heard about from Tiger Woods at the 2020 Masters.
He was responsible for one of the great 2020 Masters moments that nobody really saw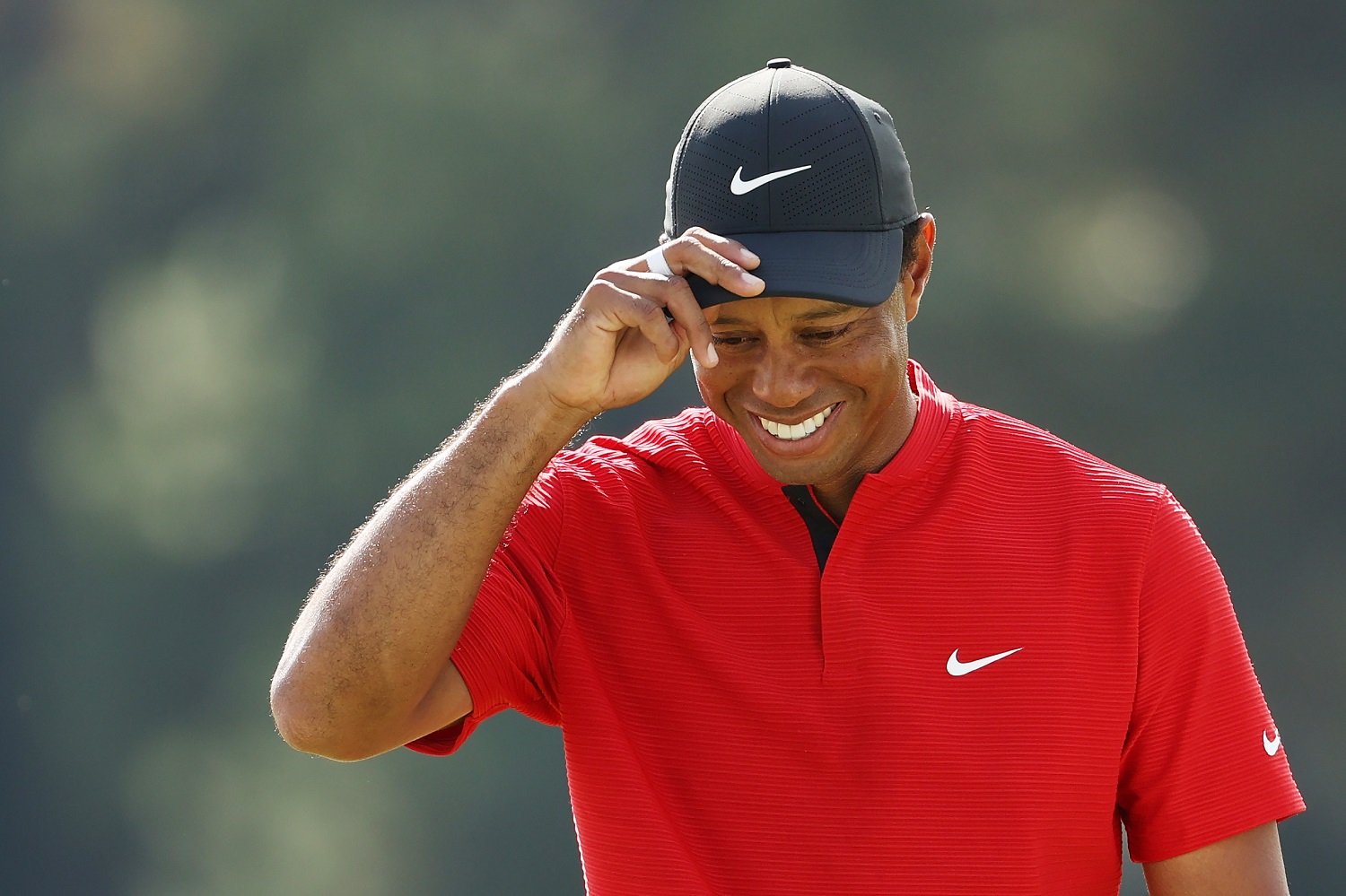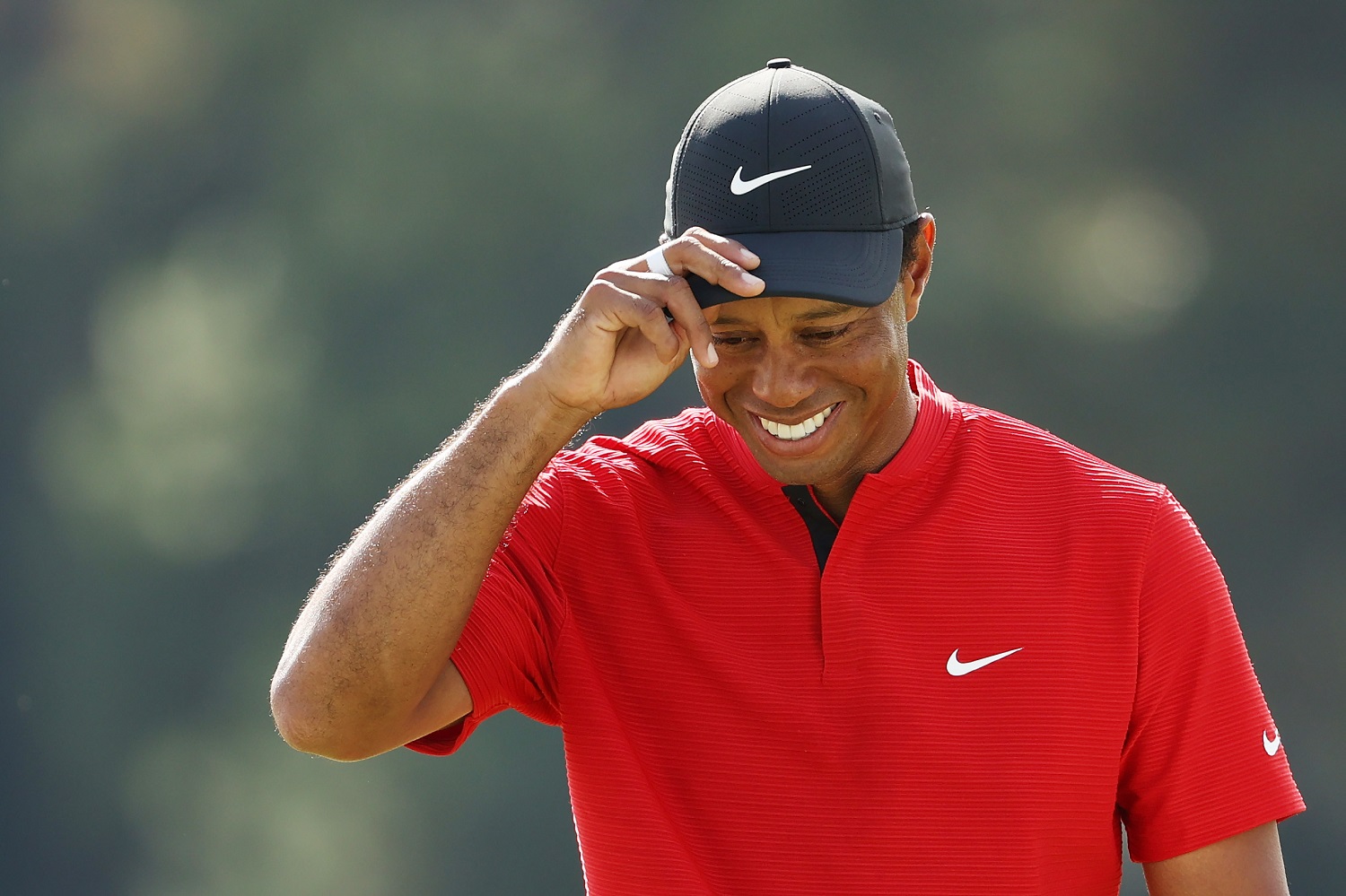 Tiger Woods was the talk of The Masters on the first day of play at Augusta National in 2020 as he went out and fired a bogey-free round of 68, which was the only time in his Masters career in which he didn't have a blemish on his card on the first day and just the second time in his career at Augusta in which he'd broken 70 in the first round, the other coming back in 2010.
But it was what he did before that opening round began that showed how different of a person he is today.
In years past, Tiger might nod at his fellow competitors before beginning a round and give the obligatory handshake but this year brought something different. One of the traditions at The Masters is that the reigning U.S. Amateur champion gets to play the first two rounds with the defending champion. So that meant that Andy Ogletree, who wasn't even born when Tiger won his first Masters back in 1997, was able to tee it up with Tiger, which meant the world to the 22-year-old as he calls Woods his idol, which so many players of this new generation do and for good reason.
Ogletree was naturally ecstatic to play with Tiger but he certainly wasn't expecting Woods to be excited about playing with him. But Tiger was and things got even better for Ogletree when Woods approached him ahead of their first round and hugged him. Wait, what? Yes, it's true, as Ogletree told Golf.com.
"Before I teed off, he kind of came up and embraced me and said, 'Let's go do this thing. I think that's one thing I'll never forget. I was pretty nervous on the 1st hole. I didn't really know what I was going to say to him. He just came up, smiling, laughing, whatever, and that just kind of settled me down."

Andy Ogletree on Tiger Woods
Ogletree, who turned pro soon after The Masters, finished as the low amateur at Augusta and was able to join Woods and 2020 champ Dustin Johnson in Butler Cabin on Sunday afternoon, which had to have been another great thrill for the youngster.
And speaking of youngsters, we'll soon get to see Tiger Woods tee it up with one of his own at an upcoming father-son event in Florida.
Tiger Woods will play alongside his 11-year-old son, Charlie, at the PNC Championship
In yet another first for Tiger Woods, the 15-time major champion will tee it up with his 11-year-old son, Charlie, at the PNC Father Son Challenge on December 19-20 at The Ritz-Carlton Golf Club Grande Lakes in Orlando. Tiger is one of 20 past major championship and Players Championship winners who will be joined by a family member at the two-day event and he seems thrilled about making his first appearance at the tournament (h/t PGATour.com).
"I can't tell you how excited I am to be playing with Charlie in our first official tournament together. It's been great watching him progress as a junior golfer and it will be incredible playing as a team together in the PNC Championship."

Tiger Woods
The appearance at the PNC is just one more example that shows how Tiger has changed his stripes over the years. And it's been an incredible transformation to watch. He simply seems more approachable these days, more humble, and it hasn't gone unnoticed by those around him. Numerous fellow PGA Tour players have said just how more relaxed and open he is today. Not long ago, a source close to Tiger told People.com that Woods was in "the best place he's ever been" and that he's a different person than he used to be as he raises Charlie and daughter Sam, who is now 13.
"He is a different man than he was before [the scandal]. He's grown up a lot. He's not the narcissistic little kid he used to be; he now realizes that he's not the center of the universe.

"He is just focused on being a dad, and he's a damn good one. His kids are his proudest accomplishment and the most stable force in his life."

Anonymous source on Tiger Woods
Some people may still never look at Tiger Woods the way they did before the scandal. And those people are certainly entitled to their own opinion. But in the decade-plus that has passed since then, it's clear that he's a changed man. Let's hope we get to see more of this side of Tiger as the years roll on.