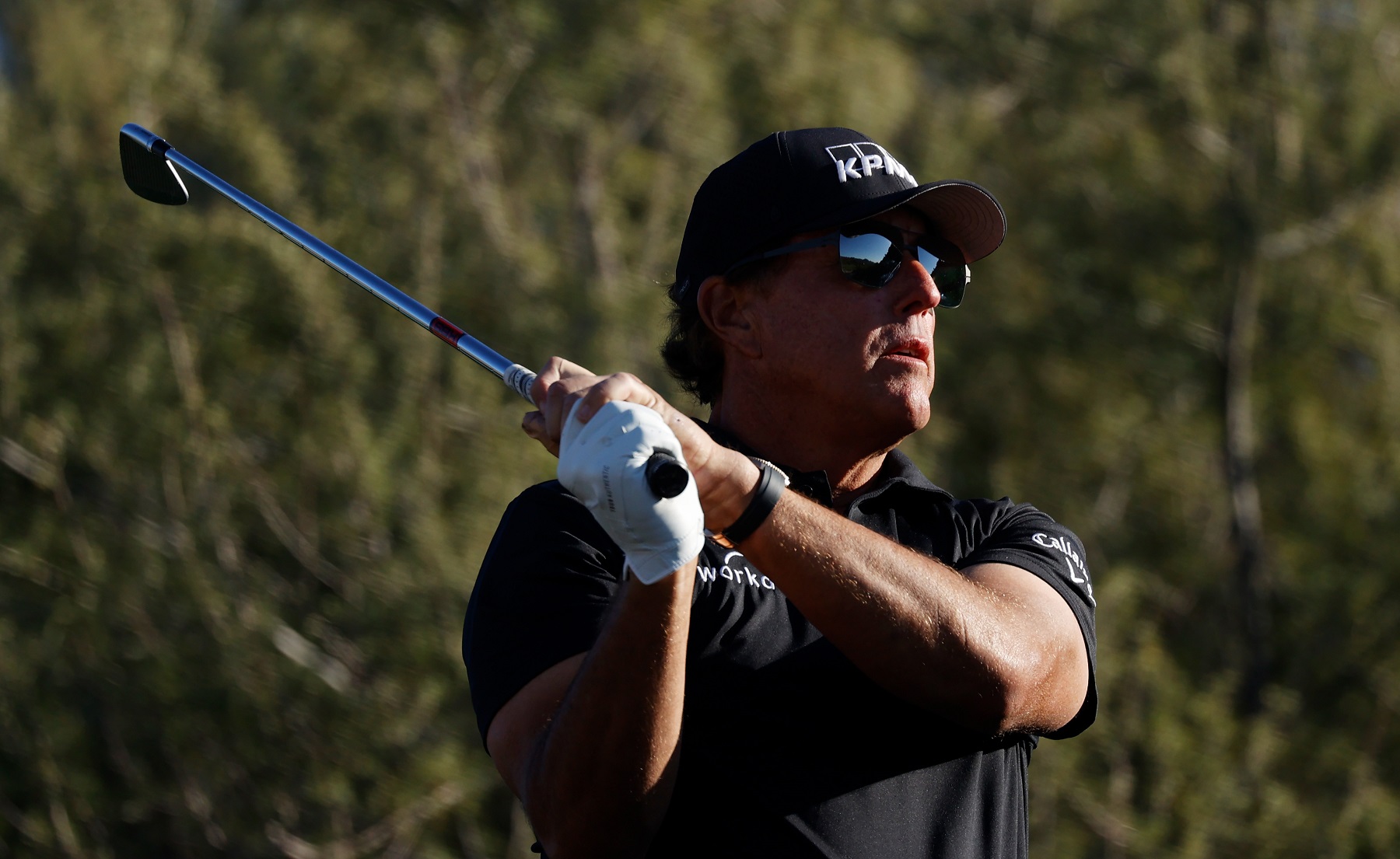 Michael Jordan's Golf Club Is So Exclusive That Phil Mickelson Was Wait-Listed
The Grove XXIII golf club built in Florida by Michael Jordan is so exclusive that even PGA Tour star Phil Mickelson had to wait to be invited to join.
He played a season in the minors between his NBA three-peats with the Chicago Bulls, but it's been a long time since baseball was Michael Jordan's No. 2 sport. Playing golf is the diversion of choice for His Airness when he wants to get away from the demands of owning a basketball team, selling Cincoro tequila or marketing sneakers.
Jordan can do it when and where he wants. He's currently doing it at a club so exclusive that PGA Tour great Phil Mickelson had to wait his turn to get in.
Michael Jordan built himself a country club
What prompts a man to build a country club from scratch? Well, Michael Jordan's net worth, estimated at $1.9 billion a year ago, allows him to think big. That means playing golf without having to wait at tee box after tee box for the foursome ahead of him to putt out.
According to Golf.com, Jordan became frustrated playing near his home at Bear's Club in Jupiter, Florida, because the pace was too slow for his taste. Jordan may not mind if Tiger Woods or Phil Mickelson want to take a few extra moments to line up a putt, but he'll be damned if he's going to wait behind a 12-handicapper hitting from a fairway bunker to the greenside hazard.
So, he bought a 226-acre swath of land five years ago near Hobe Sound, about 40 miles north of Boca Raton on Florida's Atlantic Coast, brought aboard some other investors, and commissioned construction of an 18-hole course and clubhouse.
The Grove XXIII, in tribute to Jordan's jersey number with the Chicago Bulls, opened its doors in 2019 – but not very wide. Membership reportedly was limited at the launch to fewer than 100 people personally invited by Jordan.
Grove XXIII is what you'd expect from Michael Jordan
Located on a former orange grove, The Grove XXIII was designed by Bobby Weed, 65, whose other credits include TPC courses in three states, as well as the tweaking of nearby Medalist Golf Club. The latter is where Phil Mickelson, Tiger Woods, Tom Brady, and Peyton Manning played their made-for-TV match in the spring. Medalist is also where Woods and Rickie Fowler have their home bases set up.
According to Golf Digest, Weed configured the course as a double-helix, allowing golfers to play it in four nine-hole combinations or three- to six-hole loops.
Fowler played The Grove XXIII in February with NASCAR drivers Denny Hamlin and Michael Waltrip, and Hamlin was delighted to be invited to become a member.
"It's going to be fun to do for the next 20 to 30 years, as long as I'm able to play," he told USA Today.
Rather than what members are used to at older private courses, the clubhouse is 15,000 square feet of ultra-modern space containing men's and women's locker rooms, indoor and outdoor lounges, and a dining room. It's also the hub for a small fleet delivering food and drinks to golfers on the course.
Phil Mickelson had to wait to join Grove XXIII
Phil Mickelson, who has won The Masters Tournament three times, and the British Open and PGA Championship once apiece, revealed in the spring that he and wife Amy would be leaving California to set up shop in South Florida following the high school graduation of his youngest child next spring.
The Mickelsons' property is close to The Grove XXIII, the private club built by Michael Jordan. Even with his PGA Tour credentials and impressive net worth of his own, Mickelson has had to wait his turn to become a member. That's because Jordan has made it a point to keep membership numbers low.
"You have to be invited," Mickelson told The Golf Channel. "Fortunately, I know a number of members there, and my wife and I just bought a lot fairly close, about 10 to 15 minutes away. So, it'll be a great place to play and practice."
Like Sportscasting on Facebook. Follow us on Twitter @sportscasting19.