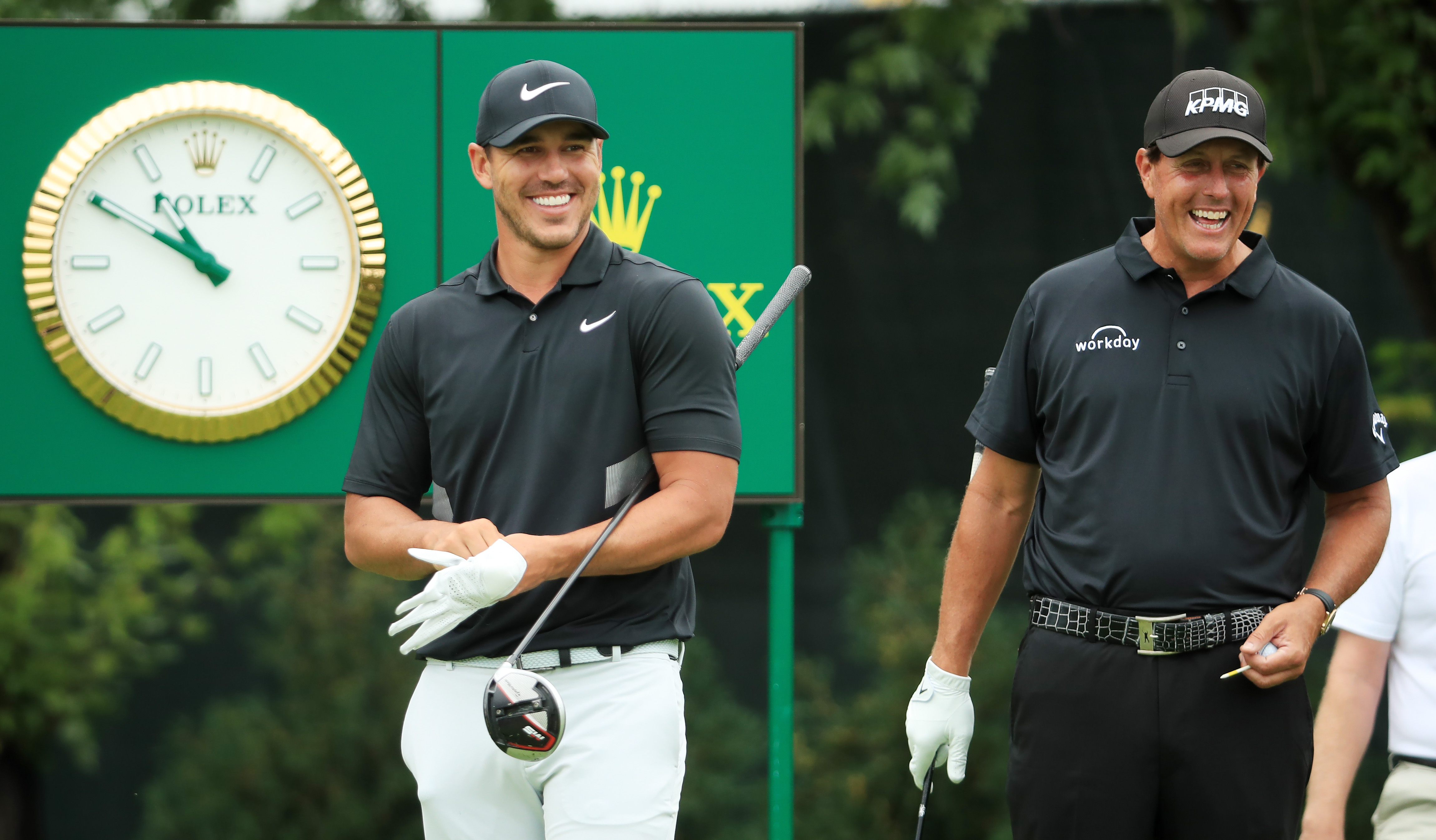 Phil Mickelson Has Already Caused Brooks Koepka Enough Heartbreak
Phil Mickelson has already caused Brooks Koepka some early heartbreak.
Phil Mickelson is staring history in the face. Brooks Koepka is staring at his legacy. Mickelson heads into the final round of the PGA Championship with a one-shot lead over Koepka. The two have a little bit of history that dates back to the late 1990s when Koepka was 9 and caused the young golfer a little bit of heartbreak.
Phil Mickelson on the verge of history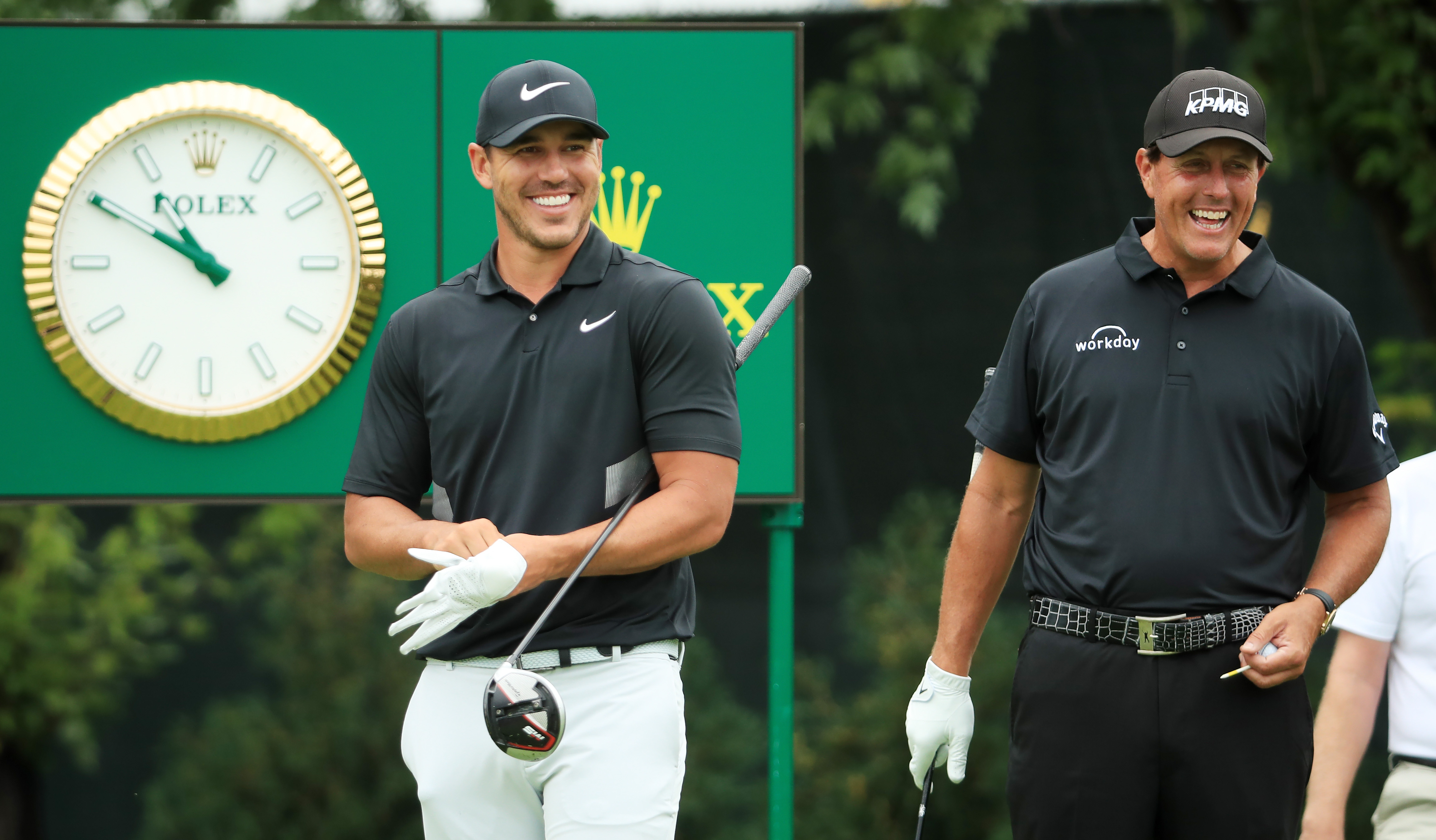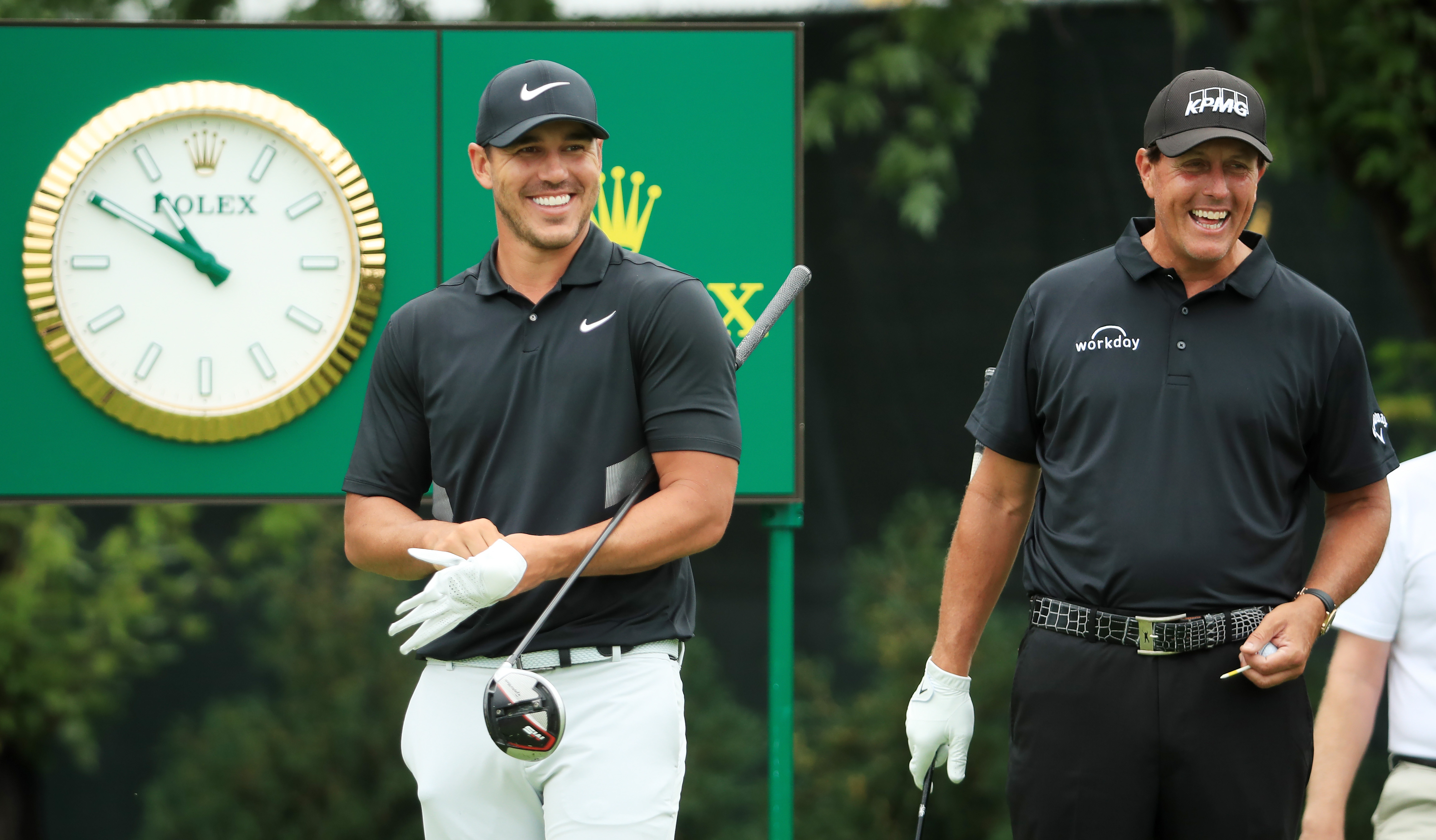 RELATED: Phil Mickelson Can't Play a Friendly Round of Golf Without a Side Bet: 'You Are Playing With Phil, You Don't Have a Choice'
Mickelson enters Sunday's final round with a one-shot lead after his 2-under-par 70 Saturday. Should he hold on, the man they call Lefty would become the oldest major champion ever. He saw his lead dwindle late Saturday but still remains atop the leaderboard at -7.
"Even though it slipped a little bit today and I didn't stay as focused and as sharp on a few swings, it's significantly better than it's been for a long time," said Mickelson, according to ESPN. "So, I'm making a lot of progress, and I'll continue to work on that and, hopefully, I'll be able to eliminate a couple of those loose swings.
It won't be easy. Making a charge was Koepka, who had knee surgery in March. He is 20 years younger than Mickelson but already has four majors under his belt. "I'm right where I want to be, and we'll see how (Sunday) goes," he said. "Just to be within three of the lead going into the back nine, and you've got a chance."
Mickelson once caused some heartbreak for a young Koepka
It would be a stretch, but you could say Koepka could be out for a little revenge on Mickelson on Sunday. That stems from an incident that took place back when he made his first trip to The Masters as a child. He was about 9 years old and was a fan of Mickelson.
Mickelson was always engaging with fans, especially the younger ones. Koepka was an autograph-seeking fan, who made his way into the parking lot. There, he met Mickelson and asked for his signature. He was turned down. "Probably about the only kid Phil's ever turned down," he joked at the 2019 Masters as that story was re-told.
"He told me years later, I shouldn't have been in the parking lot, so fair enough," Koepka said, according to The Atlanta Journal-Constitution.
Koepka had to finally tell Mickelson about the incident
Mickelson wasn't aware that he turned down Koepka so the young golfer made him aware of it during a British Open practice round. "I mean, I can't believe he doesn't remember the first time he ever said no to a kid, signing an autograph," Koepka said to the Atlanta-Journal-Constitution.
"Told him, I think in 2014, I think we were playing a practice round at the British Open. I had to tell him. I was like, 'Listen, man, you stiffed me, and I really didn't like you for a long time.'"
Mickelson laughed about it but focused more on the fact he's golfing professionally with that 9-year-old. "It's actually fun stories that a guy like Brooks Koepka, who's won, what, three majors now recently, has been out here following as a kid," Mickelson said. "It's a little weird, but it's pretty cool, too, and to be able to play with him and see his greatness shine and to be a somewhat part of that or a witness to it as well as compete against it, it's been fun."
Koepka said the encounter is a funny story to relive. "We can laugh about it now," he said. "I've got his autograph now." If he passes Mickelson on Sunday and winds up winning the tournament, maybe Mickelson will be asking for his autograph.