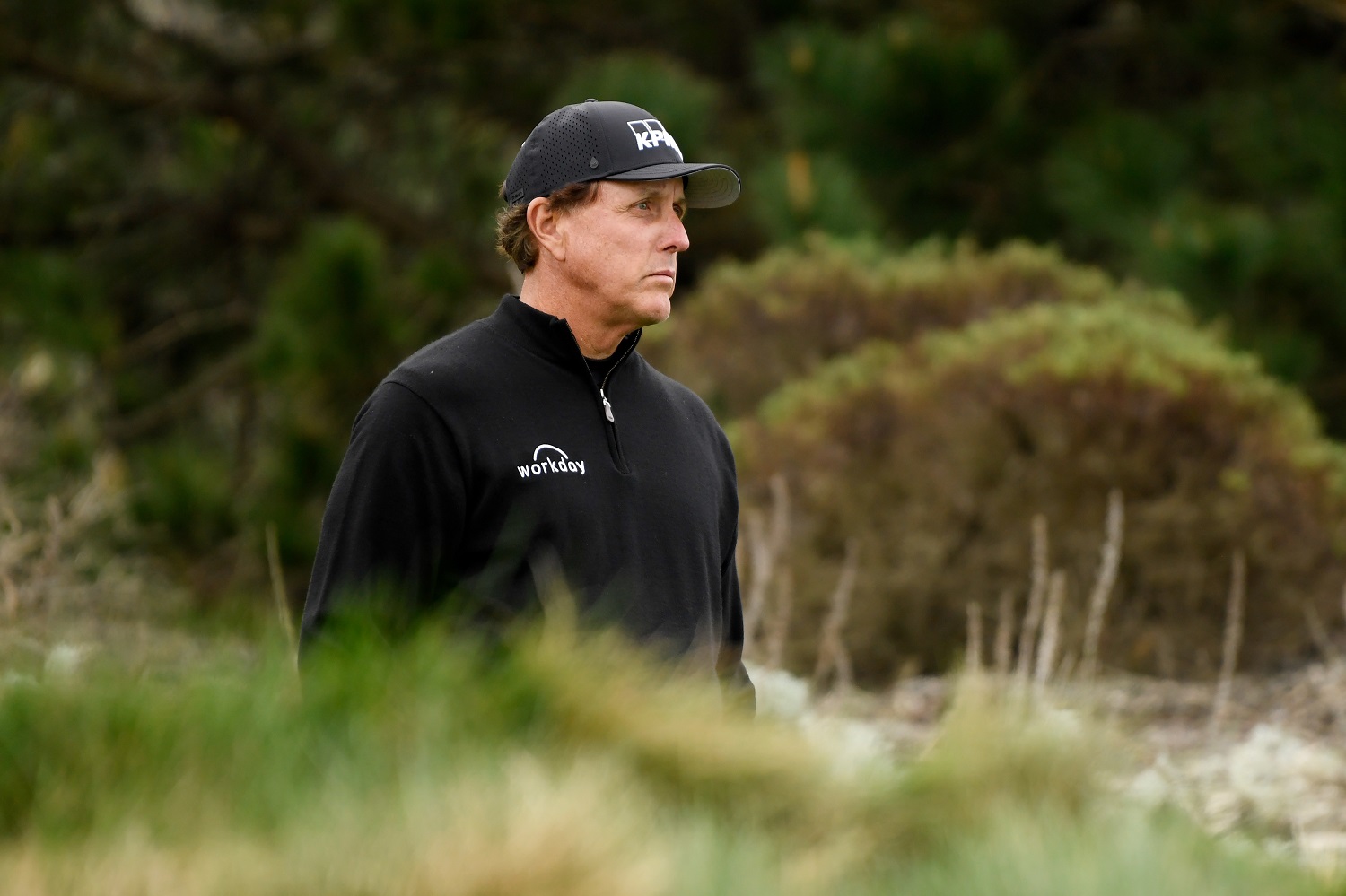 Phil Mickelson Is Signaling He's Almost Done as a PGA Tour Regular
Phil Mickelson is moving closer to the end of his career as a full-time PGA Tour golfer, and a career as a golf analyst likely is next for the winner of five majors.
Acknowledging that the courses the pros play are too demanding must be disappointing to veteran golfer Phil Mickelson and his fans. After 42 victories from 1993-2013, Mickelson has won just twice since. Worse, he has even ceased to be competitive in the world of long par-4 homes, narrow fairways, and unforgiving greens.  
Mickelson just signaled that he sees his days as a regular PGA Tour competitor ending soon, but he has a plan to remain visible in the sport.
How old is Phil Mickelson?
Phil Mickelson's best days on the golf course are in his rearview mirror.  The winner of five majors hasn't made a hard run at any of the grand-slam titles since the British Open in 2016. Additionally, he hasn't finished in the top 10 on the PGA Tour money list since 2013. He has won just two regular tour events in seven years.
Mickelson ended 2020 in 66th place in the Official World Golf Ranking and has since plunged to 89th despite playing his normal schedule. Other than finishing 32nd in sand-save percentage, he did not break the top 50 in any major statistical categories last season. Flipping the calendar to 2021 has not changed his fortunes; Mickelson has missed two cuts and tied for 53rd in his other outing in the past month.
That's not to say that Mickelson has completely lost it. Venturing onto the seniors tour after turning 50 last June, Mickelson entered the Charles Schwab Series and the Dominion Energy Charity Classic. He won both, pocketing a combined $750,000 last year.
Mickelson had spoken earlier this season about potentially playing more PGA Tour events to try to get into the hunt for a Ryder Cup berth, but that now seems less likely.
Phil Mickelson has developed a franchise in the sport
Phil Mickelson's career as a full-time PGA Tour competitor is winding down. And, despite his success there in winning twice last season, he hasn't shown an inclination yet to play extensively in PGA Tour Champions events.
However, Mickelson is seldom far from a golf course and likely will stay that way. He has been building a franchise collaborating in made-for-TV matches. It started with a one-on-one battle with Tiger Woods and has since moved to team events bringing in sports celebrities, including Peyton Manning, Steph Curry, and Tom Brady.
The Match III, played last Thanksgiving weekend, was held at Stone Canyon Club in Arizona, a course that Mickelson and business partner Steve Loy bought in 2014. It is one of six courses around the state owned by Mickelson Golf Properties. The company strategy has been to make the courses less intimidating for weekend golfers. Phil Mickelson's net worth also benefits from 28 residential properties being built nearby.
A career as a golf analyst on TV might be next
Phil Mickelson has remained consistently popular with galleries on the course and audiences on television. Given how comfortable he is in front of a microphone, moving into broadcasting seems to be a logical next step. Front Office Sports reported this week that Mickelson's representatives have started reaching out to networks to determine their interest.
"Absolutely, we're always in discussions about Phil's future," said Steve Loy, Mickelson's former college coach and longtime business partner. "It wouldn't surprise me if in the next 12 to 24 months you might see more of Phil on the air." 
Mickelson dipped a toe into the golf analyst world with Jim Nantz and Nick Faldo during the 2020 PGA Championship on CBS. That network, NBC, and ESPN have been most heavily involved in the sport recently.
Faldo, Johnny Miller, Paul Azinger, and Cutis Strange are among the golfers who have made the transition to TV.
"Phil would be the great catch of all golf analysts. He's the guy all the networks want," said one source.
Like Sportscasting on Facebook. Follow us on Twitter @sportscasting19.