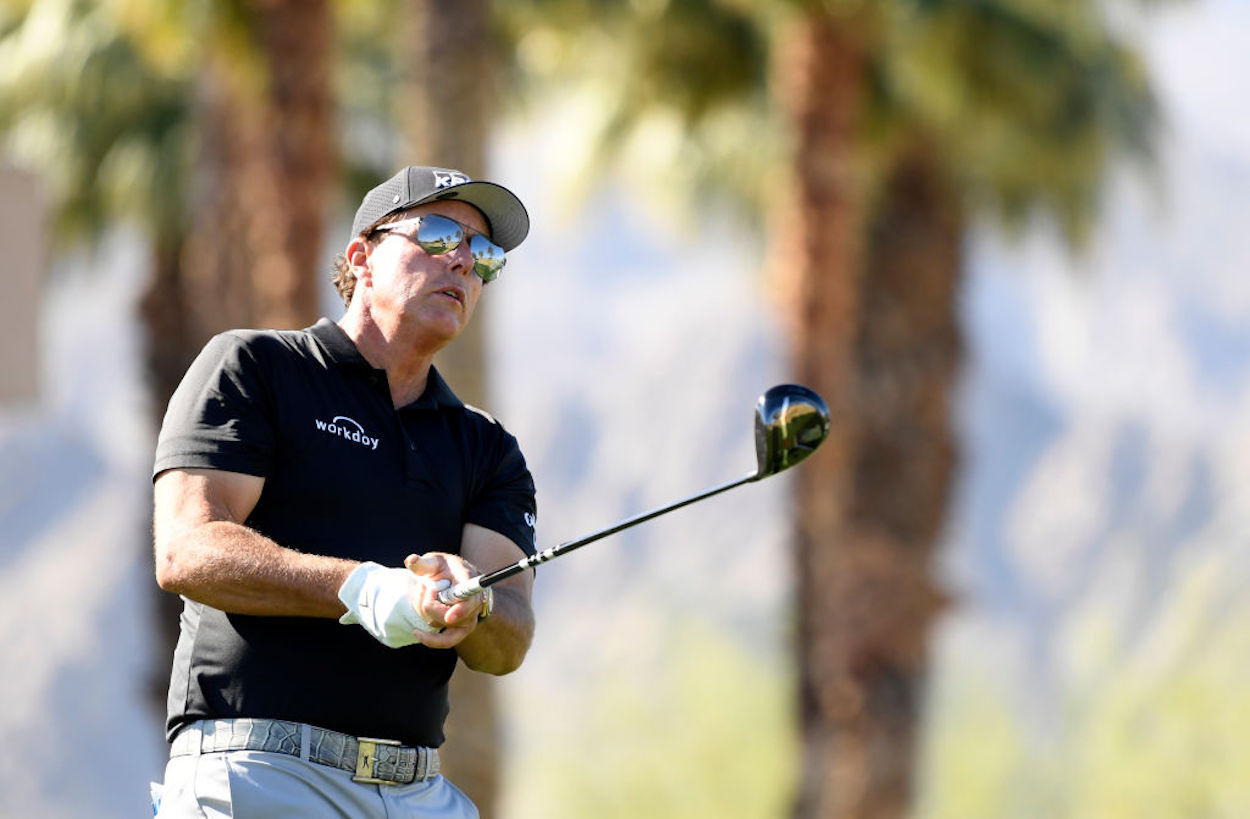 Phil Mickelson Just Accomplished Something He Hadn't Done in 2,200 Career Rounds on the PGA Tour
Phil Mickelson is 50 years old and has played over 2,200 rounds on the PGA Tour, but he's still accomplishing career firsts.
There's almost nothing Phil Mickelson hasn't done on a golf course throughout his iconic, 29-year PGA Tour career. Flip his club around to hit a shot righty? Many times. Hit a chip backward on purpose trying to hit the green? Sure. Pull out a driver to gauge his ball out of a bush? You bet.
But Mickelson recorded a career first this weekend at The American Express in La Quinta, Calif., and he didn't even make the cut.
Phil Mickelson has played over 2,200 rounds on the PGA Tour
Mickelson has been a staple on the PGA Tour for nearly 30 years. "Lefty" turned pro in 1992, and he's since won 44 tournaments and five majors on Tour. Mickelson's golf career hasn't even ended yet, but he's already been inducted into the World Golf Hall of Fame.
Mickelson currently stands as the ninth-winningest golfer to ever play on the PGA Tour. He's only one win behind Walter Hagen for eighth all-time, but he's still six wins behind Billy Casper for seventh. With $92,169,822 in career earnings, Mickelson is also the second-richest golfer to ever live. Only Tiger Woods has earned more money on the PGA Tour.
Aside from his winning pedigree and prolific earnings, Mickelson has become a fan-favorite in professional golf over the years. From his hilarious interactions with fans to his ability to make impossible shots look routine, Mickelson has been an entertainer on the course just as much as he's been a winning golfer.
Out of everything Mickelson has done throughout his career, though, it took him until age 50 to accomplish something he's never done in 2,200 rounds.
Phil Mickelson records 18 pars in a round for the first time ever
Phil Mickelson is normally allergic to pars. He can make six straight birdies and turn around to make three double bogeys in a row right after. One of the most volatile players in PGA Tour history rarely strings together consecutive pars because of the aggressive manner in which he approaches the game.
But at The American Express tournament in La Quinta, Calif. this past weekend, Mickelson made 18 straight pars during his second round on Friday. No birdies. No bogeys. Just 18 pars and a neat scorecard free from any circles and squares.
It marked the first time Mickelson made 18 pars in a round in his entire career on Tour.
Mickelson called his 18-par scorecard 'pathetic'
After the mundanely historic round over the weekend, Mickelson spoke to the media and shared his thoughts on his 18-par performance. Although he turned it into a positive in typical Phil fashion, he jokingly called his Friday scorecard "pathetic."
"It's surprising because I really try to hit fairways and center of the greens and just make easy pars," Mickelson told reporters after his round. "For that to be the first time, it's really shocking.
"There's a lot of good things to take from it — the way I'm driving the ball, my iron play. There's a lot of positives. If you look at the scorecard, it's pathetic. I'm not denying that. But I think that it's a little bit closer than it looks."